It can't get any worse than this: Interior Undersecretary for Barangay Affairs Martin Diño recently proposed the wearing of fully-vaccinated identification cards as a way to monitor those who have been fully vaccinated and those who are not.
The Philippine STAR quotes Diño as saying, "How will you know someone is not vaccinated if they are not wearing their vaccination card? When you leave the house you won't be bothered by the police or the barangay watchmen anymore, they won't ask you where your vaccination card is if you're wearing it on your chest."
When I chanced upon the story shared by a good friend and fellow writer over social media, it wasn't so much the story itself but the caption he wrote which grabbed my attention: "Boss-level dystopia."
I find the proposition that those not wearing vaccine IDs would be "bothered" by cops as something of a threat.
---
---
---
These words immediately brought me back to the Nazi regime where European Jews, under pain of punishment, were required by law to wear the Star of David symbol. The purpose was to tell apart the Jews from the rest of the German or "Aryan" populace. We all know how that turned out in the succeeding months.
Immediately following the Kristallnacht Pogrom of Nov. 10, 1939, or the Night of Broken Glass, Nazi Germany imposed the wearing of the Star of David symbol as a way to identify "the enemies of the State".
The Kristallnacht left 100 people killed, and roughly 30,000 arrested and shipped off to concentration camps. Eventually the numbers ran to the millions. Are we seeing a resurgence of the Nazi-style persecution against the "enemies of the State," albeit this time under the veneer of Covid-19 infections?
Truth to tell, I don't know.
But if you recall, in 2020, President Rodrigo Duterte gave shoot-to-kill orders against people who will defy quarantine rules. While such orders by the President are not atypical of a dictator, it clearly showed not only his inclination toward violence, but his treatment of those infected.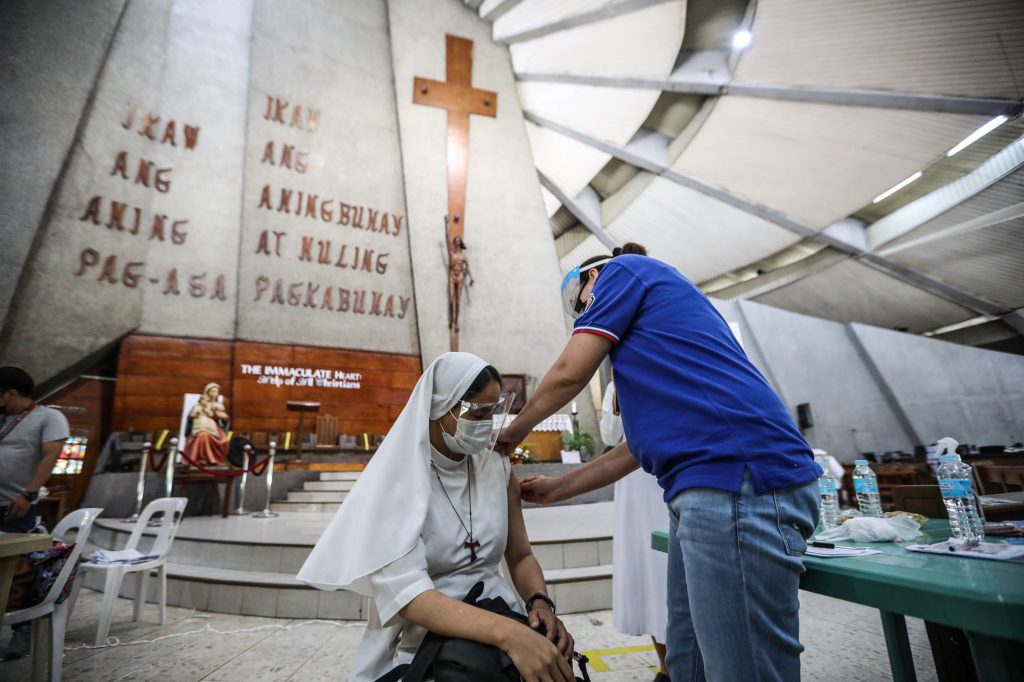 This incitement to violence spurred Amnesty International to release a statement urging the Philippine government "to investigate members of the police that resorted to disproportionate violence." At the time, a little over 17,000 have already been arrested for quarantine violations.
While it's important to note that breach of quarantine protocols endanger the general populace, more so now that more infectious variants of COVID-19 have been found, militarized actions still fall desperately shy in preventing the pathogen from spreading. 
Since Day One, the public has been harking about massive free testing which, for some unknown reason, the government had done everything to shrug aside.
Until the Senate Blue Ribbon Committee on Sept. 21 unearthed, through a series of documents, the expiration of 371,794 COVID-19 tests from nearly 8,000 test kits purchased by the agency. Under interpellation by Sen. Francis Pangilinan, Department of Health (DOH) assistant secretary Nestor Santiago confirmed the said expiration.
One doesn't have to be an infectious diseases expert to know that this regime is using the pandemic for its own nefarious ends. Now it wants to ID those fully-vaccinated in order to track those who are not.
For what purpose exactly? Haul them into jail, or worse, prevent them from purchasing necessities like food and medicine? The latter serves as a death sentence.
Isn't it a scientific fact that fully vaccinated people and those who are not continue to pose great risks to one another? That vaccines do not assure the vaccinated 100% immunity? That the new coronavirus variants remain virulent to both?
The World Health Organization is clear about this: "Vaccines can stop most people from getting sick with COVID-19, but not everyone. Even after someone takes all of the recommended doses and waits a few weeks for immunity to build up, there is still a chance that they can get infected. Vaccines do not provide full (100%) protection, so 'breakthrough infections' – where people get the virus, despite having been fully vaccinated – will occur."
Worse, the DOH seems to be in the dark as to who are vaccinated and who are not. In a Facebook post by award-winning actor-director Jim Libiran, he asked why his vaccination records can't be found in the agency's database.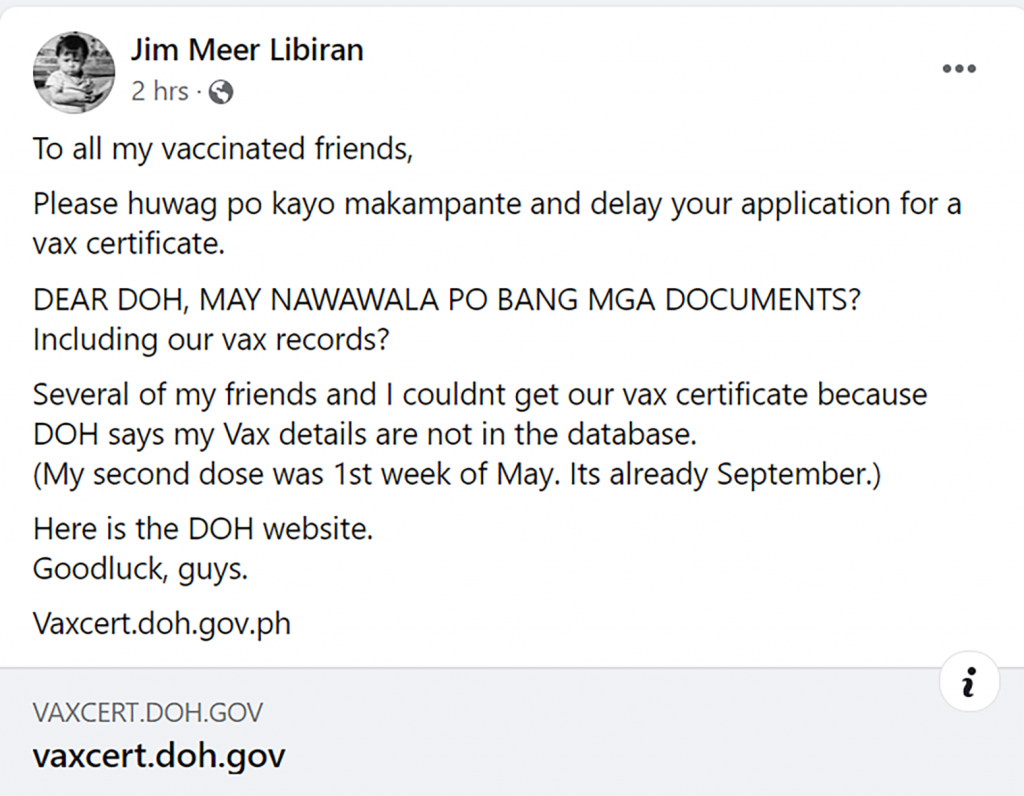 Instead of marking the vaccinated and increasing the stigma attached to the infection, why not bolster an information campaign on vaccine efficacy and immunization, enjoining the public to continue caring for their immune systems even after getting their jabs—to rest, wear masks, follow hygiene protocols, and the like?
I was told recently that businesses in the provinces have set up incentives for the vaccinated, like discounts on gas and other luxuries and necessities.
Wearing vaccine identification cards strengthens government narrative that those who have yet to be vaccinated have refused it consciously, without remorse to its consequences. While vaccine hesitancy may be true and poses a real problem in some quarters, this is not the general sentiment.
The problem of supply is as real as it gets, with rumors of government infighting and local government units' "bullshit policies" getting in the way of vaccine distribution. The hoarding of supplies by rich countries have likewise been raised.
The Philippine News Agency, a government-run news bureau, reported that government has received a total of 64.9 million vaccine doses as of Sept. 21. "Fully protected persons are now at 18,560,409 or 24.06 percent of the country's 77 million target population."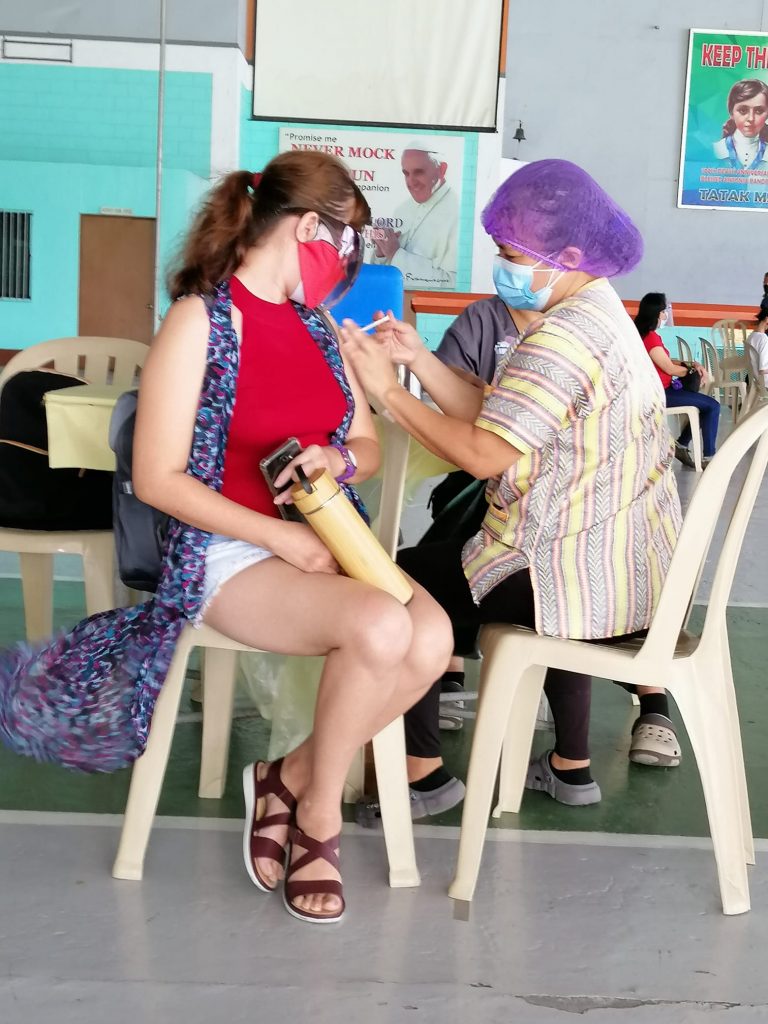 If true, then well and good. How this pans out in the next several months, given the controversies surrounding supply and distribution, remains to be seen, nonetheless.
Nazi Germany instituted "Holocaust Badges" to identify enemies of the State. While I wouldn't go so far as to accuse this regime of promulgating the same while under a pandemic, the wearing of vaccine IDs is undoubtedly suspicious.
If you recall, being a Jew in the time of Adolf Hitler was condemned as a "disease." This is the reason why massive segregation took place through the use of Holocaust badges. By reason of law, Jews marked by the Star of David cannot marry German citizens, can't even do business with them.
In course of studying what happened in Nazi Germany, I have often wondered why the Jews were "gassed" and "burned" in the ovens. Until I chanced upon a story by historian Ambeth Ocampo on the burning of the houses of the infected during the cholera epidemic in the Philippines sometime early 1900s. There's no doubt that the Jews were treated like a disease.
Furthermore, Ocampo went on to say that "Hidden in the historical literature was that sometimes the American military officials would use health as a way to contain the rebellion."
With the increasing disappointment over this regime's botched pandemic response, topped with Senate investigations on corruption involving Pharmally, to say little of the International Criminal Court's running investigation on the drug war, is this what we are seeing? Duterte using the pandemic to quell any and all attempts to push against the incompetence of this regime?
Neither fear nor stigma will help in convincing the public to get vaccinated, and more so, to continue strengthening their immune reaction.
Wearing of vaccine IDs is just another disguise to camouflage what has been largely condemned as a botched pandemic response.
Therefore, I say NO! to the wearing of vaccine badges.
Joel Pablo Salud is an editor, journalist and the author of several books of fiction and political nonfiction. The views and opinions expressed in this article are those of the author and do not necessarily reflect the official editorial position of LiCAS.news.