Filipinos are facing the specter of a new surge in COVID-19 infections and the possibility of a new, more transmissible strain entering from Britain and elsewhere.
Millions in the country famed for one of the world's longest Christmas season shelved family reunions to prevent COVID-19 infection rates from hitting the 3,000 to 4,000 levels forecast by medical experts. Millions also gave up physical attendance in the dawn novena masses that mark the nine-day final countdown to Christmas.
President Rodrigo Duterte has for months repeatedly stressed the government's helplessness in the face of COVID-19, which has infected more than 470,000 and killed more than 9,000 persons in the Philippines. But infighting among aides, and bureaucratic red-tape crafted by a pandemic management team composed largely of retired generals, have placed the country's vaccine program way behind Southeast Asian neighbor Indonesia.
---
---
---
As countries around the world started vaccinating their citizens against COVID-19, Filipinos watched aghast as Cabinet officials fought publicly over purchase contract negotiations.
What was largely ignored then was, that the government had still to receive applications for emergency use authorization (EUA). Duterte had issued on December 2 an executive order allowing the FDA to fast track the authorization process required for the entry of the products, the other being approval for Phase 3 clinical trials.
Foreign Affairs Secretary Teodoro Locsin Jr. took to Twitter to lambaste Health Secretary Francisco Duque for "dropping the ball" on negotiations for a US-manufactured vaccine, a claim echoed by Senator Panfilo Lacson.
Both pretended to be oblivious to Duterte's preference for supplies from China and Russia, two authoritarian nations that are chief allies amid international pressure on massive human rights violations by his regime. Duterte claimed the two nations, which keep a tight rein on their pharmaceutical industries, would allow the purchase of vaccines on loan basis.
Presidential shortcut
As Filipinos looked on warily at the lower efficacy levels of Sinovac, coupled with its relatively higher cost, Duterte stunned health officials by baring that members of the Presidential Security Group had already received vaccines, mentioning another Chinese brand, Sinopharm.
FDA Director General Eric Domingo was clearly startled. Not quite understanding the president, he explained that three raids in the Makati financial district and the capital's Chinese district "failed to catch anyone."
"The FDA has not issued any Emergency Use Authorization to any vaccine for COVID-19. Without the proper authorization, there is no guarantee on the safety, quality and efficacy of said vaccine as the same has not undergone the required technical evaluation by the FDA," Domingo warned in a statement. Absent of an FDA green light, the entry and use of vaccines are prohibited, he stressed.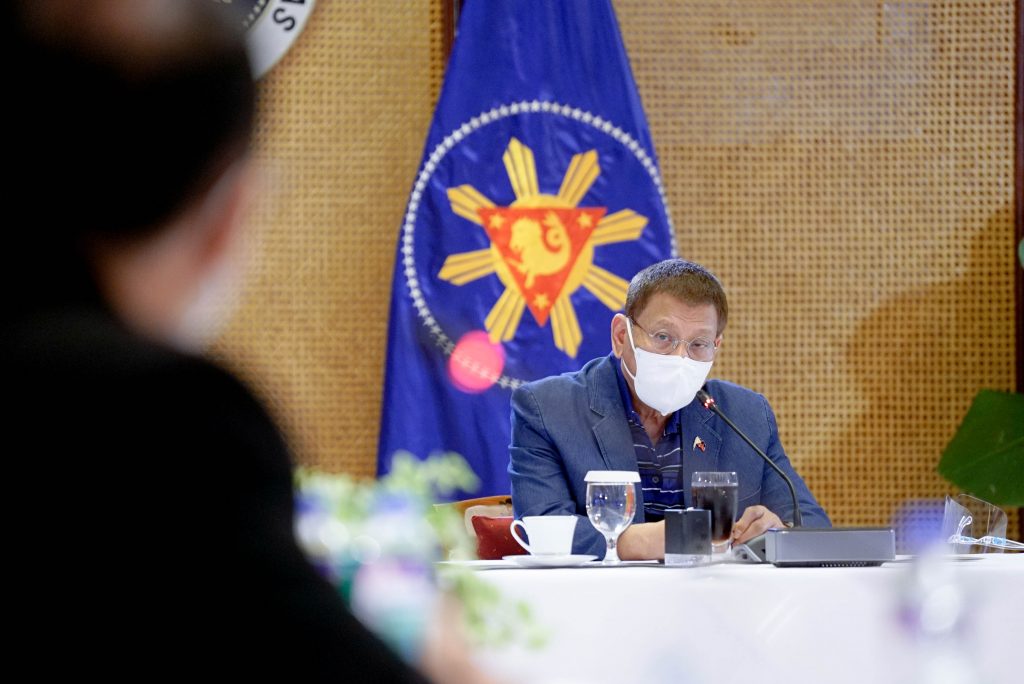 President's senior aides brushed off the FDA head.
"The news is that the vaccine is already here, and if we cannot be given Western vaccines, our friend and neighbor China is willing to give us vaccines," said presidential spokesman Harry Roque, who claimed the law does not ban getting inoculated with an unregistered vaccine.
Interior Secretary Eduardo Año, who is vice-chair of the national pandemic management team, echoed Roque. "What is prohibited is selling and distributing [the vaccine] without regulatory approval," he said in a cable television interview with ANC.
"It's just as simple as soldiers protecting the president who want to be inoculated and they're able to get some donation on it and the country that provided it has an approved EUA (emergency use authorization). It's that simple. Let's not complicate things," he said, adding that the use of unregistered vaccines is allowed for "personal use."
The Armed Forces spokesman Maj. Gen. Edgard Arevalo said it was a national security issue, to protect Duterte, who is 75 years old and "in perpetual isolation" due to various chronic health issues, from contracting the virus.
Health workers pushed back. Jaymmee de Guzman, an emergency room nurse at the capital's main government COVID-19 hospital, said the government had once more shoved health frontliners to the end of the line, adding to disaffection from delayed benefits.
Neurologist Leonard Pascal, an advocate for good governance in the health sector, pointed out the glaring double standards in Duterte's decision. "Technically, a drug or vaccine without proven efficacy and not approved for sale AND administration is an illegal drug/vaccine. Who's so angry over illegal drugs?"
He also slapped down Arevalo's national security apology, noting the high level of distrust against China.
"Subjecting our Armed Forces to something not yet proven to be safe nor efficacious and made by a state known for encroachment on our seas, islands, and natural resources… That's a serious breach right there of national security and someone allowed it," Pascual said.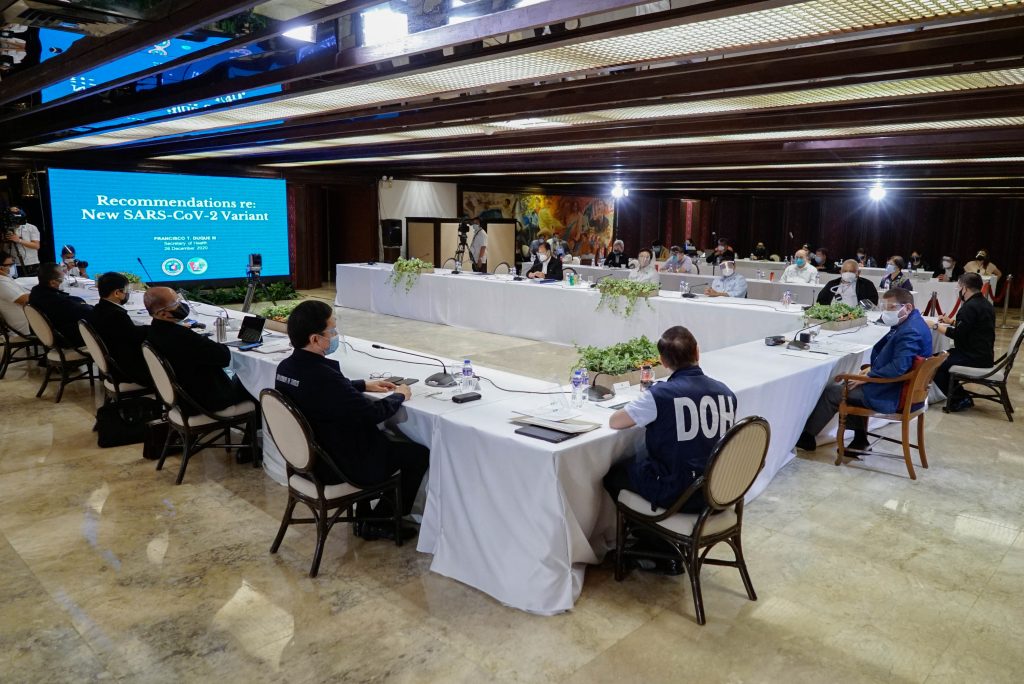 Usurping powers
The real concern, however, goes beyond the flawed logic of Duterte's government. In taking unilateral action — and there is no way the PSG would have undertaken inoculation with their principal's approval — Malacanang has shown in graphic details its willingness to usurp power for its own interests.
It's chief justification also happens to be false.
RA 9711, the law governing the FDA's mandate, prohibits the manufacture, importation, exportation, sale, offering for sale, distribution, transfer, and non-consumer use of unregistered pharma products.
Pharma firms have started applying for a Philippine EUA. All these companies have received the same from countries of origin. The EUA required by end-use nations reflects the basic sovereignty principle that states have the right to decide on behalf of their peoples. Why should Chinese companies be exempt from this process.
States, let's be clear, operate with clear scopes of power for officials and agencies. No law in the country allows Duterte and his generals to take on the mantle reserved for health experts.
The fact that the FDA didn't know vaccines had been given to the would-be emperor's praetorian guard shows the total contempt for rightful governance processes.
Presidential Security Group operations are covered by laws. Roque's effort to distance Duterte by claiming the vaccines as a gift from a friend — China — also falls flat.
An emergency use authorization from a country of origin does not trump the legal requirement to get one from the recipient country — not even when pharma products are "used for personal use."
---
---
---
There are no diplomatic treaties that allow the wanton violation of national laws. The United Nations Vienna Convention on diplomatic immunity and privilege, and the bilateral agreement between the Philippines and China on the same, have clear limits.
Both only cover customs duties, not regulatory approval of substances. Diplomatic exemption from Customs clearances also covers only correspondence, documents, and articles for internal use of embassies and consulates.
Even laws governing foreign aid do not allow the short-circuiting of processes aimed at safeguarding public health. There are clear procedures to follow, including approval from the social welfare and health agencies.
The most dangerous entitlement isn't just the notion that a few privileged individuals can get vaccines before the official launch of a badly-needed, already delayed program. The biggest minefield is the worldview that a cabal of aging, abusive men can run roughshod over laws and shove aside rightful authorities whenever it suits their whims.
Inday Espina-Varona is an award-winning journalist in the Philippines. She is a recipient of the "Prize for Independence" of the Reporters Without Borders in 2018. The views expressed in this article are the opinions of the author and do not necessarily reflect the editorial stance of LiCAS.news.