Every time she speaks her mind, she is confronted by a threat of violence not just because she is a human rights activist, but more so, because she is a woman.
Cristina Palabay, secretary general of human rights group Karapatan, already lost count of how many times she received threats and harassments online and offline.
"I always come face to face with different kinds of nasty and misogynistic comments," she said. "You name a form of harassment, and I can tell you how and when I experienced it."
This year alone, Palabay received a number of death and rape threats apart from what she claimed as "state-sponsored illegal surveillance."
---
---
---
One morning, she received a call from a man who refused to identify himself.
The caller told Palabay that she'd better look behind her shoulders because she'll be "the next target."
The caller also told her that they could easily take her down because she is "just a woman."
"It was a death threat. Like everybody else, I felt sudden fear and I was shocked. I was speechless for a few moments after the call was dropped," she said.
Palabay said every time she receives a threat "I realize that I am still human because I feel the emotion, the fear."
But her fear quickly turns into rage.
A few minutes after the first call, Palabay dialed the number and spoke to the man.
"You cannot just threaten me like that," she told the man. "Show yourself to me and stop pretending to be tough."
In an interview with LiCAS.news, Palabay said the first step to stope the threats "is to fight back."
"It doesn't matter how but you must fight back," she said.
Palabay admitted that she is in a constant state of fear, "not for myself but for the other women and human rights defenders who have no other means to fight back or have no support system."
She said she is much worried about the welfare of many women human rights defenders in the provinces who have lesser access to media.
In August, still-unidentified assailants shot and killed Zara Alvarez, a church worker and human rights defender in the central Philippine city of Bacolod.
Three years ago, Elisa Badayos, a staunch human rights defender, was killed while in a fact-finding mission in Negros Oriental province.
Both women were subjected to vilification and "red-tagging" before they were killed.
Human rights group Karapatan has already recorded 185 human rights defenders who were killed, including 50 women, since President Rodrigo Duterte came to power in July 2016.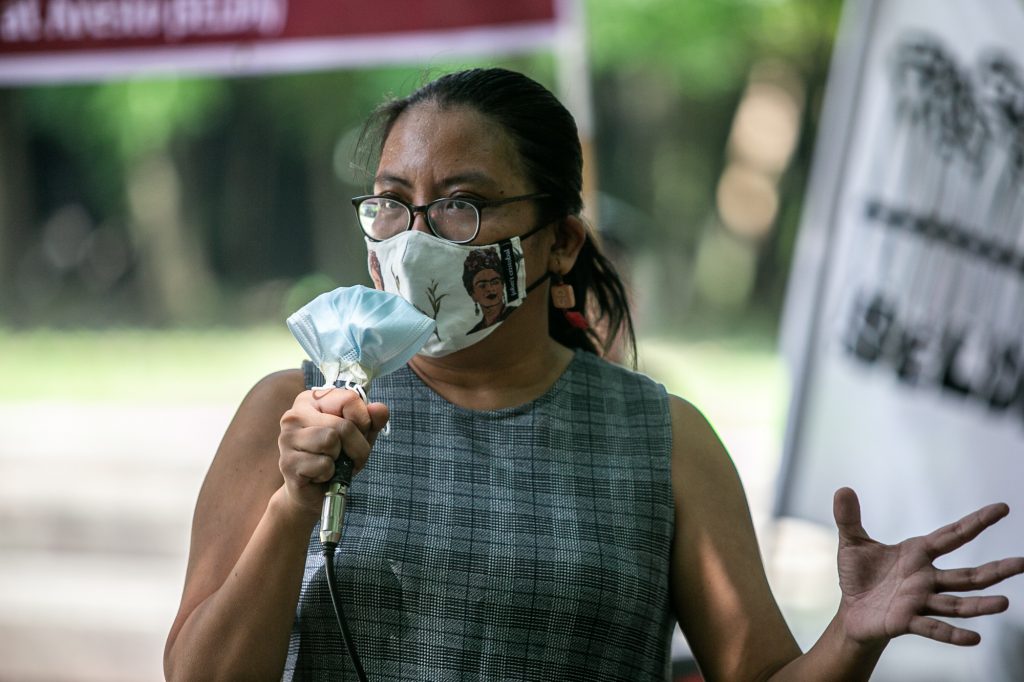 Gender-based violence
Arceli Bile of the Women's Desk of the National Council of Churches in the Philippines said Filipino women today "continue to suffer from gender-based violence" that is linked to economic and political issues.
"Under the current administration, women are subjected to misogynist attacks promoting an anti-women ideology, attitude, and treatment," she said.
Even the country's vice president, Maria Leonor Robredo, has not been spared from misogynistic attacks.
Last month, Duterte slammed Robredo for her alleged "grandstanding" in the government's response to the series of disasters that hit the country in recent weeks.
In a recorded televised speech, Duterte told Robredo to "not compete" with him and "do not start a quarrel with me."
The president ended his speech by making inappropriate remarks about Robredo's sex life.
"How about you? At night, what time do you go home? Do you go home to just one house, or two? I'm just asking. You're with a congressman. In which house do you stay longer?" Duterte said.
Bile said expressed sadness that even the highest elected official of the land violates the rights of women.
"Now more than ever… we have to resist together, defy bolder, and unite stronger in demanding the government's accountability for the protection of women and human rights defenders," she said.
"Filipino women have demonstrated creative and bold actions in defending and fighting for women and human rights," she said.
But the "only way to be freed from the multiple layers of oppression is to fight and push back the unjust and repressive systems that shackle all of us," said Bile.
"We have witnessed from our history the value of our collective voices and action," she said.
On November 29, the National Council of Churches in the Philippines lauded women and rights activists who "fearlessly faced state harassment and attacks, even death."
The Protestant Church group called on the public to support and protect women human rights defenders, including Catholic nuns Ellen Belardo and Mary John Mananzan, and Protestant Pastor Irma Balaba, who have been "vilified and red-tagged."
Palabay admitted that her job is getting more difficult because of the "stream of violence" that she and the other human rights defenders face daily.
She, however, said that there is "no other option but to continue fighting for what is right and persist in speaking up for those who cannot speak for themselves."