When the late Hugo "Ka Jerry" Orcullo shared lunch with close friend Eliseo "Ely" Patlunag in downtown Cagayan de Oro City on Oct. 14, 1983, little did they know that on that day their lives were about to take a painful detour.
Patlunag was district population commission officer and district chairman of the group Makabayang Alyansa while Orcullo was the organization's spokesman. Makabayang Alyansa was the forerunner of the activist Bagong Alyansang Makabayan (New Patriotic Alliance).
After lunch, the duo went to the organization's office where they stayed until a few minutes past four o'clock and before going their separate ways — Patlunag to the Population Commission office while Orcullo went to the city's Divisoria district.
---
---
It was the last time Orcullo would see Patlunag alive. At about 6:30 p.m. of the same day, Patlunag was gunned down by unidentified assailants inside his home in Dulong, Libertad, Misamis Oriental.
The following day, the Daily Tribune carried a news story of Patlunag's murder, saying he was killed by the urban partisan squad of the communist New People's Army, also known as the "Sparrow Unit."
Patlunag, however, became one of the many political dissidents who were listed for assassination by state forces under "Operation Mad Dog."
On the same day, Orcullo would be arrested, and tortured for the second time in his life.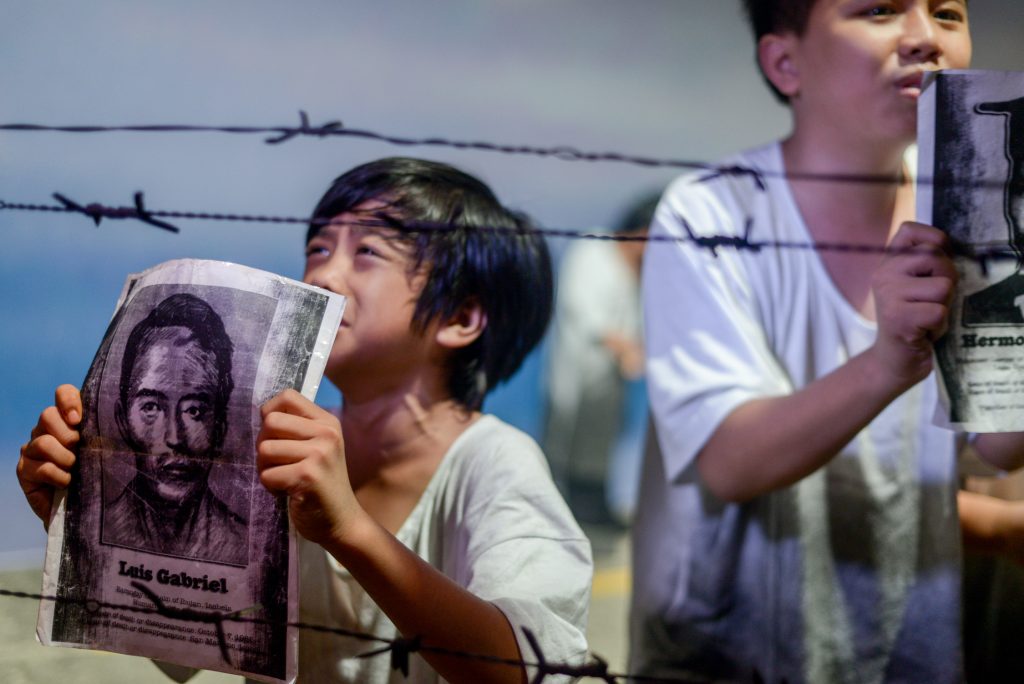 Never again
The year 1970 was a particularly turbulent page in Philippine history.
The economy has had repeated boom-and-bust cycles in the five decades since the United States granted the country its independence in 1946. In the 1950s until the early 1960s, the Philippine economy ranked as the second most progressive in Asia, next only to Japan.
When Ferdinand E. Marcos Sr. became president in 1965, the Philippines encountered a series of economic problems fueled by a growing social unrest brought about by corruption, cronyism — the practice of appointing friends to juicy posts — and oligarchy — a debased form of aristocracy.
Young Filipinos in the cities and in provincial centers started to launch protest actions that peaked during the first quarter of 1970, a period that has since been known as the "First Quarter Storm."
In a privilege speech delivered on Sept. 13, 1972, the late senator Benigno S. Aquino Jr. exposed "Operation Sagittarius."
Aquino claimed that he got wind of a top secret military plan purportedly authored by Marcos to place Metro Manila and adjacent areas under the control of the Philippine Constabulary as an overture to martial law.
In the plan, Marcos was supposed to use a series of violent incidents — the "First Quarter Storm" of 1970 and the August 1971 Plaza Miranda Bombing in Manila — to justify a takeover and subsequent authoritarian rule.
In a Sept. 14, 1972, entry in his diary, Marcos wrote that he informed the military that he would proceed with declaring martial law.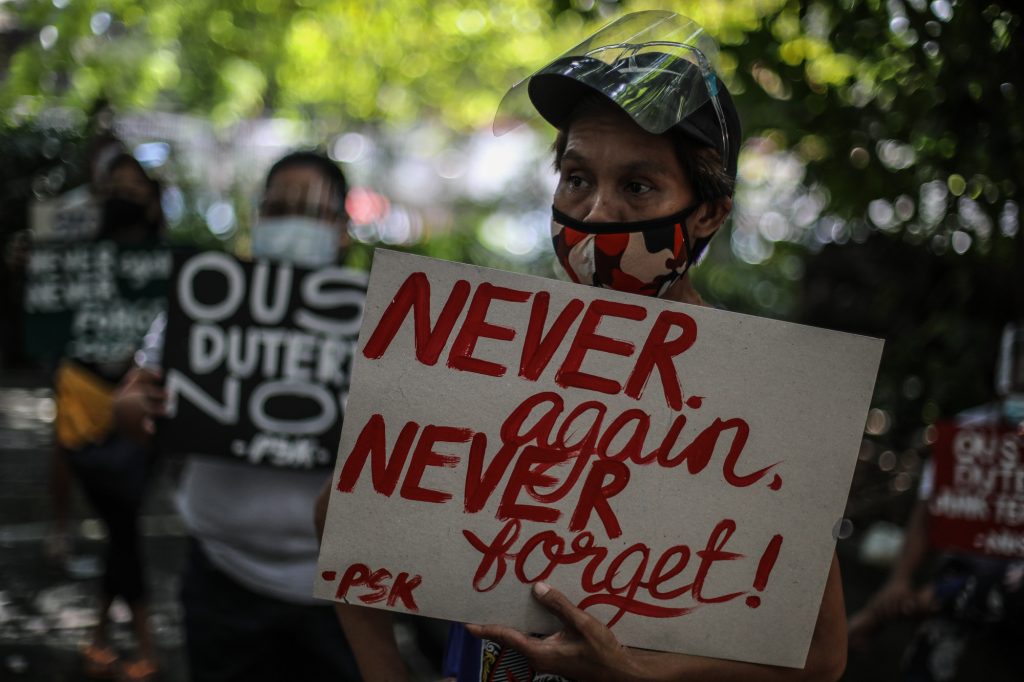 Marcos issued Proclamation No. 1081 on Sept. 23, 1972, placing the entire country under martial law. It was supposed to lead to the foundation of his "New Society."
[The Official Gazette states that "President Ferdinand E. Marcos signed Proclamation No. 1081 on September 21, 1972, placing the Philippines under Martial Law. Some sources say that Marcos signed the proclamation on September 17 or on September 22 — but, in either case, the document itself was dated September 21.
"Throughout the Martial Law period, Marcos built up the cult of September 21, proclaiming it as National Thanksgiving Day by virtue of Proclamation No. 1180 s. 1973 to memorialize the date as the foundation day of his "New Society."
The propaganda effort was so successful that up to the present, many Filipinos — particularly those who did not live through the events of September 23, 1972 — labor under the misapprehension that martial law was proclaimed on September 21, 1972. It was not."]
Francisco Tatad, who served as information officer of Marcos, insisted that martial law was necessary because of the alarming "communist threat."
It was also the height of the "Cold War" between Russia and the United States. He believed in the "domino theory" that supposedly would allow the communists to take over Southeast Asia.
The "domino theory" — when one country in a certain region comes under the influence of communism, the surrounding countries would follow in a domino effect — was popular during the 1970s and the 1980s.
Having suspended the "writ of habeas corpus," Marcos gave the country's military apparatus — mainly the Philippine Constabulary — invincible powers.
First time
While he was still an 18-year-old college freshman at the University of the Visayas, Orcullo was already active in the protest movement against the Marcos dictatorship.
It was during one of the protest rallies in 1972 when Orcullo, along with 200 other student activists from Iloilo, Negros Province, Bohol, Samar, Leyte, and Cebu, were arrested and detained at the headquarters of the 3rd Philippine Constabulary Zone on Jones Avenue in Cebu City.
It was to be his first experience of being a political detainee.
"Security was tight and we were treated like army trainees. We had curfew hours … no books or any publication were allowed inside," he recalled in an affidavit.
Orcullo was detained for a year and three months. Because of his being a former political prisoner, he turned into a high profile political dissident in the Visayas region.
He went straight back to his hometown in Padada, Davao del Sur, after his release. He continued with his studies, found work, and got married to a public school teacher.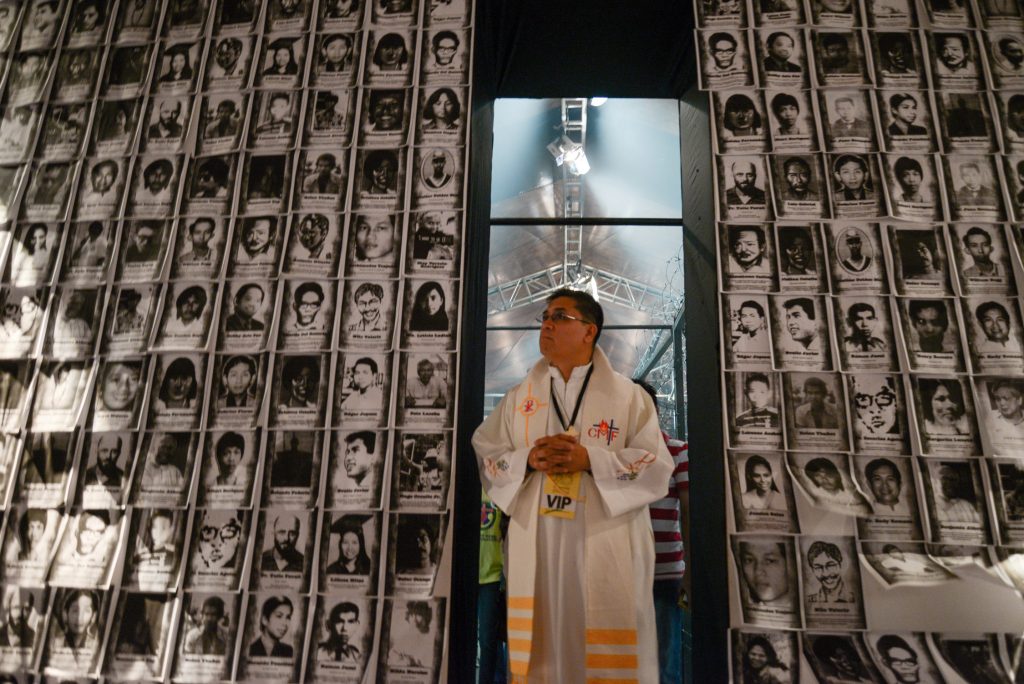 In 1982, Orcullo's village, home to his fledgling family, in Mandug, Davao City, was "militarized."
A list of names of suspected sympathizers of the Communist Party of the Philippines and its armed wing, the New People's Army, was released. On the list were Orcullo's name and that of his brother, Alex.
He decided to leave Davao City and his work as a social worker for a non-government organization and migrated to Cagayan de Oro City. Orcullo rented a modest apartment in the city. Seven months later, his wife and only daughter followed.
Not long after, Orcullo found a job at the provincial capitol as spokesman of then governor Homobono Adaza and political officer of Adaza's political party, the Mindanao Alliance.
Made to sit on ice naked
"On Oct. 14, 1983, while walking along the busy street of Velez … at 5:30 p.m., elements from the 421st PC Company led by then Capt. Filipino Amoguis and Lt Jose Ramos, in front of stunned people, physically and forcibly threw me into their vehicle," read part Orcullo's affidavit.
He was brought to a safe house where his captors tortured him. Stripped of his clothes, Orcullo was made to sit on a block of ice.
"They even covered my head with a plastic bag. There were even times when they used my ears and face as an ashtray," he recalled.
He said his interrogators would fire their guns close to his ears and force him to drink his own urine. Through all these, his interrogators kept on asking about a certain Romulo Kintanar.
Orcullo was detained in Camp Vicente Alagar in Barangay Lapasan for two years before he was transferred to the Misamis Oriental Provincial Jail upon the intervention of Governor Adaza.
A press release by the Mindanao Alliance dated Oct. 21, 1983, read: "Had it not been for the eyewitnesses (who immediately informed Orcullo's friends and relatives) who saw the incident, Orcullo would still be missing today, or worse, may have already been salvaged by his captors."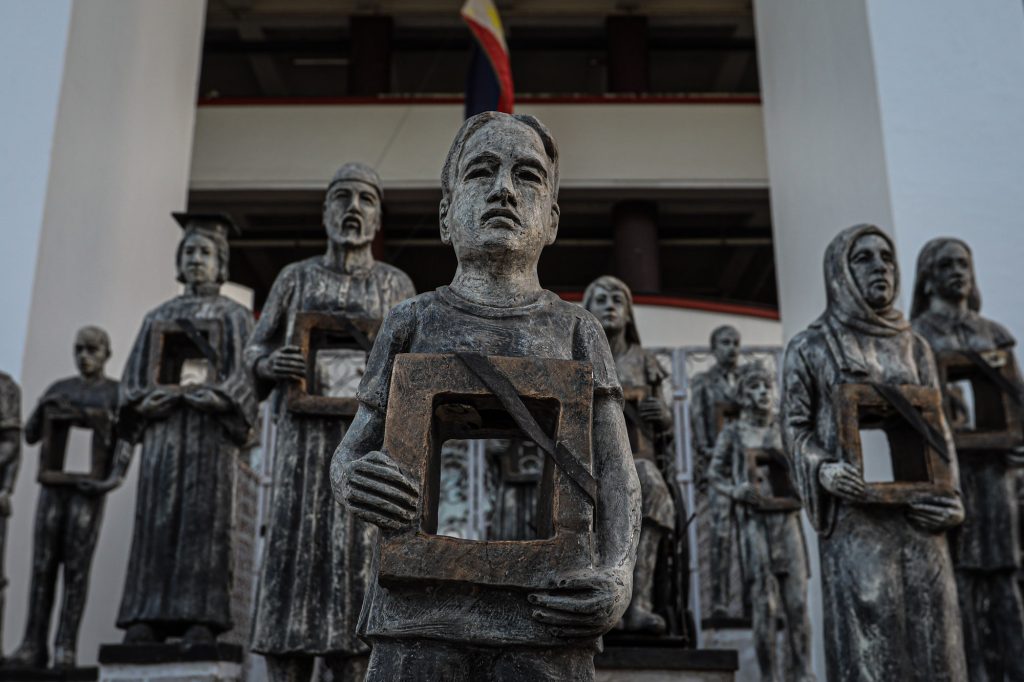 On October 17, local radio dxOR aired a news story that the "secretary general of Northern Mindanao NPA guerrilla unit was arrested in the city." The day after, the front page of Bulletin Today carried a report about the "arrest of the top communist guerrilla leader in Southern Mindanao."
The Ministry of National Defense described Orcullo in an Order of Battle as the secretary of the Front Guerrilla Unit No. 7 of the NPA, which operates in Davao provinces, including parts of Agusan del Sur, Surigao del Sur, and North Cotabato. He had a PhP 70,000 bounty on his head, dead or alive.
Born on Feb. 1, 1954, Hugo "Ka Jerry" Lavisores Orcullo Jr. hailed from Padada town in Davao del Sur.
Later in his life, he served as president of the Cagayan de Oro Press Club for seven terms and became the regional chairman of the Samahan ng mga Ex-detainees Laban sa Detensyon at Aresto.
He was an undefeated barangay chairman of Taguibo in Butuan City from 1989 to 1994 where he earned the moniker "Bocap Ocong."
During his days in the underground movement, Orcullo used different names: Dory, Bronson, Ambo, Ponce, Daday. But he is known in Cagayan de Oro as Jerry Orcullo, and Dondon in his hometown.
His elder brother, Alex — a journalist — was killed by state forces on Oct. 19, 1984 in front of his wife and two-year old son, Merdeka.
The assassins chose to kill Alex on his 38th birthday in Tigatto, Davao City. Like Orcullo, Alex was suspected as a member of the National Democratic Front in Davao City. Alex's death sparked the biggest protest action in the history of Davao, drawing the largest and longest funeral march of about 30,000 mourners.
Until his death due to cancer, Orcullo carried a bullet slug between the upper and lower lobes of his lungs, a morbid reminder of the painful years of martial law.