Church and civil society leaders in the Philippines issued a statement on Thursday, June 30, decrying what they described as the "unfounded tagging of Msgr. Walter Alipio de Asis Cerbito as a terrorist."
"We deplore the recent designation of Msgr. Cerbito as unfounded, merely on the basis of guilt by association," read the statement signed by 70 Church leaders and 30 civil society leaders.
In a resolution released on June 10, the country's Anti-Money Laundering Council imposed a freeze order on the property and funds of ten individuals, including Msgr. Cerbito, who is allegedly a member of the underground Christians for National Liberation (CNL).
---
---
Church leaders from across the country, however, said the tagging of the priest as a terrorist and member of CNL "is an affront to his Christian faith and his lifetime of mission and ministry."
"We can only extrapolate that manufactured testimonies of alleged rebel returnees under the custody of the [military and police] may have been used against Msgr. Cerbito," read the statement, adding that circumstances surrounding the witnesses "render their affidavits highly questionable, biased, and unreliable."
The statement said Msgr. Cerbito is a "respected man of the cloth who has been at the forefront of human rights advocacy and ministry with poor and marginalized communities" in Northern Samar province.
Prior to Msgr. Cerbito's retirement, he was active in the ministries of the Church while working as vicar general of the Diocese of Catarman, chairperson of the Promotion of Church People's Response in Northern Samar, and regional council member of PCPR in Eastern Visayas and of rights group Karapatan in the region.
The Church and civil society leaders also denounced the designation of Luis Jalandoni, a former priest who has been representing the National Democratic Front of the Philippines in peace talks with the government, as a terrorist.
"As a former priest, Jalandoni still emulates Christian values and a dignity of conduct from which many Filipinos could learn," read the statement, adding that despite principled differences with the Duterte government, "Jalandoni has never been observed to behave in so-called 'terroristic' ways."
"While it is true that Jalandoni is an unabashed revolutionary, no indicators or true evidence has been shown that Luis Jalandoni has engaged in any act of terrorism," it added.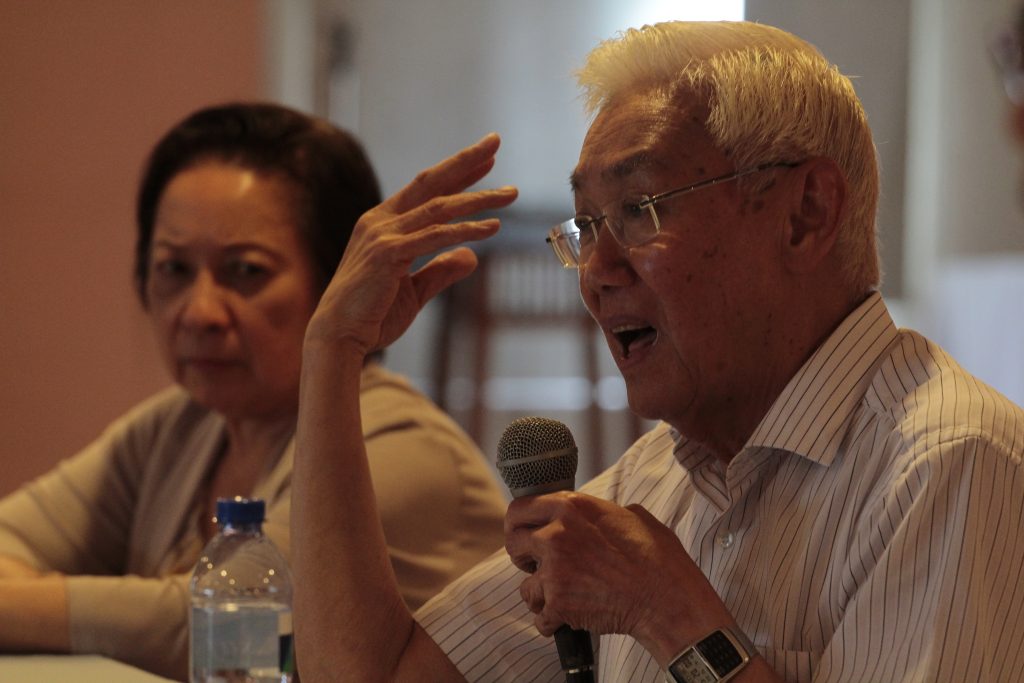 The AMLC resolution ordered a freeze on all accounts related to Msgr. Cerbito, Jalandoni, and several others, including: Simon Naugsan Sr., alleged spokesman for the Cordillera People's Democratic Front and member of CPP-New People's Army; Afrecia / Apricia Alvares / Alvarez Rosete, alleged secretary of the Western Mindanao Regional Party Committee of CPP-NPA; Maria Luisa Purcray, alleged secretary of the Ilocos Cordillera Regional Committee of CPP-NPA; Maria Gigi Ascaño-Tenebroso, alleged member of Kaguma and alleged finance officer of the Southern Mindanao Regional Committee of the CPP-NPA.
The freeze order covers property or funds that these individuals owned or controlled, including, but not limited to, those that are directly related to or can be linked to a specific terrorist act, plot, or threat; and property or funds that they wholly or jointly owned or controlled, directly or indirectly, the country's financial intelligence unit said.
It also included property or money obtained or generated from funds or other assets they possessed or controlled, directly or indirectly, as well as property or funds of persons and entities working on their behalf or at their direction.
The AMLC warned that under the "Terrorism Financing Prevention and Suppression Act of 2012," any person, whether natural or juridical, including covered persons, private companies, government-owned or -controlled corporations, and government agencies and instrumentalities will be prosecuted to the fullest extent of the law if they deal directly or indirectly, in any way and by any means, with any property or fund linked to terrorism.
"These designations only prove our fears on the inherent dangers of the Anti-Terrorism Act of 2020," said the Church leaders in their statement.
"Rather than stopping terrorism, the law is more likely to be weaponized against legitimate public dissent and opposition," it added.
The group said that "possibilities loom for any Filipino Church leader engaged in human rights ministry to be designated as a terrorist" under the law.
"We stand with Msgr. Cerbito to fight this designation. Filipinos should continue to assert our democratic rights to work for social justice and struggle to overcome the oppressive and exploitative conditions present in many local contexts," said the Church and civil society leaders.
It said the it would be "unconscionable to allow those who stand for justice to be demonized as terrorists," adding that the "militarists in government seek to steal our freedom, criminalize our right to dissent, and weaken our democracy."