Women rights groups demanded "accountability" from President Rodrigo Duterte for attacks on women that allegedly "worsened owing to the president's misogynistic pronouncements and policies."
In a demonstration in Quezon City on November 24, the women's groups said Duterte's pronouncements "emboldened all forms of violence against women."
The demonstrators sounded off drums as they kicked off the annual observance of the "18 Days of Activism against Gender-Based Violence" in the country.
---
---
---
The women's groups called attention to what they described as "the culture of violence in the country" that "deepened and became more pervasive" in social media and other digital platforms.
"Violence against women continues to rise in the online space," said Lisa Garcia, executive director of the Foundation for Media Alternatives.
She said women human rights defenders, activists, journalists, and those who are vocal in their dissent against the government are often targeted by online attacks.
"They are red-tagged, thus putting their lives, and sometimes ever those of their families, at risk," said Garcia as she urged the government "to ensure the safe participation of women and girls offline and online, and to put a stop to the attacks on women."
Jean Enriquez, national coordinator of the World March of Women – Pilipinas and executive director of the Coalition Against Trafficking in Women – Asia Pacific, cited the arrest on November 14 of child rights activist Sally Ujano and the continued detention of Sen. Leila de Lima as "clear cases of violence against women under the Duterte administration."
"These, on top of 503 cases of online prostitution we have documented from June to October of 2021," she said.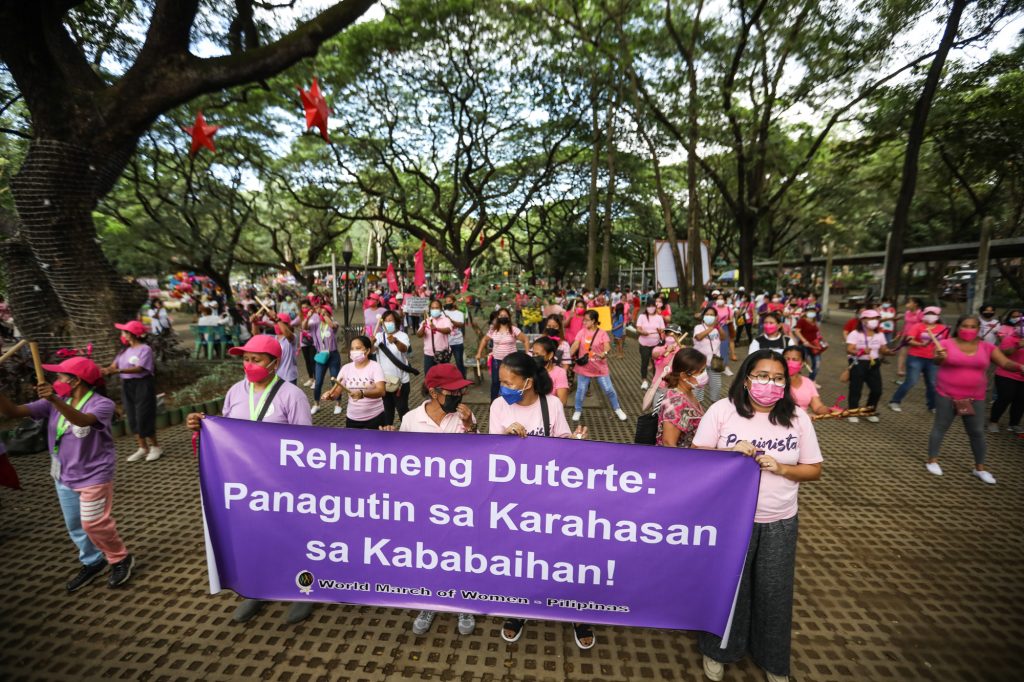 Data from Enriquez's organization show that from ten cases in a month, there are now 80 new cases each month "because of the oppression, hunger and culture of gender-based violence under this regime."
She said the "glaring feature" of the Duterte administration is the "pervasive violence against women beginning from the period of his presidential candidacy."
Ana Maria Nemenzo, head of WomanHealth Philippines, said that throughout the administration of Duterte, "the abuse and total disrespect of women persisted in countless words and deeds."
"This is intolerable and must end," she said, adding that Duterte and his allies "must answer for all their crimes against women, and the rest of the Filipino people."