In a Mass on March 14 marking 500 years of Christianity in the Philippines, Pope Francis likened the Christ's life as a light leading shipwrecked brethren to safe shores.
The leader of the world's 1.3 billion Catholics praised Filipino women of the disapora for being "smugglers" of Christian faith. The pope hailed the blessed "infectiousness" of a people with ten percent of its 105 million population scattered to the winds.
Stories on Filipino migrants do depict them as sowing seeds of faith in cynical European cities with empty churches or even the secular, driven households of East and Southeast Asian neighbors.
---
---
---
Much of the pope's homily uplifts. He urged those wanting "to see the true face of God" to follow Jesus Christ's example.
"… he went in search of us when we were lost … came to raise us up when we fell … he wept with us and healed our wounds."
"Those who love always go out of themselves," Pope Francis reminded Filipinos.
In the Philippines, truth-seeking and truth-telling can be dangerous activities. The act of loving is risky as it is fulfilling.
"That is the power of love: it shatters the shell of our selfishness, breaks out of our carefully constructed security zones, tears down walls and overcomes fears, so as to give freely of itself," the pope said.
His words puts renewed focus on a puzzle confronting the Philippines' Catholic leaders.
How can a nation of close to 86 million Catholics, and many more Christians of other denominations, reward President Rodrigo Duterte with high popularity ratings after tens of thousands of state-sanctioned murders in four and a half years?
The pious, joyful, infectious migrants praised by the pope voted overwhelmingly for Duterte and remain a critical base of support for the president.
Even more puzzling, how can a substantial number of our Christian clergy, keep mum or even praise this leader of thugs?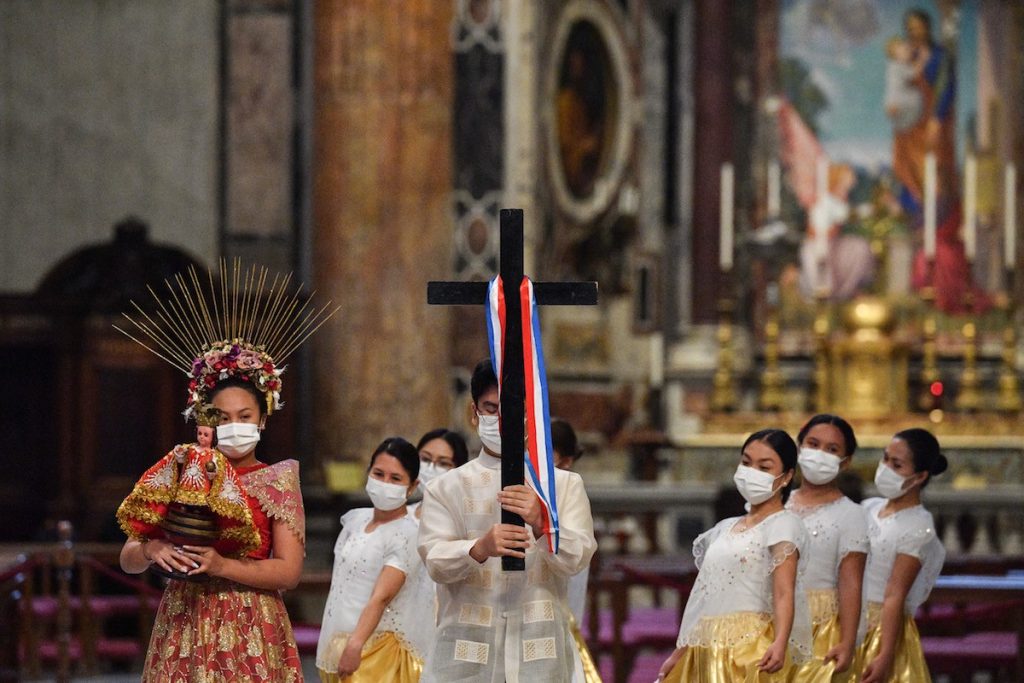 Lies as bedrock of injustice
Bishop Pablo Virgilio David of Kalookan hints that a warped view of "strength and vitality" has played to charismatic strongmen like Duterte.
The pope's words echo Bishop David's warnings about self-absorption allowing grave injustices.
Those who have hailed Duterte's bloodbath, whether targeted at drug suspects or activists, say it has made their communities "safer" and their business or land estates "more stable and protected."
Bishop David, however, says the biggest lie in the anti-narcotics war is the claim that more than 30,000 killings — only around 7,000 listed as official police operations — are meant to eradicate illegal drugs.
Dozens of local government officials have also been murdered under Duterte, who is known for waving an unvetted list of "drug lords."
These include local elected officials, judges, lawyers. Many ended up dead without being charged in court, including 25 mayors and vice mayors.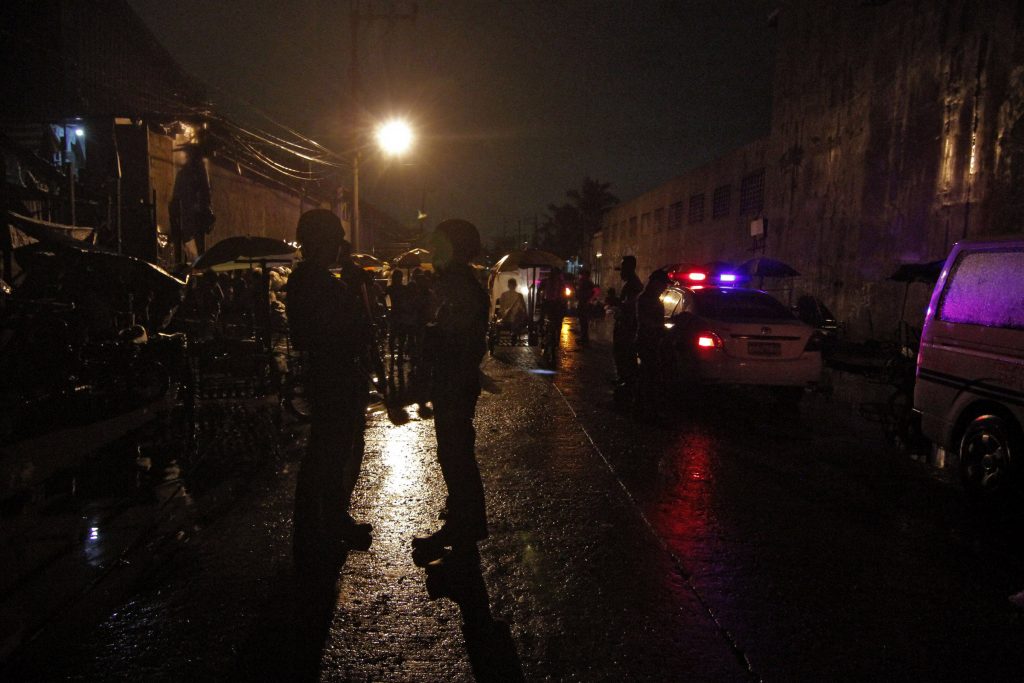 Police were involved in the March 8 daylight ambush of Mayor Ronaldo Aquino of Calbayog City, Samar, in the central part of the country.
National police chief Debold Sinas claimed it was the mayor's team, which included cops assigned to his security, that opened fire first.
But witnesses said the killers had spent days casing the local chief executive's home, and then blocked two sides of the road in their assault.
Lawmakers demanding a probe also slammed Sinas for claiming the killing team, who wore balaclavas, were hunting down communist rebels. They actually belonged to anti-drug units.
In contrast, Duterte's hand-picked men were promoted after allowing in two shipments of "shabu" each valued at hundreds of millions of dollars.
Some men involved in one of the shipments were identified as businessmen from the southern Philippine city of Davao, Duterte's hometown. They also turned out to frequent the same parties with his sons.
The lie on human rights
Government lies help to burnish Duterte's gloss. They also serve to cover up crime and corruption.
Government lies, often spread by a well-funded social media army, go beyond the drug war.
Duterte and his aides blame leftists for just every socio-economic problem — even though they have grudgingly approved reforms won with the sweat and blood of activists.
The Kaloocan bishop, who takes extra security precautions because of death threats, notes that lies underlie a system aimed at blocking access to justice.
On a broader front, Duterte's biggest lie is to present "human rights" as a terrorist tool. Top security and communications officials amplify this message.
In Cebu City, a court order for the release of an indigenous child arrested in a "rescue" highlighted this trend. It said Sinas told the child that her knowledge of Miranda rights — recognized globally as a pillar of due process — was evidence of communist brainwashing.
As Asia's only Catholic majority nation prepares for Holy Week, the lamentations have spiked.
Police and military forces recently killed nine activists in an outright replication of Durerte's drug war.
"Nanlaban," officers chorused — all allegedly fought back while authorities served search warrants.
"There was no gunfight," stressed lawyer Jasmin Regino of the Commission of Human Rights.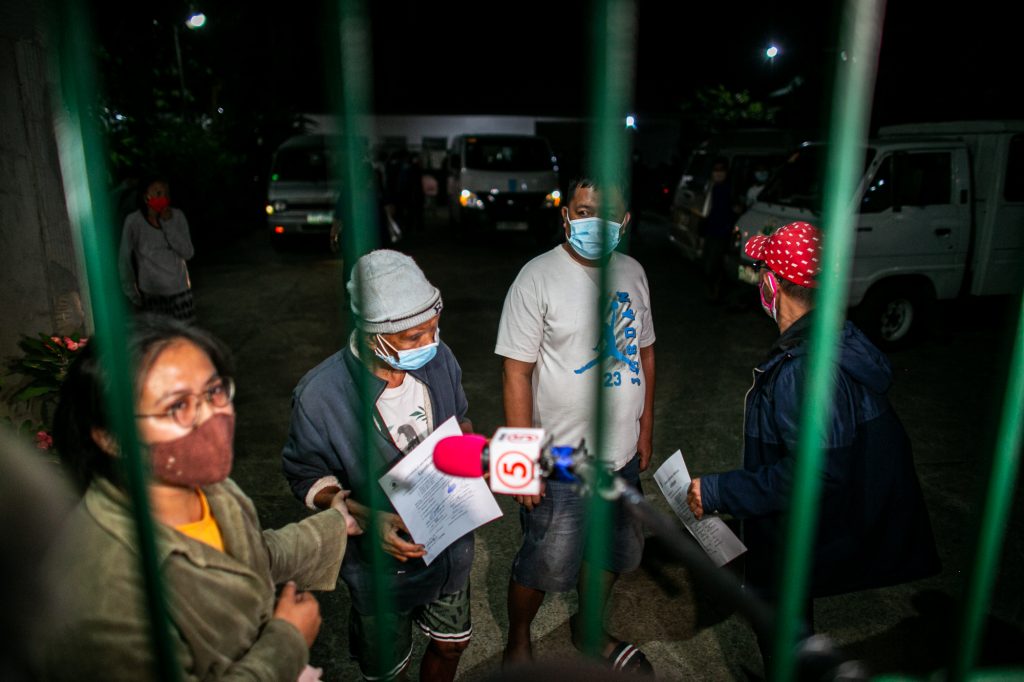 The nine-year old son of fisherfolk activist couple Chai Lemita and Ariel Evangelista huddled on an upper bunk as cops stormed their beachside cottage in Nasugbu, Batagas, 111 km southwest of the capital. He was able to text an aunt for help.
Manny Asuncion, a labor activist in Cavite province, directly south of Manila, was with his wife and child when police raided his office, which was not even the place cited on the warrant.
Kristina Conti of the Public Interest Law Center said the police did not show any warrant. They "asked his wife and a companion to leave the room, took Manny into one of the inner room where he was killed."
Years of getting away with extra-judicial killings have made authorities sloppy.
Law enforcers — who thronged the Manila Cathedral for a special mass for police on March 7, the same day of these murders — have learned to imitate Duterte's strategy of lies. The president has promised them protection from legal suits.
The lies go beyond words. Police and soldiers in Rizal province, east of Manila, tried to hold on to the bodies of four of the activists slain on March 7.
It took almost 24 hours of arguments with kin, lawyers and a team from the Commission on Human Rights, before the bodies were released for independent autopsy.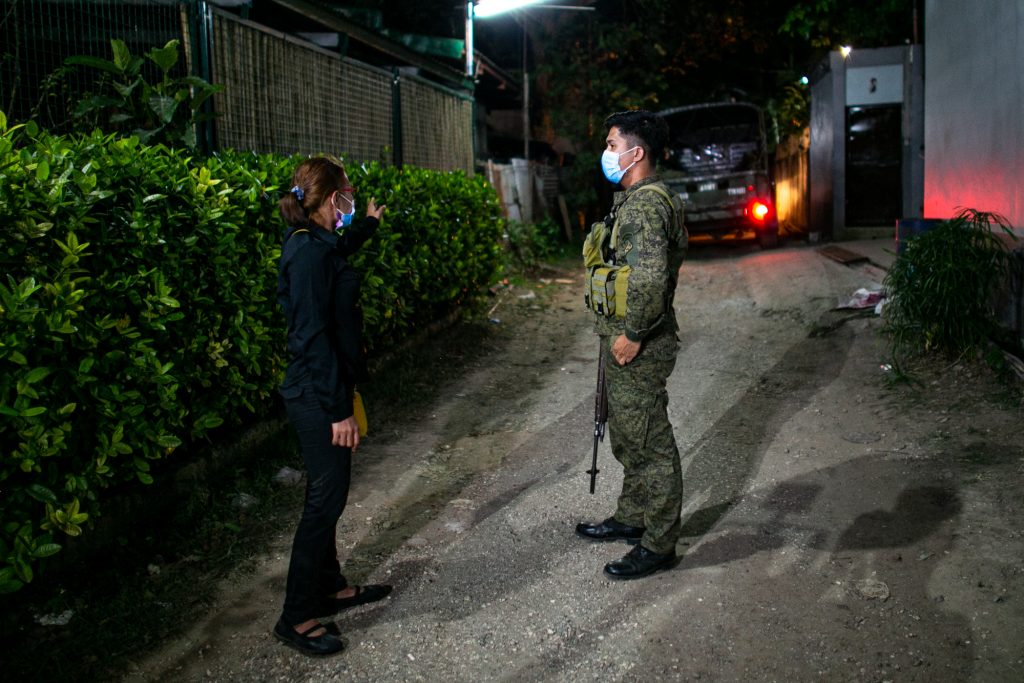 Faith and truth
Bishop David asks Filipinos to scrutinize their leaders' claim. Filipino clergy, nuns, pastors and religious lay leaders are also examining possible complicity for helping usher in an era of autocracy and tyranny.
"Truth is not only a political issue. It is above all a moral issue," he said in 2019. The bishop was dragged by Duterte's office into an alleged ouster conspiracy but has since been cleared.
"It is important to ask what have we done or failed to do, to have a flock so enamored with violent leaders," said Benedictine sister Mary John Mananzan, who gets threats daily from citizens caught up in the red-tagging zeal.
"If people can compartmentalize their faith, then [Church leaders] failed in education," said Bishop David.
The Kaloocan bishop uses the right term, compartmentalize. The power of Duterte lies in his targeted use of lies.
---
---
---
Government attacks in the Philippines keep pace with the eruption of lies on social media. Either it follows a lie aimed at demonizing targets or new lies crop up to cover up state brutality.
Ten leaders, signing a statement released this week by the Ecumenical Bishops Forum-Southern Luzon, also examined this fulcrum of injustice.
"False accusations, placing innocent in danger, particularly to death, are abominable acts of injustice in the eyes of God," bishops of different denominations stressed.
Almost all of more than 300 activists slain under Duterte were red tagged by state officials or "anonymous" organizations before the murders.
Investigative journalists have linked anonymous Facebook groups to the police and military. At least two officers were cited as masterminds of the most vicious attacks.
The Armed Forces' Deputy Chief of Staff for Intelligence, Major General Alex Luna, was also fired for releasing a fake list of supposed state university alumni who have joined the communist New People's Army.
It named lawyers, journalists and even a former lead negotiator in government peace talks with communist rebels.
To love is to risk
Father Danny Pilario of the Congregation of the Mission, dean at St. Vincent's School of Theology in Manila, and minister to a sprawling urban poor community that has reeled from hundreds of killings, says bearing witness takes more than words and sermons.
He believes the Church needs more "good shepherds" who walk and live with communities.
A shepherd protects his flock when the wolves come to kill, Father Pilario once told me. He "should be able to place his life on the line, not like the hired ones who run away, as the Gospel says."
The perils of love are real.
Three other priests still face the same charges withdrawn against Bishop David. Bishops and priests of the Philippine Independent Church have been jailed and tortured. Three Catholic priests have been assassinated over four years.
The government has branded the Rural Missionaries of the Philippines, which helps farmers across the country and helped establish schools for indigenous peoples, as communists.
RMP's accounts have been frozen. Its elderly nuns have been charged in court or deported, like the Australian Sister Patricia Fox, who became the target of Duterte's ire after three decades of serving Filipinos.
The Southern Luzon Bishops urged Filipino Christians to break free from the culture and death and impunity.
"We must act together for the defense of justice, human rights for the common good of all. Let us declutter the mess caused by the system of injustice and the chains that shackle us from participating in building a just and compassionate social order – equal and dignified," their statement said.
Christians, they said, should be bearers of hope and justice to our brothers and sisters in desolation," said the bishops.
To break free one must plumb the past. The angry, growling dark depths where Duterte rules also display the fault lines of the Philippines 500 years of Christianity.
Inday Espina-Varona is an award-winning journalist in the Philippines. She is a recipient of the "Prize for Independence" of the Reporters Without Borders in 2018. The views expressed in this article are the opinions of the author and do not necessarily reflect the editorial stance of LiCAS.news.