If death squads leave no fingerprints, as Uruguayan journalist Eduardo Galeano once suggested, in my country, Corruption Inc. leave more than enough bloody handprints to suggest culpability.
Recent allegations of massive fraud in the Philippine Health Insurance Corp. (PhilHealth), a state-run insurer, to the tune of Php15 billion is one such case.
Antifraud officer and whistleblower lawyer Thorrsson Montes Keith says in a Senate hearing that a "syndicate" composed of the organization's executive committee has been defrauding the state-run health agency for years.
He told the Senate that fraudulent activities within PhilHealth may have snatched an estimated Php15 billion of public contributions though overpayment and insurance fraud, leaving the state-run health insurer on the brink of collapse.
---
---
---
No stranger to controversy
This wasn't the first.
Former PhilHealth acting chief Roy Ferrer resigned early this year in the face of mounting allegations of fraud involving "non-existent kidney treatments". However, President Rodrigo Duterte, who asked him to tender his resignation, vouched for Ferrer's "integrity" and reappointed him to the Department of Health (DOH) as one of the assistant secretaries.
According to Marlon Ramos' report in the Inquirer, "Whistleblowers earlier estimated that the insurance company lost Php154 billion to various types of fraud, including reimbursements for 'ghost' dialysis patients, overpayments, false claims and 'upcasing' of common ailments."
PhilHealth President and CEO Ricardo Morales, a retired brigadier general appointed by Duterte to head PhilHealth, said "About Php10.2 billion in agency funds might have been lost to fraud in 2019 and that this could 'balloon' to Php18 billion next year if the leakages would not be plugged."
The Commission on Audit (COA) had long flagged PhilHealth for alleged fraud and this includes the term of Morales where one of the board members raised the issue of a Php2.1 billion information technology project.
The report added, "Keith also disclosed that PhilHealth President and CEO Ricardo Morales once directed him to approach Greco Belgica, commissioner of the Presidential Anti-Corruption Commission, to 'massage' the investigation of the allegedly overpriced testing kits for COVID-19. He previously called his erstwhile boss a 'coddler' or the 'new leader' of the syndicate, an allegation that Morales dismissed as baseless."
During the investigation, Sen. Panfilo Lacson described PhilHealth's group of corrupt officials as "a deeply rooted, mafia-like syndicate that controls the resources of the corporation."
In a Twitter post, Sen. Kiko Pangilinan likens Php15 billion of allegedly filched public resources to 11 million UP's Covid-19 test kits.
Anak Kalusugan Party-list representative Mike Defensor said that from 2013 to 2018, PhilHealth had lost Php153.7 billion due to "overpayment and fraud". Defensor also claims that PhilHealth refused to give COA access to their computers in 2019, leaving the audit bureau unable to draft their report.
The Presidential Anti-Corruption Commission (PACC) claims that a "systematic flaw" fuels corruption within the state-run insurance agency, which is basically "insurance fraud". The President has since designated Undersecretary Jesus Melchor Quitain of the Office of the Special Assistant to the President to conduct further probes.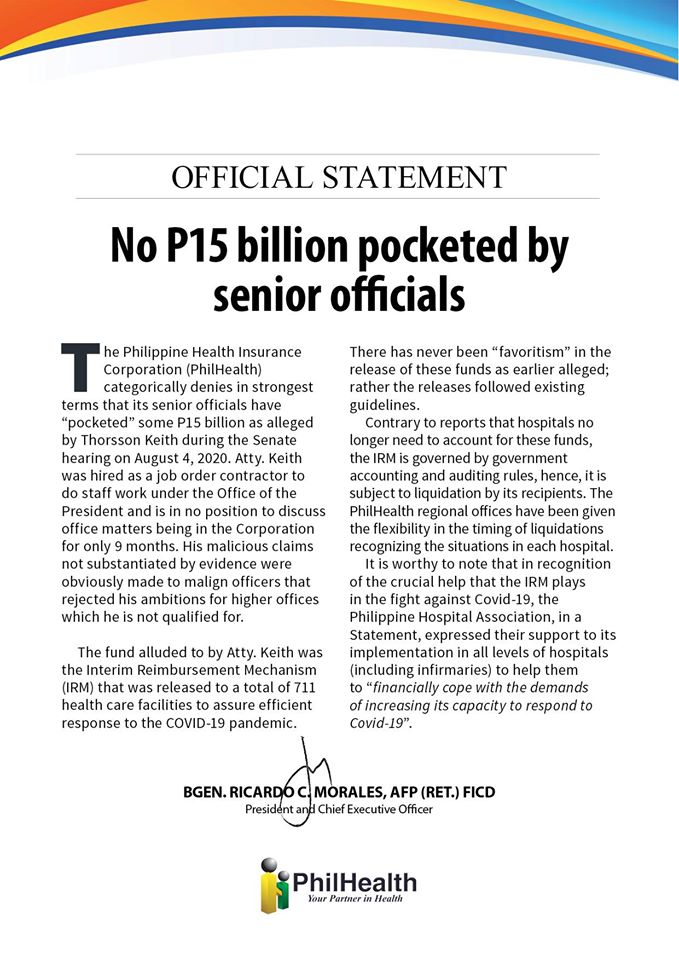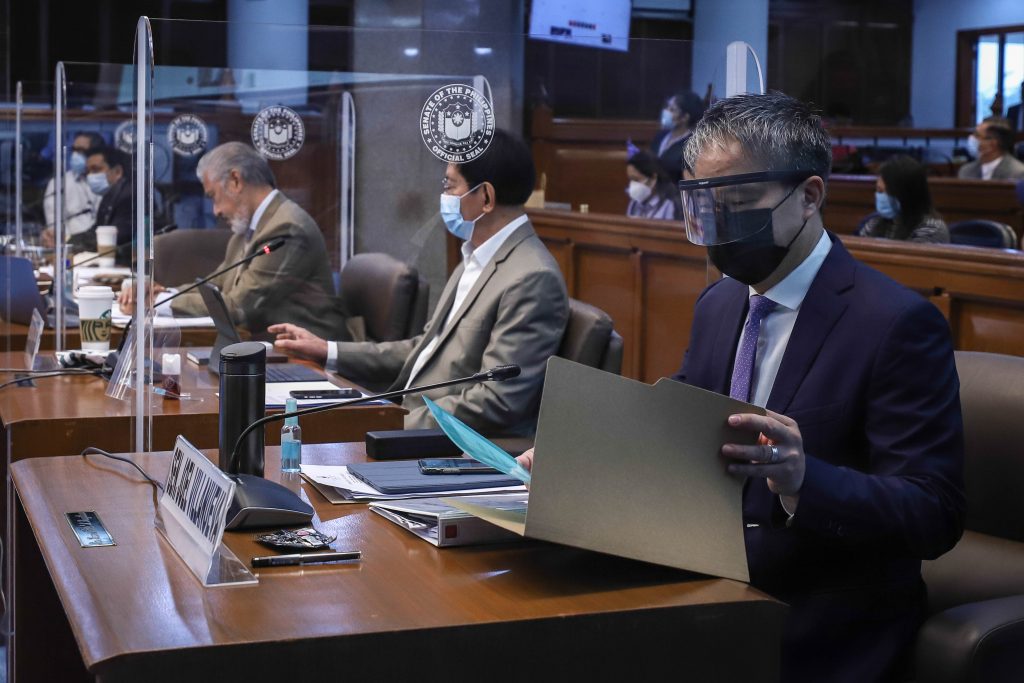 PhilHealth and Covid-19
As early as April, PhilHealth has assured the public of its assistance in terms of new case rate packages in light of the ongoing pandemic.
These early packages drew flak from the public. PhilHealth then explained that inadequate funds may not sustain its earlier guarantee of shouldering the Covid-19 bill. Scaling down its packages came after repeated assurances by PhilHealth chief Morales that the state-run insurance agency has the money to assist the government's Covid-19 campaign.
PhilHealth kicked off 2020 with roughly Php130 billion, with Php52.5 billion disbursed by end of April as its initial response to the pandemic.
Thus, sometime June, PhilHealth's board of directors approved a scaled-down set of benefit packages for Covid-19 testing, which includes: (1) All services for testing procured and provided by the testing laboratory (Php 3409); (2) Test kits donated to the testing laboratory (Php 2077); and (3) test kits donated to the testing laboratory; cost of running the laboratory and RT-PCR machine for testing is included in the facility budget (Php 901).
The DOH has made sure to highlight these assurances by PhilHealth as early as April. The Beat COVID-19 Virtual Presser where Health OIC-Undersecretary Maria Rosario Vergeire and PhilHealth Vice President for the Corporate Affairs Group Dr. Shirley Domingo were present, the latter said, "[P]atients confined as probable or confirmed cases can avail of the benefit packages as follows: Php 43,997 package for patients with mild pneumonia confined in Level 1 to 3 hospitals; Php 143,267 package for those with moderate pneumonia in Level 1 to 3 hospitals; Php 333,519 package for patients with severe pneumonia confined in Level 2 to 3 hospitals, including ICUs; and Php786,384 package for patients with critical pneumonia confined in Level 2 to 3 hospitals, including ICUs."
How all these guarantees will be met in light of ongoing investigations of corruption and fraud is anybody's guess.
If earlier decisions by PhilHealth are any indication of questionable disbursement of funds, Sen. Panfilo Lacson pointed out that sometime June, the state-run insurance agency had released a little over Php200 million to hospitals treating only a single Covid-19 patient.
Based on information shared by the senator, Php247 million was released in Bicol in just a matter of two weeks, while Eastern Visayas received Php196 million within a week. These hospitals, the senator claims, only have one Covid-19 patient each. Five hospitals, Lacson said, in both regions were involved in this alleged disbursement scheme by PhilHealth.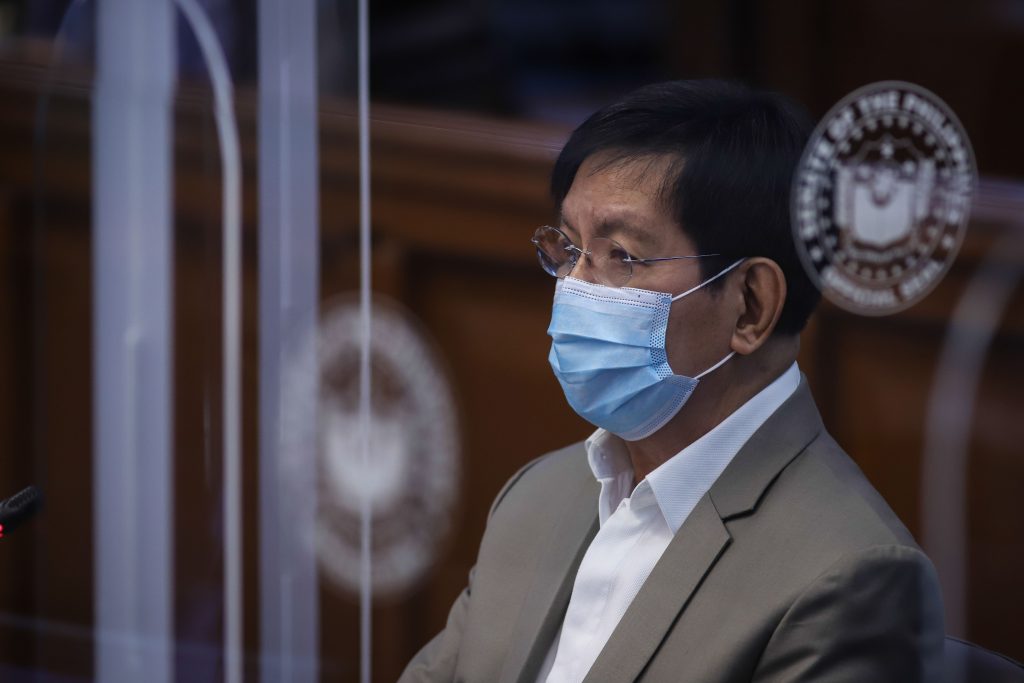 Php15 billion of filched health
If these allegations against PhilHealth prove true, Php15 billion is an obscene amount of money. This resource could have been used to fill the scarcity of personal protective equipment (PPE) for our doctors and nurses, perhaps even fund treatment for the poor or make up for much of what is sorely lacking in the salaries of medical frontliners.
That such allegations came at a time of severe challenges to the nation already tells you that corruption takes no prisoners. It will wreak havoc on the system wherever it is found, to hell with those who would suffer as a result.
The public is already in dire straits under repeated quarantine without the burden of wondering where the trillions worth of donations and government loans had gone. PhilHealth funds are sourced from the public's sweat and tears, hence nothing could dissuade me from believing that corruption ought to be considered a heinous crime, more so at a time of pandemic.
What can be done to rectify the matter? Should investigations prove undeniable guilt, those named in the scandal must face the severest penalty found in our penal code.
Impunity impedes justice, thereby allowing corruption to continue, fearing neither blame nor shame. One cannot filch health from right under our noses and get away with it unscathed.
At a time of extreme pandemic, running off with the people's resources ought to be considered a crime against humanity.
Joel Pablo Salud is an editor, journalist and the author of several books of fiction and political nonfiction. The views and opinions expressed in this article are those of the author and do not necessarily reflect the official editorial position of LiCAS.news.