A Philippine diocese in the national capital launched an "urban agriculture program" aimed at introducing and promoting gardening in households.
Bishop Pablo Virgilio David of Kalookan led the blessing of "GRACE Urban Demonstration Farm," which was developed at the Shrine of Our Lady of Grace.
The Diocese of Kalookan will open the demonstration farm to other parishes and communities for urban farming training workshops and seminars.
---
---
---
Bishop David said the program aims to teach the public "how to secure their own food" and plant vegetables at home despite lack of space and soil.
He said the Church does not only give food to the poor but also seeds "so that we can produce our own food."
"We only need ingenuity and creativity, which I can see on this [urban] farm," said Bishop David. "I hope this program will inspire and influence others to do this in their own homes."
The launch of the program was followed by the signing of a Memorandum of Agreement between the Diocese of Kalookan and the government's Department of Agriculture.
The Agriculture department, through its Agricultural Training Institute, will provide materials and the necessary training and seminars about urban farming.
Dr. Rosana Mula, director of ATI, lauded the efforts of the diocese to promote urban gardening "especially now that the country is facing a great challenge due to the pandemic."
She said urban gardening will help communities address the problem of food security and can be an alternative source of income for poor families.
Mula assured the diocese that the Agriculture department will provide assistance and resources to the development of the program.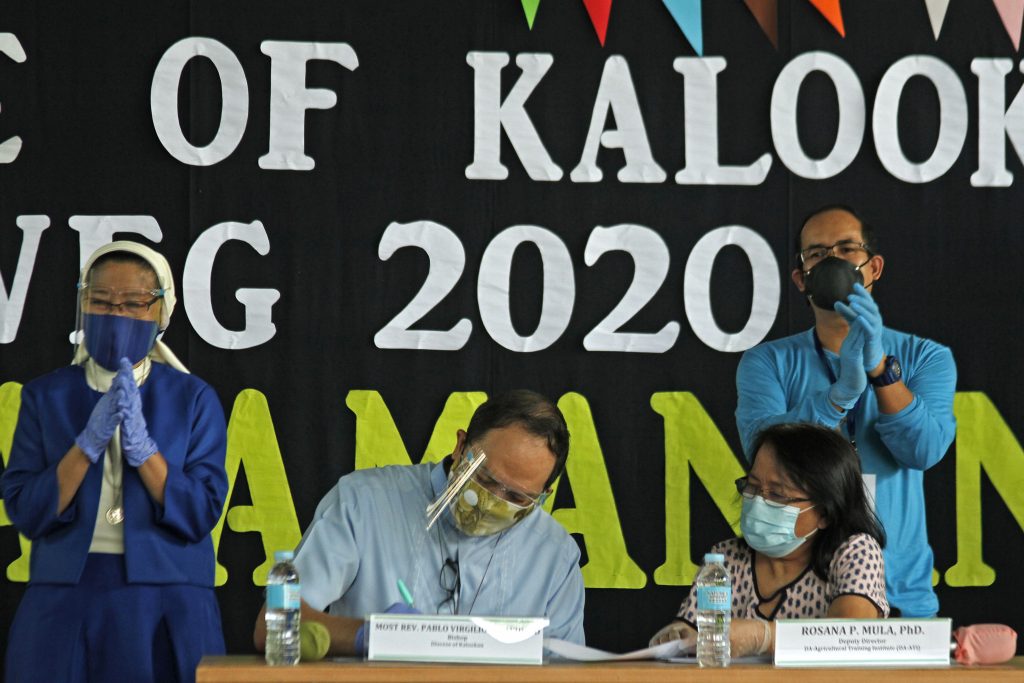 Father Eduardo Vasquez, parish priest of the Shrine of Our Lady of Grace and director of GRACE Urban Demonstration Farm, said the program started with a question, "How long will we feed the people affected by the lockdown due to COVID-19?"
"I answered, 'Until we teach them how to plant their own food,'" the priest told LiCAS.news.
The priest said the diocesan program "will rebut the notion" that farming is impossible in urban areas or in heavily-populated communities.
"We want to show the public that farming is not just for farmers in the countryside. Farming can be done at your own doorstep," he said.
He said the diocese will introduce hanging plastic containers as vegetable plots, and hydroponics, a method of growing plants without soil by using a mineral nutrient solution.
Father Vasquez said the program is a response to the call of Pope Francis' encyclical on the care of the environment — the Laudato Si.
"This program does not only promote urban farming, but it also provides us the opportunity to act on the call of the Catholic Church for global ecological conversion," he said.
The Diocese of Kalookan will announce the schedules of the seminars and tours inside the demonstration farm "once the prohibition on mass gathering is lifted," said the priest.