Reaping the fruits of one's labor is not just a proverb in a parish in the outskirts of the Philippine capital where people harvest fruits and vegetables that grow in hanging plastic containers.
After morning Mass on Sundays, parishioners would pick fresh lettuce from a pile of pumice — very light and porous volcanic rocks — submerged in a water solution.
Some wonder how the lettuce grew on soilless containers in the middle of the parish compound's parking lot.
"It is not magic and it is not a secret," said Father Eduardo Vasquez, parish priest of the Our Lady of Holy Grace in the Diocese of Kalookan.
---
---
---
The Oblates of the Mary Immaculate priest uses hydroponics, a method of growing plants without soil by using a mineral nutrient solution, in his garden.
The priest has been experimenting with different methods of planting vegetables and fruits in the parish compound for several months.
"I want to prove that it is possible to plant vegetables in an urban community or in your own home despite the absence of a backyard or a piece of land," he said.
The urban gardening project, which he called "Project Grace," started after the Philippine government imposed a lockdown in the national capital to stop the spread of the new coronavirus disease in March.
"During the lockdown, many poor families I visited complained that they have no enough food to eat or no money because they have lost their livelihood," said Father Vasquez.
The priest said he realized that during the pandemic and with the looming economic crisis "people need to go back to the basics and rely on what nature offers to survive."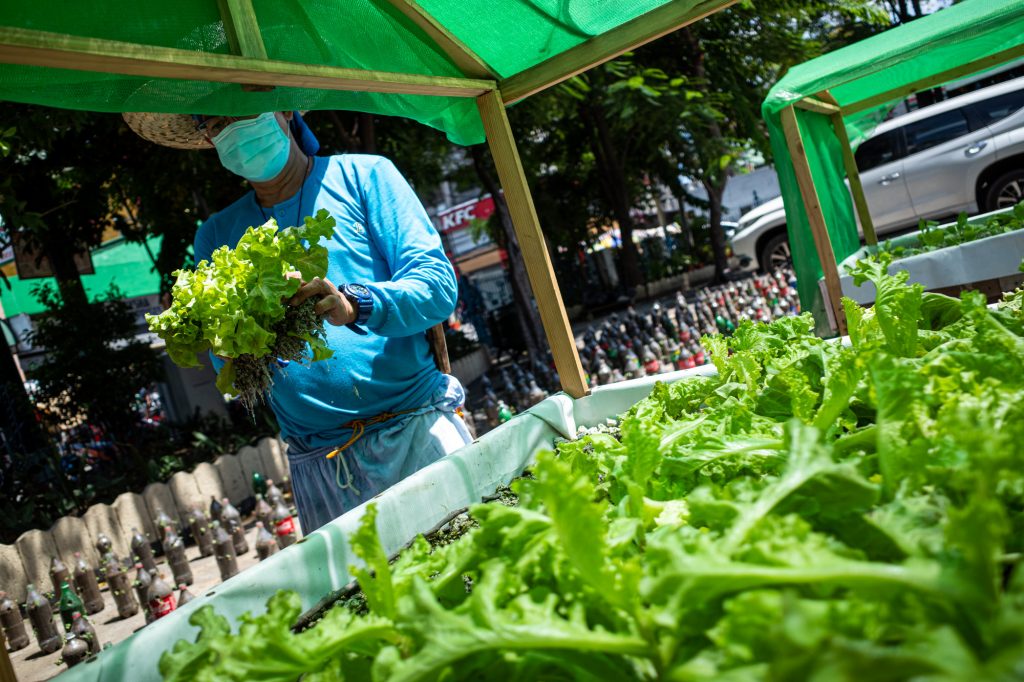 With the help of his fellow Oblate priests, Father Vasquez developed a program aimed at helping poor families secure their own food.
"I needed a prototype and a place where I can show people that planting is possible in an urban setting, so I started with the parish grounds," he told LiCAS.news.
Father Vasquez uprooted all the "decorative plants" around the parish compound and replaced it with "plants that can be harvested and eaten."
"Then I realized that we need to improvise because we have no enough soil here," he said. "We have a large church compound but the ground is all concrete," he said.
The priest urged the staff and church volunteers to collect used plastic containers and empty cans that they later used for planting.
Then they started preparing the "good soil."
"Preparing a good soil is reflecting about our own life," the priest said. "A good soil is a mixture of composted organic elements with carbonized rice hull and topsoil."
"In our lives, we have dark experiences and sufferings. There are times that we get burnt out, we bleed, and we experience pain. But that what makes us a good person," he said.
In a few months' time, the priest was able to transform his parish into an urban gardening hub that people visit to learn how to grow their own food in their own homes.
The priest was able to grow various fruits and vegetables including banana, pepper, tomato, spinach, okra, taro, grapes, and various herbal plants.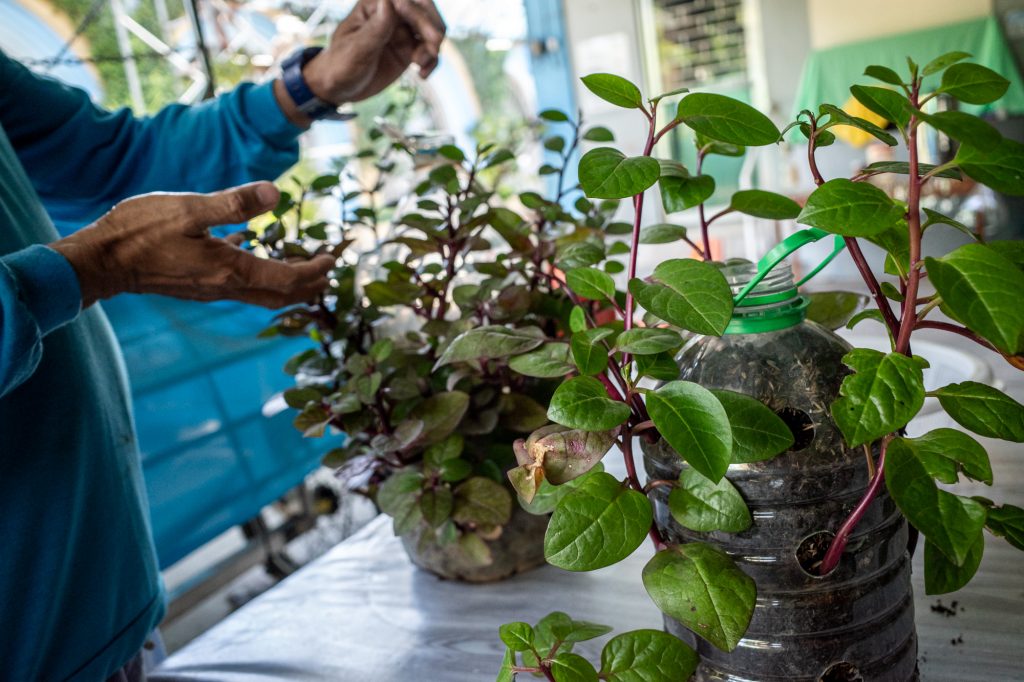 Climbing and vining vegetables, such as Malabar spinach, bitter melon, asparagus beans, bottle gourd, among others are grown on the walls of the church and other buildings.
"These vegetables can be used as decorations, too. So, instead of using other decorative vines, we will just grow these plants that we can eat," said Father Vasquez.
He built a small greenhouse where seeds are grown before being replanted on hanging and ground plant pots.
The priest also introduced a simple procedure of vermicomposting, which every household can do with their organic wastes at home.
There are a few chickens in the parish, native chickens and Silkie, or the Chinese chicken, whose droppings are used as fertilizer.
On April 26, the parish distributed hanging vegetable pots to urban poor families in the community.
Father Vasquez would regularly make home visitations not only to check on the faithful but also on their plants.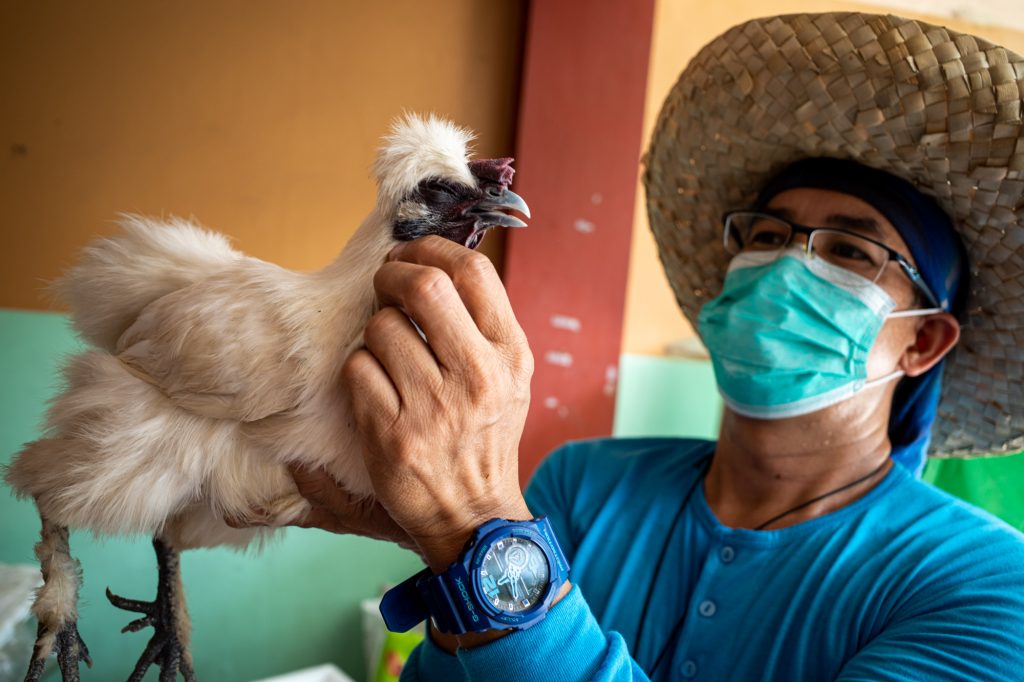 "Many parishioners and visitors want to buy [the improvised plastic pots]," said the priest. "We do not sell, instead, we teach them how to grow vegetables in these pots," he said.
Father Vasquez is now converting idle lots in the parish into green spaces with his vegetable pots. The parish pastoral center's roof deck is next on his list.
In the coming days, the priest said he will ban flowers as decorations in the church's altars.
"We need to stop picking up roses, putting them on the altar, and then throw them the next day," he said. "If people want to offer flowers, they need to bring flowers in a pot of soil," he said.
The priest also ordered parish staff to replace decorative plants inside the church with edible plants.
Father Vasquez said that to respond to the call of Pope Francis "to care for our common home" should not be complicated.
"To translate the message of Laudato si' for people to understand, we need to show them what a 'concrete ecological action' really means," he said.