Sightings of military trucks and scores of men in camouflage over the weekend sparked fears among people of the start of a "martial law-like lockdown" in the Philippine capital.
But the vehicles parked under a flyover on a key intersection belong to a military unit that has temporarily traded guns for ladles to feed thousands of vulnerable poor families.
The soldiers from the Philippine Armed Forces' 7th Civil Relations Group's call themselves "vessels of blessings."
They operate a mobile kitchen and their day starts before dawn with a prayer of gratitude for partners who supply meal ingredients and mercy for recipients of the food aid.
---
---
---
The group provides 3,000 meals daily for poor people amid growing restiveness over the slow delivery of government social welfare nets to those who lost jobs and livelihood during the lockdown put in place to suppress the new coronavirus.
Major Frank Sayson, the group commander, told LiCAS.news that his team's quota surged by a thousand meals on April 22.
His unit was called to feed urban poor residents left homeless after a fire razed a slum community in Manila's Tondo district.
For days already, the soldiers serve the first meal of the day between nine o'clock and 11 o'clock in the morning. They distribute early dinner between three and four o'clock in the afternoon.
Aside from these, the military unit also gives out thousands of bread rolls to street dwellers and relief packs to at least 500 homeless folks.
It can be punishing work to cook in heavy canvas uniforms under the sweltering summer heat. The local weather bureau declared a heat index of 42 degrees centigrade on April 22.
But the soldiers have endured far worse conditions, and many in the unit came from previous combat stints in different parts of the country.
Aside from cooked meals, the group brings raw ingredients for a food to select communities where teams of residents operate communal kitchens.
The soldiers also provide relief packs coursed for distribution through grassroots governing councils for stranded workers and students in the capital.
Sayson acknowledged that their mobile kitchen only serves a fraction of the capital's poor.
They zero in, instead, on sectors that fall through the social welfare nets because they are either transient workers or not registered officially with the village councils.
Of the 1.3 million displaced construction workers on the main Philippine island of Luzon, thousands remain in the capital, receiving no government aid and little by way of subsidy from their employers.
---
---
---
A lot of businesses closed shop since March 16 when an "enhanced community quarantine" was declared in the capital and nearby provinces.
Sayson said his unit adheres to regulations governing the quarantine that ban mass gatherings and impose physical distancing in all activities.
The unit's activities involve local village officials to allay fears at a time when police warn of instant arrests for lockdown violators.
They military unit uses a loudspeaker to announce the start of meal operations. Grassroots officials take care of choosing beneficiaries, who queue under the watch of village marshals.
The troops wear masks as they enter alleys where street dwellers live under scraps of cardboard, discarded wood ply, and plastic tarps.
"In some cases, the local officials are the ones who hand over to their constituents' homes the relief goods and food packs," said Sayson.
The soldiers do not accept cash donations. They also take care of getting clearances, travel passes, and authorization of activities for partners that include restaurant chains, civic organizations, charity foundations of media and entertainment conglomerates, school alumni groups, and bus and petroleum companies.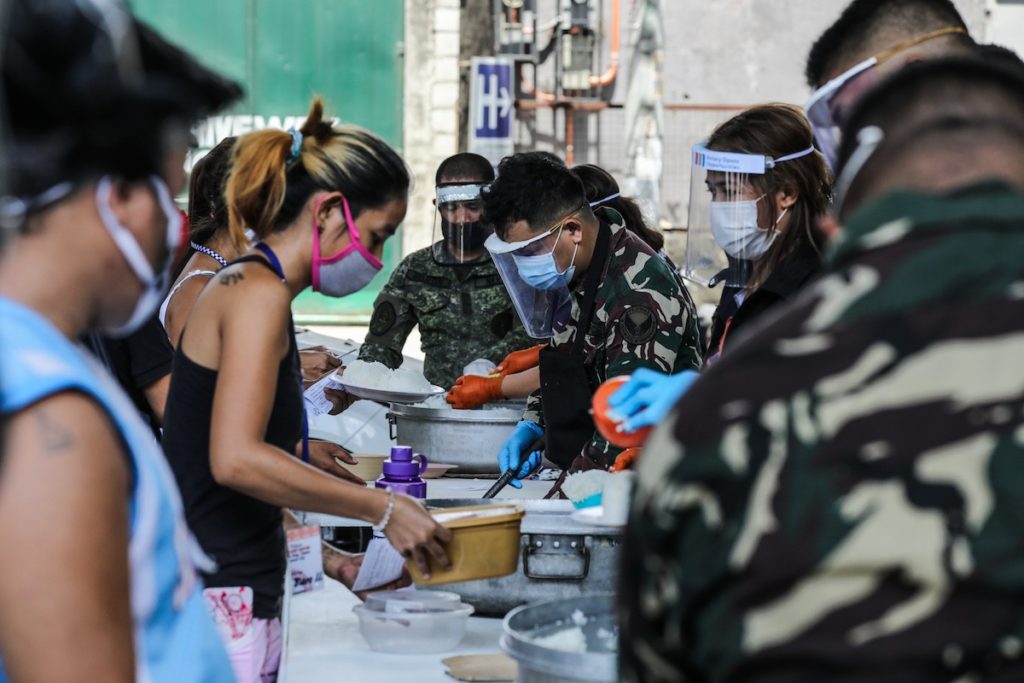 Sayson said the crisis offers soldiers a chance to lift up those the hungry and despondent.
"When we feed the hungry, we don't just give them food. We give them hope in humanity and hope to believe in better days ahead," he said.
The military unit's heightened presence came as the national social welfare agency, headed by the former chief of the Philippine Army, ordered all private relief organizations to register and secure permits.
The order met with an outcry as various groups labored in the first month of the lockdown to fill the vacuum in social welfare nets.
Police have since arrested relief teams belonging to militant groups, which were part of the early responders to poor communities, claiming that leftists were exploiting the social crisis to undermine the government.
Sayson's 7th Civil Relations Group's Facebook page even carries typical military anti-communist rhetoric.
The Commission on Human Rights has already cautioned state security forces to provide clear cut safeguards against abuse of authority, guarantee respect for rights, and prevent undue panic.