Perlito Baligwat, 61, toiled for over three decades in the sprawling Hacienda Cabagsiwan in Bago City, Negros Occidental, planting and harvesting sugarcane as young as nine years old.
He weeded grass during lean season and hauled heavy loads of sugarcanes during harvest, only to get a measly P200 for a hard day's work.
After more than a decade since the government first ordered the acquisition of the land he labored for, Baligwat continues to wait for the land he is entitled to.
---
---
So many opportunities have passed and have been lost; the money he could have long earned from farming could have been used for his family's growing needs and they would not have suffered in the life of poverty they are experiencing now.
The turtle-paced process of distributing the land has become frustrating for Baligwat, who is among the 105 farmer-beneficiaries who had toiled for years in the vast estate.
"No one's moving in DAR [Department of Agrarian Reform] anymore," Baligwat said. "We hope they act on our papers instead of the land getting idle."
President Ferdinand Marcos Jr. has put farmers at the fore of his economic agenda, promising to boost their quality of life while improving the country's food security.
But a year into his administration, the chief executive remains quiet on his plans for land reform as he faces a tall order in implementing the long overdue program.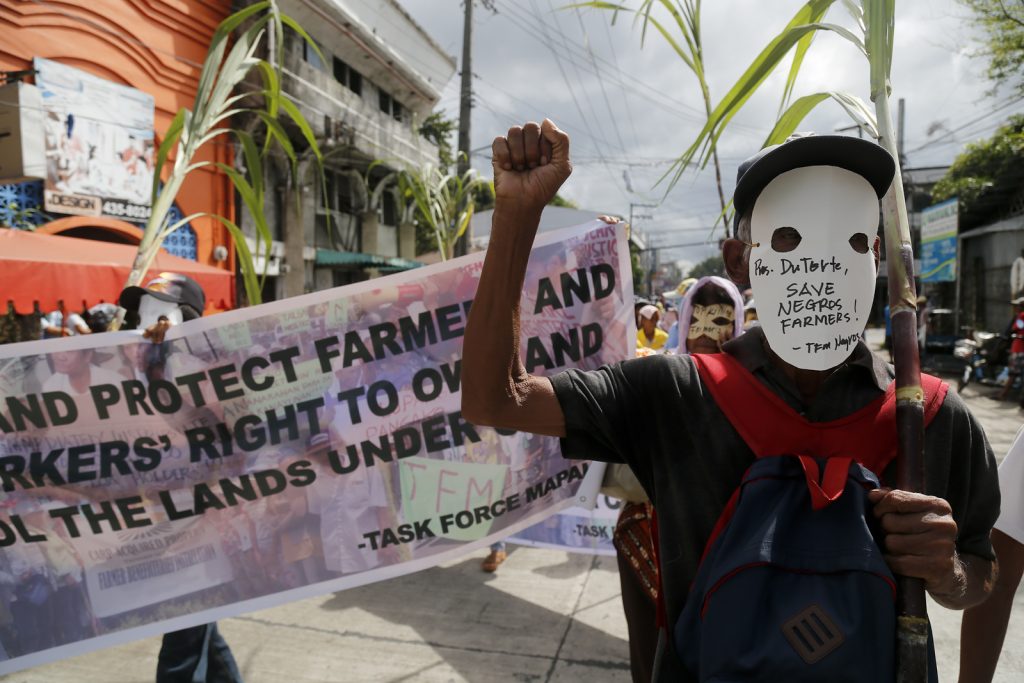 Defective
Hacienda Cabagsiwan was among the thousands of landholdings expunged from the list of lands for distribution under the Comprehensive Agrarian Reform Program (CARP) during the Duterte administration because of its erroneous notice of coverage (NOC), the document that commences the acquisition of private agricultural lands.
According to government records gathered by farmers' group Task Force Mapalad (TFM), DAR issued notices of coverage (NOC) in October 2012 to landowners Ernesto Montilla and four others, and Negros Biochem Corporation covering 134.6 hectares of land.
Nearly a decade later, on February 16, 2022, Bago City municipal agrarian program officer Rutchel Ornillo refused to implement the acquisition of land because he found the NOCs to be erroneous and defective as they were not properly served and published.
He is currently seeking the legal opinion of the provincial agrarian reform officer despite the DAR regional office's final order to proceed with the implementation after the landowners' petition to exempt the land from CARP was junked.
Feeling the same frustration as Baligwat, Melchor Canja, 50, called on Marcos look into their plight and order DAR to finally distribute their land to them.
"It has been a long time already; the beneficiaries are hungry. What are we going to feed our families? We have no land to till," said Canja, who toiled for 16 years in the land once sprawling with sugarcanes.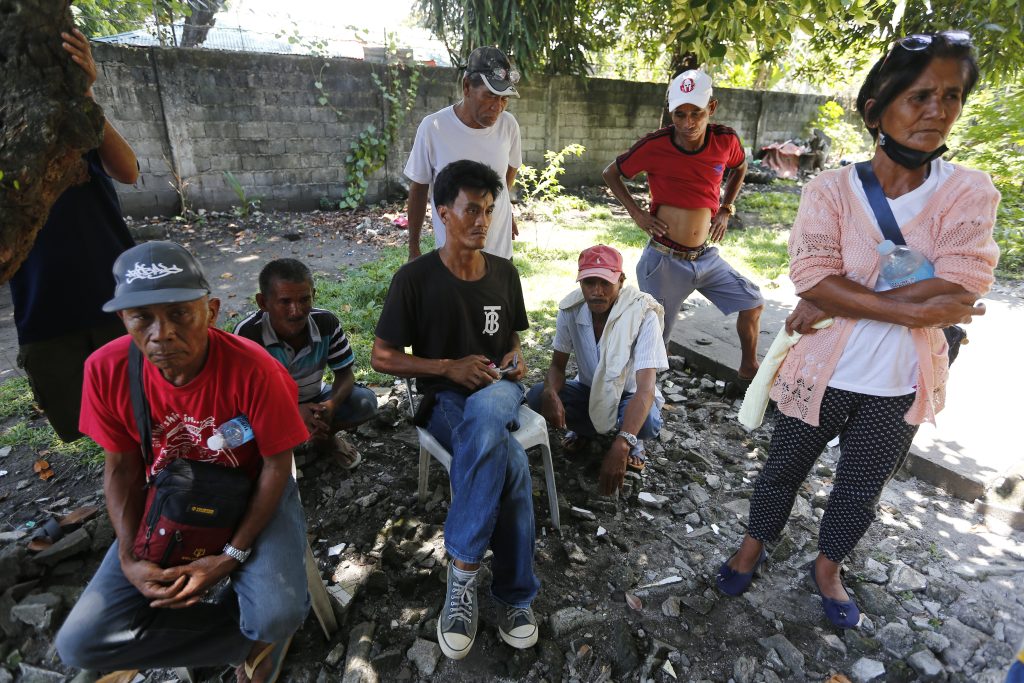 Cleansing
Cleansing the government's list of lands for distribution, called as land acquisition and distribution (LAD) balance, was one of DAR's last few policy changes, affecting thousands of landholdings, including Hacienda Cabagsiwan.
On March 21, 2022, three months before President Rodrigo Duterte stepped down from office, DAR Undersecretary Elmer Distor issued Memorandum No. 112 ordering field offices to cleanse the LAD balance by deleting all deductible landholdings such as those with defective or erroneous NOCs or those that are problematic or "undoable," essentially shelving the LAD process.
DAR data show that the massive cleansing resulted in the deletion of 147,660 hectares of landholdings or 24 percent of the total hectares of land set for distribution at the beginning of Duterte's term in 2016.
This is 15 percent greater than the administration's LAD accomplishment over the past six years.
DAR records also show that some 52,403 hectares of land or more than a third of the total deleted landholdings were deleted in the government's roster because of an erroneous NOC.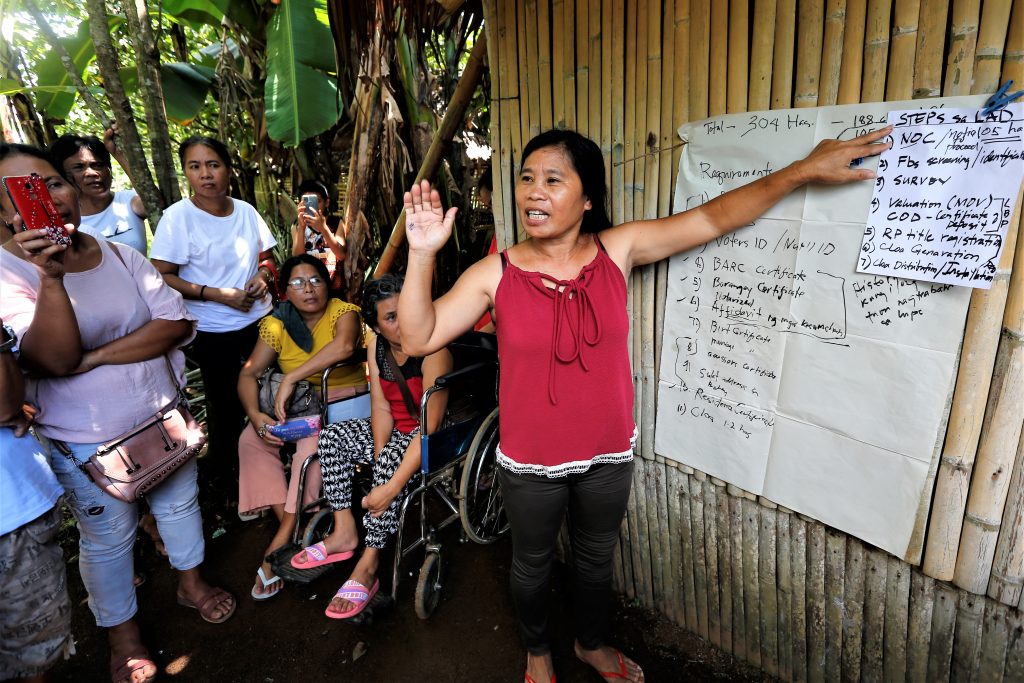 Poorest performance
Despite his valiant and rosy promises to poor peasants, Duterte had the poorest track record in implementing CARP.
He left office with the least number of distributed lands in history and a high percentage of deleted landholdings. 
Of all the country's chief executives, Duterte was the most vocal on implementing the government's longstanding land reform program.
Overshadowed by the deadly drug war, the program was, in fact, one of the campaign promises that propelled him into office in 2016. 
"I am for land reform. That was one of the things I mentioned during the campaign and I will not renege on it," Duterte said in December 2017.
Conflicting data from various government agencies blur the exact picture of the status of the government's land reform program that Duterte left.
In a public briefing in August 2021, then-DAR secretary John Castriciones boasted that the Duterte administration has distributed 516,000 hectares of land to over 405,800 beneficiaries.
This was more than twice the 229,289 hectares and 166,217 beneficiaries the president officially reported in his end-of-term report, "Final Report to the People" published in 2021. 
On the other hand, the Philippine Statistics Authority (PSA), which records annually the number of distributed lands under CARP, shows a below-par performance of the Duterte administration: only 127,857 hectares have been given away to 128,377 agrarian reform beneficiaries from 2016 to 2021.
Using data from the PSA's Agricultural Indicators System, Duterte's accomplishment over the past six years only represents around 21 percent of the total 613,327 hectares for distribution pending at the start of his term in 2016.
| | | |
| --- | --- | --- |
| Year | Land acquisition and distribution accomplishment (in hectares) | Number of agrarian reform beneficiaries |
| 2016 | 22,735 | 23,965 |
| 2017 | 28,461 | 34,572 |
| 2018 | 28,501 | 25,613 |
| 2019 | 23,534 | 20,621 |
| 2020 | 14,318 | 14,529 |
| 2021 | 10,308 | 9,077 |
| Total | 127,857 | 128,377 |
Source: Agricultural Indicators System 2016-2021, Philippine Statistics Authority
The administration's LAD was also the lowest among all presidents. Data obtained from DAR and analyzed by TFM show that the total land distribution accomplishment under the Duterte administration was 142,806 hectares or an annual average of 28,561 hectares.
This pales in comparison with the late President Benigno Aquino III's annual average of 105,030 hectares, the second lowest among post-EDSA presidents.
The late President Fidel Ramos had the highest average at 340,508 hectares annually; followed by Corazon Aquino at 186,323 hectares; Joseph Estrada at 126,635 hectares; and Gloria Arroyo at 109,783 hectares.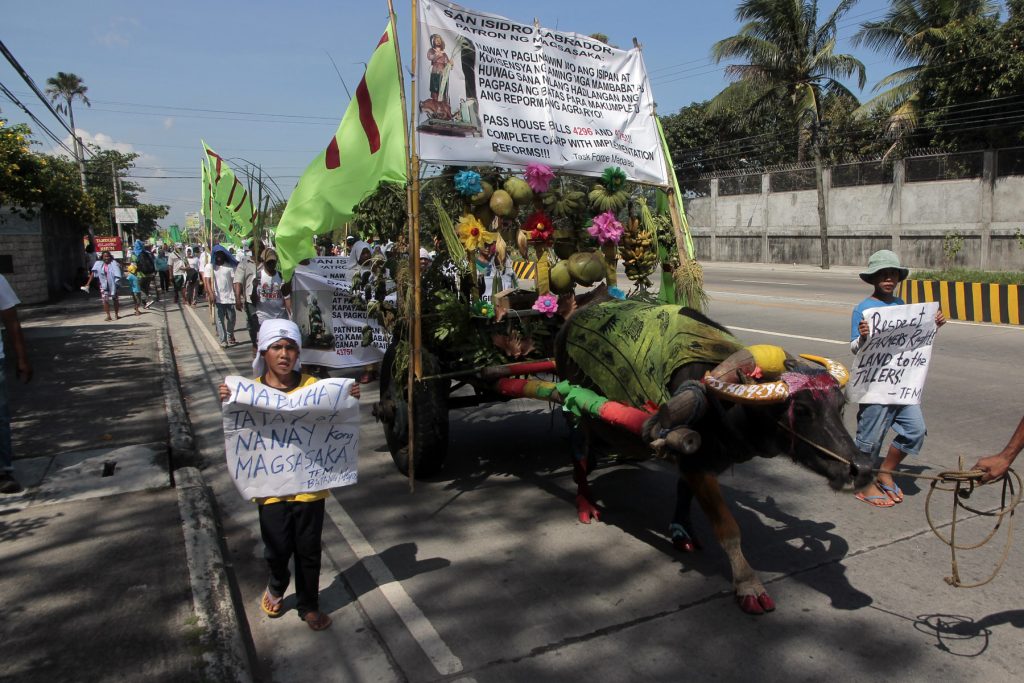 Slow as snail
Despite the president's pronouncements in favor of the farmers, land distribution remains slow as a snail.
According to DAR data, as of June 2022, the government has yet to distribute 173,340 hectares of land nationwide while only 9,223 hectares have been distributed—or those lands whose emancipation patents were registered last year.
This is on top of the 147,378 hectares temporarily deleted from the land distribution list in March last year under the agency's Memorandum Circular No. 112, which orders the "cleansing" of the LAD balance.
Could the Marcos administration complete his predecessor's unfinished business until he steps down in 2028?
For farmers like Baligwat and Canja, time is running out. Canja said at least four of his fellow ARBs in the hacienda have died in recent years.
They could have had, he pointed out, enjoyed the fruits of their hard labor before their demise if the government was quick enough to implement the land reform program.
"The beneficiaries are literally dying waiting for their lands," Canja said.