Cardinal Charles Maung Bo, archbishop of Yangon, expressed sadness over the November 23 raid on his home village of Mon Hla in Sagaing's Khin-U township in Myanmar.
The cardinal, in an interview with Radio Free Asia, said the attack on Mon Hla had left him "grief-stricken."
He called for an end to the violence that has left at least 2,553 civilians dead since the military seized power in a Feb. 1, 2021, coup.
"We can never find any solution through war," he said. "It is of great importance to tame our mind and stay humble and not to choose the path of war and killings to find a solution," said Cardinal Bo.
---
---
"War brings us only death and destruction. It pollutes the wholesome state of mind in human nature," he said.
A seven-year-old child, a 40-year-old woman, and a 30-year-old man – all civilians – were killed in the fighting as more than 200 military troops launched a joint land and air attack on the village, Radio Free Asia reported.
Six members of the anti-junta People's Defense Force were also killed in the fighting, and military troops set fires that destroyed more than 200 of the village's 700 buildings in the raid, including a church and school built with donations from the religious leader.
A member of the Khin-U Township PDF told RFA at the time that fighters with his group returned fire to defend Mon Hla, stopping the military's advance, but attack helicopters were sent to the area to assist the troops, allowing them to enter the village.
The raid followed one in May, when troops attacked Chaung Yoe in Taze township and Chan Thar in Ye-U township – two other Christian-majority villages in the area.
In total, nearly 500 buildings were destroyed and some 6,000 people were forced to flee their homes for safety.
The majority of the 3,000 residents of Mon Hla village, the birthplace of Cardinal Bo, are Christians of Portuguese descent, known as the Bayingyi.
Bayingyi have been living in Mon Hla, Chaung Yoe, and Chan Thar – three villages along the Chindwin and Mu rivers, since the beginning of the 17th century, during the reign of Myanmar's King Thalon.
The junta has yet to release any information about last month's attack on Mon Hla.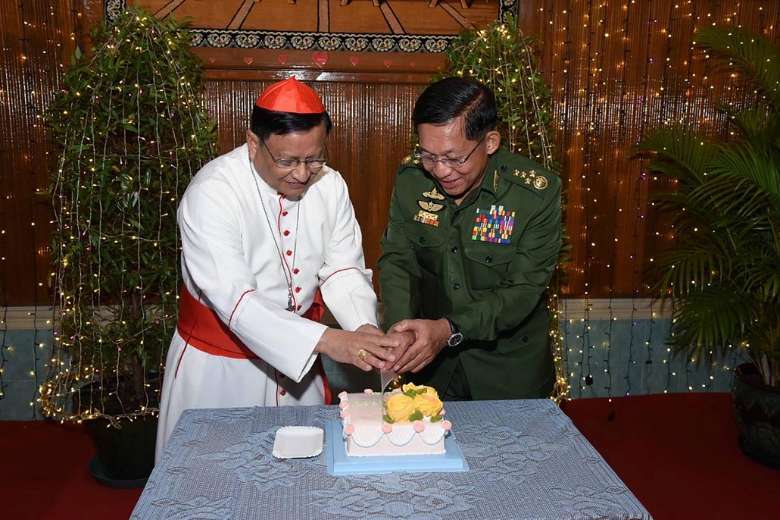 For the third time, Cardinal Bo has called for an end to violence, following an open letter he sent to the junta in March 2021 amid the military's brutal crackdown on anti-coup protests and a plea for junta troops to stop targeting religious sites in May this year.
While some have welcomed Cardinal Bo's call for an end to violence in Myanmar, others have questioned his motives after he appeared in public with junta chief Senior Gen. Min Aung Hlaing during Christmas last year.
The archbishop also came under fire last year after pictures of him cutting a cake with the regime leader were circulated on social media.
In an interview with America Magazine's Jesuit Review marking the one-year anniversary of the coup, Cardinal Bo said that while the leak of the photos to the media was "unfortunate," he did not regret his actions, which he said he took in the pursuit of peace.
"That was out of our control, once I had agreed to the meeting. But I was very candid in my intention," he said at the time.
"I do not regret it in any way. We need to engage the major stakeholders in this country," said the cardinal.
"From day one of the political shift, I sought to meet both the democracy leaders and the army. The invitation was always there."
Cardinal Bo said of the meeting with Min Aung Hlaing that it entailed a "long private conversation on that occasion in which he promised many things," without providing further details.
He acknowledged, however, that "the photos conveyed quite a different message" than what he had agreed to the meeting for, and that "it was not to the liking of some," but he said he remains hopeful for "good results in the long run, at a time when resolution can be found through dialogue."
Cardinal Bo was among six Christian leaders who invited public criticism after Min Aung Hlaing bestowed honorary titles on them during a ceremony to mark Myanmar's 102nd National Day on November 17 this year.
It was unclear whether the archbishop's view of the junta had changed following this week's attack on Mon Hla village.
According to a report released in October by the United Nations Office for the Coordination of Humanitarian Affairs, at least 612,400 residents of Sagaing region have fled their homes due to armed conflict since the military coup. – From a Radio Free Asia report