Internal strife. In-house word wars. Domestic discord. Former allies taking the path of much resistance against the incumbent administration. To some, it even reeks of the quarrel resonating Cherie Gil's "You're nothing but a second-rate, trying-hard copycat!"
Some say it's not so much a fight but a negotiation. Negotiating what? Your guess is as good as mine.
For want of a better cliché, are we hearing the sound of rats escaping a sinking ship? Hardly the case if one looks at it closely.
---
---
---
Filipinos have been treated of late to the swish and jangle of political telenovela. Duterte versus Ping Lacson, or more accurately, Lacson's hairdo. Duterte calling Manny Pacquiao "punch-drunk".
Then there's Richard Gordon hinting of subjecting health secretary Francisco Duque to a Senate inquiry. Bong Go, in his capacity as chair of the Senate Committee on Health, broke his silence and pushed for Duque's resignation. Bong Go made this plain after Duterte stood in defense of Duque shortly after the release of the Commission on Audit report.
Are we looking at an honest-to-goodness conversion in Lacson, Pacquiao, Gordon and Go, or are we being hoodwinked into believing this largely concocted domestic squabble?
Are we seeing the genesis of a new, albeit untried, shift of these former Duterte stalwarts into the Opposition, or is this just another attempt at election subterfuge, a hoax designed to overturn by articulation our choices in the upcoming 2022 polls?
While I wouldn't discount evidence that rats are most likely to be the first of several creatures to leap out of a sinking ship, I believe that such leaps should be subject to the severest scrutiny whenever they involve human counterparts.
Since democracy is built on the time-tested concept of giving people the benefit of the doubt, it is therefore only proper for freedom-loving people to assume that Pacquiao, Gordon, Lacson and Go are doing this out of their own sense of what is right.
But such an assumption can only go so far as the limits due process can offer, which is, until they're proven otherwise. As in cases like this, guilt is always hard to prove. For guilt to be established, one must forage for motivation. The best one can come up with in this case is the upcoming elections.
In a country where wealth and power are much too sweet to pass off, it is almost always reassuring that such motivations can easily be traced.
So, it begs the question: are what we are seeing true to form, or is this just another desperate stab at zarzuela?
Allow me to give them the benefit of the doubt for one overarching reason: the pandemic has threatened not only our economy but our very lives. As such, any anomalous transaction exposed by the COA report could turn even the staunchest Duterte supporter into a screaming critic.
Why not? Imagine the tens and hundreds of billions flagged by the COA across several agencies, including the Department of Health. Money unspent or misspent can mean the lives of those struck by the virus. No exceptions, not even lawmakers.
While COA admits that the report does not even remotely suggest corruption, the fact that some mismanagement had been observed makes you wonder: what is their definition of corruption?
Surely, senators the likes of Lacson, Go, Gordon and Pacquiao, who are hinting of running for higher posts in 2022, are left with little choice but to raise the issue of maladministration of funds. Bong Go took it one step further by suggesting that Duque should resign.
With the Philippines burdened by a record-high 13.42 trillion outstanding debt, based on the recent revelation by the Bureau of Treasury, it's only proper for these lawmakers to, at least, achieve a semblance of decency when what is left of this regime's already tainted reputation is weighed against such obscene amounts.
Granted, however, that these senators are "doing the right thing," they are still nowhere near being converts to the Opposition. In fact, to even think of them as part of the Opposition, should they run in 2022, is inescapably naïve and ludicrous. In fact, even dangerous.
By what measure, therefore, should we gauge them?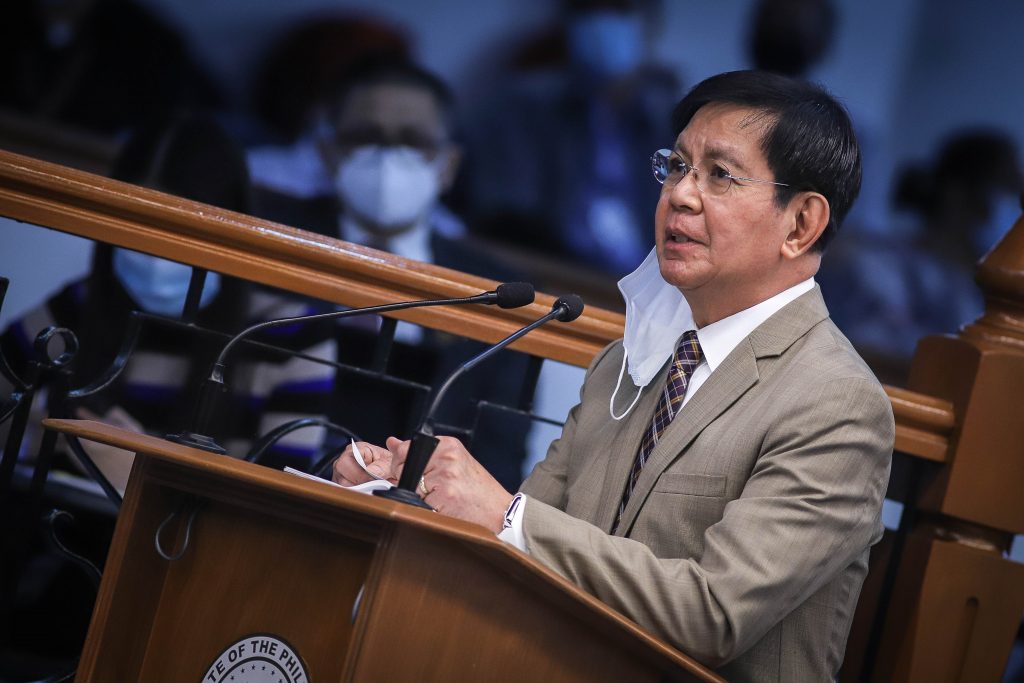 Simple: by their open admission, or chosen silence, on the matter of the drug war. Lest we forget, this bogus drug war (accurately dubbed "war against the poorest of the poor"), has claimed a little over 30,000 lives in the span of close to six years, based on estimates made by Amnesty International.
This figure discounts the human rights lawyers, clergy, journalists, activists and farmers murdered under Duterte's version of the Red Scare.
In 2016, after investigations were conducted on the spate of extrajudicial killings spurred by the drug war, Gordon answered in his capacity as chair of the Senate Committee on Justice and Human Rights that they did not find enough evidence against Duterte to prove the charge. He even denied that the killings were state-sponsored.
Five years down the bloodstained road and he hasn't lifted a finger to stop it, let alone pursue a relentless campaign to catch the perpetrators.
In the same year, pugilist-turned-senator Pacquiao defended Duterte's drug war by openly denying the involvement of Duterte in the extrajudicial killings. His hardline stance on the reinstatement of the death penalty for drug lords served as a knife-edge that led to the criticism of his "Christian" beliefs.
Lacson, together with Sen. Tito Sotto, in an interview with ANC, said that if they should win in 2022, they will carry on with Duterte's drug war. Sotto, of course, proposed a more "holistic" approach, including rehabilitation and prevention, not only enforcement.
How Sotto's plan would pan out while in partnership with Lacson, who once was charged in the Salvador "Bubby" Dacer-Emmanuel Corbito murder case, also the Kuratong Baleleng rubout, is anybody's guess. The High Court had acquitted him on both counts.
Lacson and Sotto's claim that there will be "No Tokhang Policy" in their version of the drug war makes me question why they remained blasé even after admitting that there is a tokhang policy after all.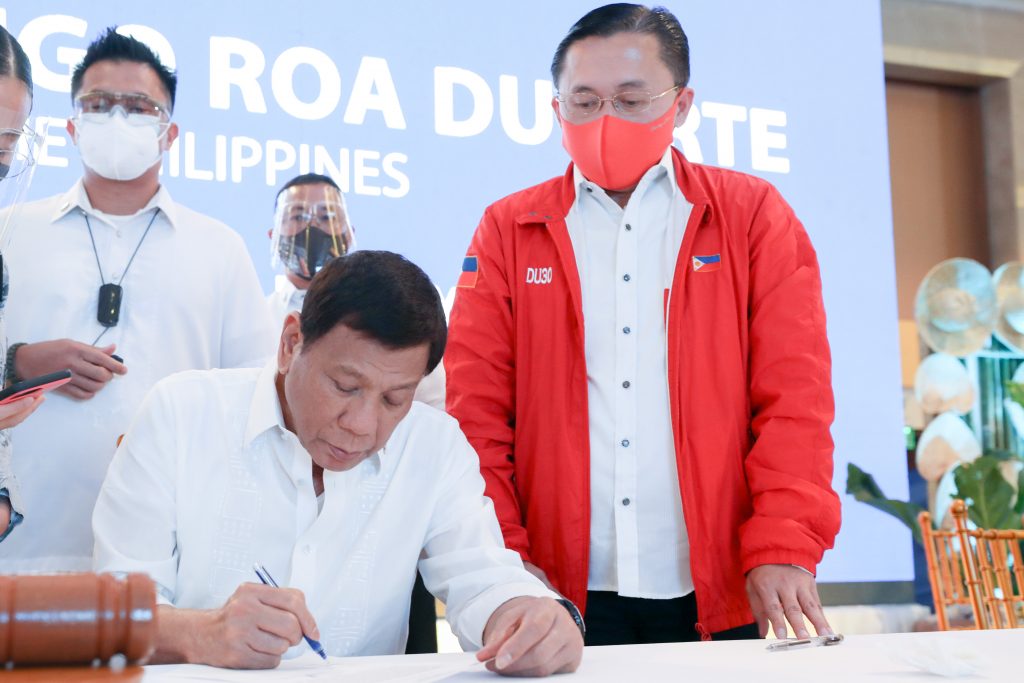 Bong Go's support of the drug war is expected, what with his unquestionable loyalty to Duterte. In early 2020, he reiterated his support for a more intensified drug war as a response to Vice President Leni Robredo's claims that it was a failure.
While in 2021, Go makes a drastic turn by proposing a more "holistic" approach to the issue of illegal drugs. Some aver that it's part and parcel of the political spectacle required in order to throw off any attempt by the International Criminal Court to charge Duterte and his minions with crimes against humanity.
For close to six years, these lawmakers have waltzed with wolves, played daring-do with the lives of tens of thousands of the poorest of the poor. Silent but for the chance to wipe the blood off their hands, they're now "abandoning ship" if only to avoid any association with Duterte should the International Criminal Court have its way.
Another reason for the sudden changes in tone is the current Pharmally-DBM scam investigations in the Senate.
Go's alleged connection with resigned Department of Budget and Management undersecretary Lloyd Christopher Lao not only brought to fore his proposed resignation of Duque, it likewise nudged him to decline PDP-Laban's nomination for him to run as President in 2022.
How I wish these lawmakers were the real deal, that they are standing up against the bloodlust, the obscenities, and the corruption this regime wags at our faces every single day. The help these lawmakers can provide will be crucial in deposing the present leadership come 2022. However, it is quite unfortunate that the same lawmakers give us more reason to doubt their intentions than believe them.
Never ever mistake these lawmakers for members of the Opposition. At that juncture when we needed a voice to speak for us in the halls of power, they turned a blind eye by their support of death and mayhem.
They are, in its most fiendish form, nothing more than Duterte's variants. So, beware.
Joel Pablo Salud is an editor, journalist and the author of several books of fiction and political nonfiction. The views and opinions expressed in this article are those of the author and do not necessarily reflect the official editorial position of LiCAS.news.