A Catholic bishop said President Rodrigo Duterte's decision to run for vice president in next year's national elections is "highly irregular."
"Perhaps his motive of running for [vice president] is self-protection," said Bishop Arturo Bastes, retired prelate of Sorsogon.
"He is afraid of being prosecuted by the [International Criminal Court] for his crimes: murder of thousands of so-called drug addicts," said Archbishop Bastes.
---
---
---
In June, the ICC chief prosecutor, Fatou Bensouda, requested judicial authorization to proceed with a formal criminal investigation into the alleged crimes committed by Duterte in the Philippines.
Bensouda said "crimes against humanity" could have been committed in the country since 2016 with the implementation of the government's "war on drugs."
Bishop Bastes said the president is afraid of being prosecuted by the ICC because "the long arm of Lady Justice will someday catch him."
Duterte has accepted the endorsement of his political party on Monday for him to run for vice president in the 2022 elections.
"President Rodrigo Duterte agreed to make the sacrifice and heed the clamor of the people and accepted the endorsement," said Cabinet Secretary Karlo Alexei Nograles.
Nograles said the move will "guarantee continuity of the administration's programs during the past five years," including those meant to address terrorism, insurgency, and illegal drugs.
The country's political opposition dubbed the announcement as a "shameless declaration" and "an insult to the intelligence of the Filipino voter."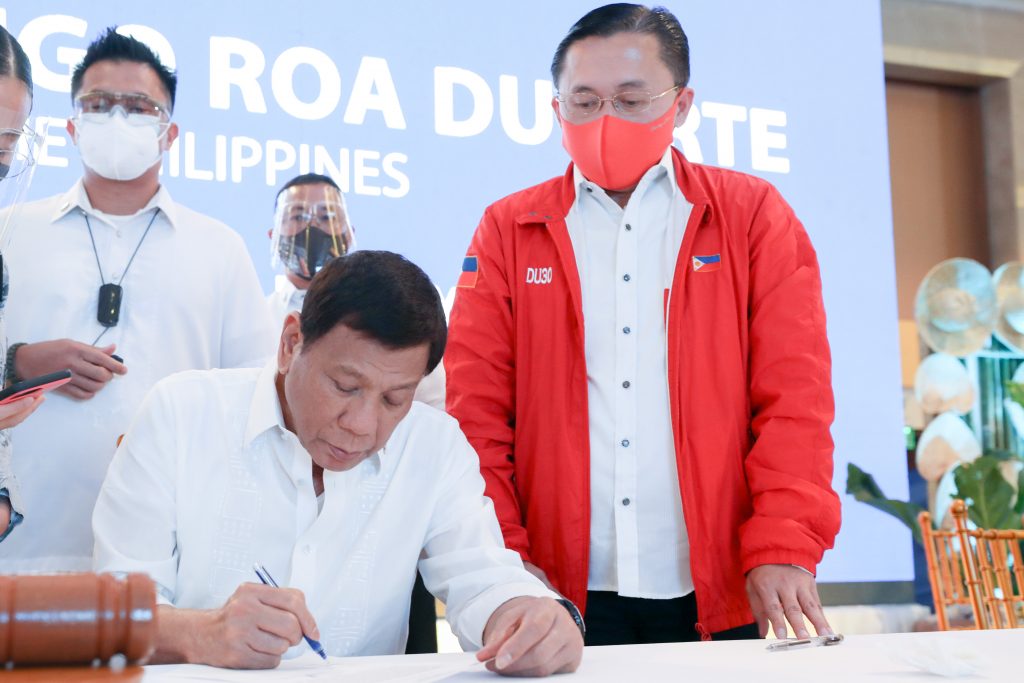 Partylist group Akbayan said in a statement that "a few scenarios are at play" for Duterte to perpetuate himself in power "and evade accountability for his high crimes against the people."
"We cannot, and we will not, allow this to happen," said the group. "We call on the people to register and vote, protect our institutions and re-assert our democracy," it added.
In the Philippines, the president is limited to one six-year term and Duterte's term is due to end by June next year.
His vice presidential run is seen by political observers as a backdoor to the presidency, however.
Duterte's critics believe he could be making a play for retaining power through the number two post, by taking over as president in the event ally senator Christopher "Bong" Go wins as president and then resigns.
Duterte, who has portrayed himself as a reluctant president with no desire for power, has on several occasions said he wanted Go to be his successor.
His endorsement in 2019 helped Go to become a senator, a post he carries out alongside his duties as Duterte's personal aide.
Go has been the 76-year-old's closest aide since the late 1990s, when Duterte was a congressman representing Davao City in the country's south.