Fidelino Josol did not mind the heat as he put on the hood and robe and walked barefoot in the streets of Palo town in the central Philippines on Good Friday.
The 53-year-old is a member of the "Penitentes," an all-male confraternity of Catholic devotees who have become a regular feature in town during the Holy Week.
The practice started in 1894 when Spanish Franciscan parish priest Pantaleon de la Fuente introduced the "Penitentes" to add drama to the Holy Week observance.
---
---
---
The priest decided to organize the "Penitentes" to counter the "freelance" practice of flagellations during Lent as a sign of penance.
Instead of the public display of the atonement for their sins, members of the brotherhood would go around town to solicit donations for the church and assist the priest in Lenten rites.
They would usually stage a reenactment of the passion and death of Jesus Christ in the town square.
"The practice of doing public penitential practices during Lent and Holy Week in Palo dates back to the early years of the evangelization of this town," said Monsignor Gilbert Urbina.
As an organized and officially recognized parish organization, the "Penitentes" embody the penitential acts of all the parishioners, said the priest.
"Each one does not only make a sacrifice for his own sake, but like the Lord himself vicariously suffers for others," he said.
Like the "Penitentes" of southern Spain, the Palo "Penitentes" don a medieval-style robe and cover their faces as a sign of "anonymity when it comes to praying and sacrificing for others."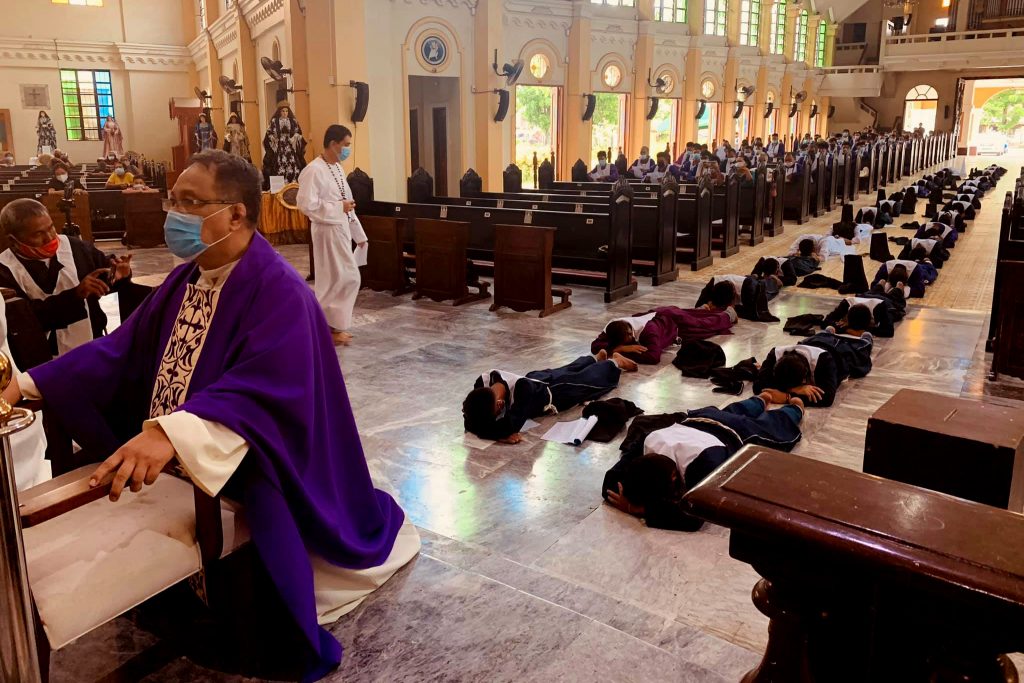 "The inconvenience of wearing the long and heavy robe in a humid country like the Philippines underlines the sacrificial character of the activity," said Monsignor Urbina.
The priest, however, said it is "unfortunate" that people identify the robe of the "Palo Penitentes" with the Ku Klux Klan, an American white supremacist group.
The priest said that "hopefully" people should instead be reminded of the Lord's injunction to pray and offer sacrifices.
"Despite the pandemic, the tradition lives on," said Monsignor Urbina.
The priest led this year's ritual "renewal of promises" of the "Penitentes" on Palm Sunday. On Holy Wednesday, he officiated the admission of 30 new members of the brotherhood.
He said the "Penitentes" come from diverse social backgrounds and educational attainment but are united in one aspiration, that is, to grow in the practice of their faith.
Before one becomes a member of the brotherhood one has to undergo a "spiritual formation" under the guidance of senior members.