Nathaniel Hawthorn's pièce de résistance, "Scarlet Letter," is a novel published in 1850 where religious bigotry and misogyny are exposed as a political apparatus which systematically hunted down and punished patriarchy's most targeted foe:
Women—brilliant, fearless, independent.
This tale of a lovelorn couple was set in the middle of the 17th-century Puritan Massachusetts Bay Colony where stringent laws held sway up until about the 19th century.
Fast-forward to 2020 and its contemporary version. True now as it was then, we have a council composed mostly of men deciding on the fate of our activist women. This ruling body operates under the philosophy labeled "Dutertismo".
---
---
---
Dutertismo is machismo paid for and sustained by our taxes. Unsparing in its gibberish. Unforgiving in imposing its twisted sense of masculinity.
It has poisoned everything from the water we drink to the air we breathe. Like acid, it chipped away at the scaffoldings of jurisprudence and social propriety. The system offers paid trolls, including most men in uniform, sufficient elbowroom to march into our lives with guns and truncheons.
To these powerful yet belligerent individuals, might is right and law exclusively, invaluably male. To stand behind the women's struggle for their rights tantamount to treason to masculinity more than anything else.
One particular example would be the military's campaign to red-bait women activists. No one in uniform is as deeply entrenched in this blitzkrieg as National Task Force to End Local Communist Armed Conflict (NTF-ECAC) spokesperson Lieutenant General Antonio Parlade Jr.
It has reached a point where, in July this year, Parlade was slapped with graft charges by Bayan Muna Rep. Carlos Isagani Zarate "for violation of Section 3(e) of R.A. 3019, the Anti-Graft and Corrupt Practices Act, and Section 55 (Political Activity), Chapter 7 Subtitle A Title I of the Administrative Code of 1987 (Executive Order No. 292)."
Parlade was then a colonel when, as Armed Forces of the Philippines (AFP) spokesperson, he was fired by the previous administration for urging the government to suspend the ceasefire against the Moro Islamic Liberation Front (MILF).
The last quarter of 2019 saw gate-crashing Parlade booed and escorted out of a human rights forum.
The Bulatat.com report said, "During the open forum, Parlade raised his hand to speak and walked to the front but Bagong Alyansang Makabayan chairperson Dr. Carol Araullo did not allow him […] Eventually, Araullo and several others, including a visibly incensed elderly nun, escorted Parlade out. Out in the hallway, Parlade tried to argue but was flatly told he was not welcome."
Bayan added that Parlade has no place among human rights defenders whom he has constantly attacked and endangered. How these words rang in the ears of Parlade's Philippine Military Academy (PMA) Class of 1987 is anybody's guess.
This man's notoriety as the nemesis of women's rights makes for a brutalizing horror movie. Regardless of the charges against him, it is apparent that he has no plans of taking a furlough from red-baiting anytime soon.
Parlade's latest tirades against women celebrities standing for women's rights—namely Angel Locsin, Catriona Gray and Liza Soberano—has, of late, become quite the talk in cybertown.
The issue: why is this general of the Philippine military harassing and threatening women activists instead of going after Communist China's incursion of the disputed islands in the West Philippine Sea?
Isn't it the duty of military top brass to watch over the sovereignty of its country's borders? Instead he goes out of his way to attract the attention of beauty queens and women celebrities. Is there something here that the memo failed to say in particular?
While some netizens may have, in jest, hinted that Parlade's accusations may just be another macho crack at baiting these beauty queens' attention, red-tagging is hardly a laughing matter.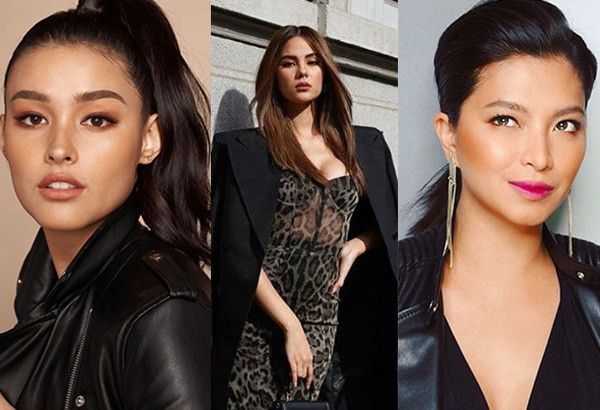 The study by Ruby Rosselle L. Tugade, Attorney IV at Commission on Human Rights of the Philippines (CHR), titled "The Modern-day Scarlet Letter: Red-Tagging of Civilians as Violation of the Principle of Distinction in International Humanitarian Law," says that red-tagging opens new scars from old wounds by deliberately blurring the distinction between civilians and combatants.
This so-called "principle of distinction" is said to be one of the pillars of international humanitarian law (IHL). This same law applies to the longest running communist insurgency in Southeast Asia. It is within this context that red-tagging is employed.
"It is done through labelling individuals and groups as affiliates of the Communist Party of the Philippines and New People's Army. As a strategy of state forces, red-tagging endangers the civilian population and potentially violates IHL," the study says.
As proof that red-tagging is not mere conjecture but results in deadly consequences, the author recalls the murder of human rights activists Zara Alvarez in 2020 and the disappearance of Honey Mae Suazo in 2019.
"Prior to her disappearance, she (Suazo) was linked by Brig. Gen. Antonio Parlade of the AFP to the CPP-NPA (Communist Party of the Philippines-New People's Army)," the author said.
Likewise, if the treatment received by rights activist Reina Mae Nasino during the wake of her daughter, baby River, is any indication of the inhumanity reserved for women activists, then these examples are more than sufficient for Angel Locsin, Catriona Gray and Liza Soberano to feel endangered.
Parlade recently hurled an open threat against Soberano, brazenly and without remorse: "Liza Soberano, there' s still a chance to abdicate that group (meaning Gabriela). If you don't, you will suffer the same fate as Josephine Anne Lapira."
Josephine Anne Lapira, a 22-year-old University of the Philippines student, died during an armed engagement between New People's Army forces and the Philippine military in Batangas in late 2017. Soazo and Alvarez, on the other hand, died and disappeared, respectively, outside of armed conflict.
As for ideology, the author made it plain that "Ideological leanings are not sufficient to establish continuous combat function, nor are evidence of direct participation in hostilities. Even assuming that a link exists, above-ground organizations cannot be made legitimate targets if they only perform political or humanitarian—as opposed to combat—functions. The Interpretive Guidance suggests that it is crucial to make a distinction between the organized armed group of a non-state party to a conflict from 'supportive segments' of the civilian population."
Unless Parlade had intentionally built his career on the foundation of breaking international humanitarian law as well as Philippine laws, my query is this: what military objective is there in harassing and threatening celebrities and beauty queens standing for women's rights?
All this finger-pointing and rabble-rousing by Parlade against women activists brought me back to the words of Uruguayan journalist Eduardo Galeano, who said, "It is the time of fear. Women's fear of violent men and men's fear of fearless women."
This also brings me back to the title of this piece: is fighting for women's rights disloyalty to the State or treason to masculinity?
You be the judge.
Joel Pablo Salud is an editor, journalist and the author of several books of fiction and political nonfiction. The views and opinions expressed in this article are those of the author and do not necessarily reflect the official editorial position of LiCAS.news.