Allow me to write this piece from the poor man's vantage point.
President Rodrigo Duterte's 2021 budget proposal, which was forwarded to both houses of Congress and dated Aug. 25, 2020, is pegged at Php4.506 trillion.
Just to give you an idea how huge this kind of money is: a public utility jeepney driver earns somewhere from Php500 per day to Php600 depending on whether it's a good day to make a living or not. The monsoon doesn't make it any easier.
At the rate this pandemic is going—at an average of 2,000 infections per day in this country—public utility drivers are hard-pressed at earning the usual Php500-Php600 per day due to the varying quarantine protocols.
---
---
Let's do the Math. It would take a regular Php500-per-day jeepney driver around 8.8 billion days or a little more than 24 million years in order to rake in a multiple lifetime earnings of Php4.506 trillion.
In other words, a driver would have to be reincarnated 241,424.66 times in order to bag this much money, that is, if he lives each lifetime up to 100. Humongous doesn't even begin to compare when trillion is used in this regard.
Of course, my Math suffers from an error quotient much too shameful to admit, but you do get my drift.
Now, the president's proposal kicks off by saying that the budget "is bigger by 9.9 precent than the 2020 national budget of Php4.100 trillion, and is equivalent to 21.8 percent of our Gross Domestic Product (GDP)".
It adds, as a matter of focus and significance, the government's task in raising the budget "to get back on the road," the road being economic recovery.
Sometime June and July, the Philippines slid into recession, forcing the administration to deal with a 7.3 million unemployment rate and from Php2.2 trillion to Php2.6 trillion in economic losses.
Globally, countries hit by COVID-19 would need about US$8.8 trillion to recover losses due to the impact of the pandemic, said Woochong Um, Director General for Asian Development Bank's (ADB's) Sustainable Development and Climate Change Department.
CNN Philippines quoted Mr. Um as saying that "The ADB projects at least US$5.8 trillion in foregone opportunities if global containment measures for the disease such as border closures and strict stay-at-home rules last for just three months, but could run to close to US$9 trillion if it lasts for six months."
The report also said, "Asian economies are seen to suffer US$2.5 trillion worth of losses or a tenth of the regional output. Most ADB member-states will see their economies shrink this year, before seeing a growth surge in 2021."
Crank up all these numbers and we get a rather dizzying perspective of what lies ahead for the world's economies.
The problem, however, begs the question: what among the two serious problems must be addressed first—the economic recession or the pandemic?
The wording of the budget proposal seemed clear enough for the average reader: "The National Budget of Php4.506 trillion that we are proposing for the fiscal year 2021 is focused on our greatest priority of the moment—to sustain and strengthen government efforts in effectively responding to and recovering from the COVID-19 pandemic."
It then breaks the figure down into four of several targets aimed at economic recovery, or in its words, sustain support for a strong GDP growth of 6.5% to 7.5%.
First, Php212.4 billion to upgrade healthcare; second, Php1.107 trillion for infrastructure programs; third, Php117.8 billion to support the agricultural sector (food security); and lastly, Php2.3 billion for the "upskill" and innovation of local firms and small-and-medium enterprises.
Raising but a quarter of a trillion for healthcare as against Php1.107 trillion for infrastructure? How did infrastructure, and not "responding to and recovering from the COVID-19 pandemic" become "the greatest priority of the moment"?
The Philippines' infection rate remains at an average of 2,000 to 3,000; aren't human lives more important than stone and steel structures?
I can understand unintended delays in building activities given the rampage of the virus and government efforts to contain it using quarantine protocols. The 25.4% drop year on year makes for a rather depressing state, given the administration's dream project, the Build, Build, Build program.
The Department of Budget and Management (DBM) has already said that infrastructure thrust will remain dampened for the rest of the year, after having pegged an 11.5% downturn in the last eight months.
Will it be advantageous for the administration to reopen infrastructure efforts even if its COVID-19 response leaves much to be desired?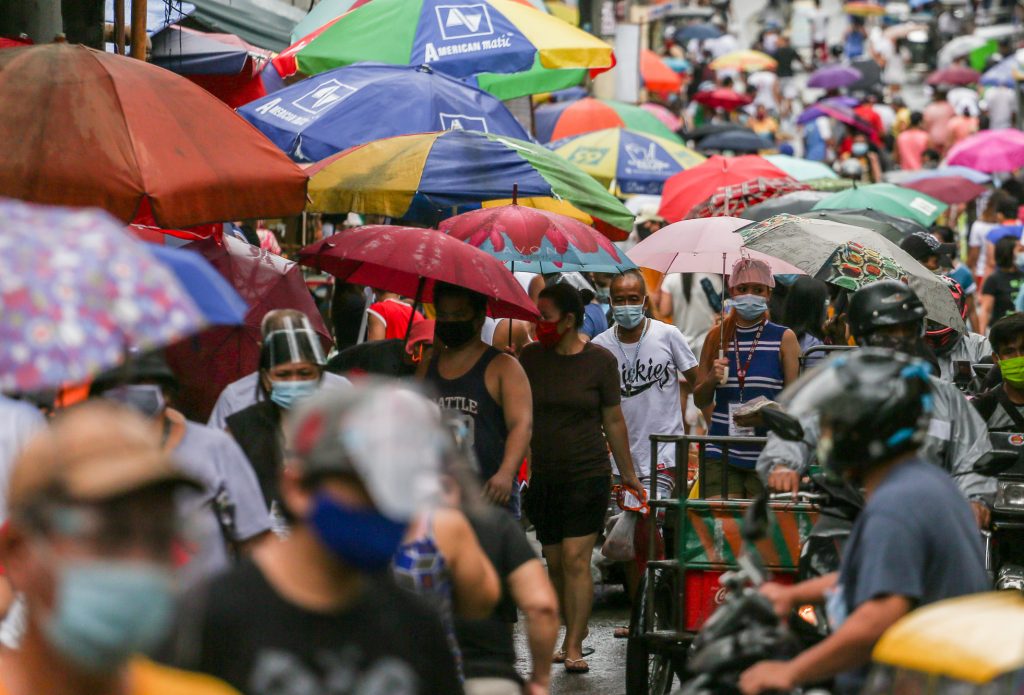 If Duterte must first choose economic recovery, meaning solving the economic slump over and above addressing the spread of the virus, then he and his task force must live with the possibility of being under the mercy and unpredictability of the pandemic for years to come.
This means that the infection rate could either decelerate, plateau or spike at any given moment, compelling him again and again—and again—to either open the country up for business or force it into varying levels of lockdown.
Duterte's dependence on lockdowns as a solution could impact the economy for long periods of time.
I wonder if the Palace knows about the World Health Organization's (WHO's) Special Envoy on COVID-19, Dr. David Nabarro and his statement, questioning the efficiency of lockdowns as an answer to COVID-19.
Dr. Nabarro said in an interview with foreign media that "We really do appeal to all world leaders: stop using lockdown as your primary control method […] The only time we believe a lockdown in justified is to buy you time to reorganize, regroup, rebalance your resources; protect your health workers who are exhausted. But, by and large, we'd rather not do it […] Lockdowns have just one consequence that you must never ever belittle, and that is making poor people an awful lot poorer [emphasis, mine]."
He stressed that lockdowns "just freeze the virus; they do not lead to elimination," and emphasized the need for "test-trace-isolate-protect services everywhere" with performance metrics that can be justified.
"It is important there is enough testing capacity to pick up where the virus is, to detect spikes and manage surges," the special envoy underscored.
Allow me to requote what the doctor said: "Lockdowns have just one consequence that you must never ever belittle, and that is making poor people an awful lot poorer."
Apparently, the special envoy's theory holds true on several levels. The Philippines, which has the sad distinction of having the longest lockdown in the region at 213 days (as of this writing), lands 18th among countries with the most infections, overtaking Saudi Arabia recently.
---
---
When in crisis, countries that put more weight on revenues than human lives cease to be a nation of human citizens. Instead, it transforms itself as a business entity led by the nose to where the money goes.
Besides, the President's claims in his proposal that the Philippines "remains one of the lowest among ASEAN member nations in terms of debt-to-GDP ratio" (in an attempt to justify it massive borrowings) is subject largely to debate. As of middle of September, reports say that the country's debt-to-GDP ratio has spiked from 34.1% in 2019 to 46.7% in 2020. The spike occurred due to increased government borrowings which average P1 trillion per year in Duterte's past four years in office.
According to the BusinessMirror, "The DBCC (Development Budget Coordination Committee) also expects the country's debt-to-GDP ratio this year to increase to 53.91 percent of GDP—a level that it has not seen in over a decade—from a record low of 39.6 percent of GDP last year. For 2021 and 2022, this is seen to surge to 58.1 percent and 59.9 percent, respectively."
National government's outstanding debt now hangs at a whopping Php10.2 trillion, Php4.0 trillion higher than the previous administration. The budget for the Office of the President was approved at Php8.23 billion.
And so, here's the poor man asking: where did all that insane amount of money go? And where would the 2021 national budget of Php4.506 trillion go once it's approved?
Because from where the poor are working their heads off, risking infection every single day, it's still a dog-eat-dog world out there. Why will infrastructure get Php1.107 trillion and healthcare only Php212.4 billion? Shouldn't it be the other way around?
Joel Pablo Salud is an editor, journalist and the author of several books of fiction and political nonfiction. The views and opinions expressed in this article are those of the author and do not necessarily reflect the official editorial position of LiCAS.news.