People have been asking her why she chose to work for an organization of pro-environment activists instead of working for a big law firm.
The answer is simple for Avril de Torres: Her work as a public interest and environmental lawyer is her way of expressing her faith.
"Lawyering for the environment and the community adversely affected by ecological destruction is how I express my faith," she told LiCAS.news in an interview.
---
---
---
She said she feels the presence of God every time she sees a beautiful scenery or when she hikes up the mountain or swims in the river or the sea.
"How can you not believe in God after seeing all these beautiful creations? And how can you just allow its destruction?" said De Torres.
"If you believe in God, you must do something to protect the things He created," she said.
The teachings of the Catholic Church has always been about service, about feeding the hungry, visiting the sick, and accompanying the poor.
For De Torres, "lawyering for His creations" – literally and figuratively – is her way of serving the Creator and the Church.
The 28-year-old lawyer had her first exposure to environmental advocacy when she work as an intern in a non-government group in 2011.
After her internship, she joined the organization as a research and paralegal volunteer while studying law at the Jesuit-run Ateneo de Manila University.
"During those years, I noticed that there were very few lawyers who work and handle cases that focus on environmental protection," she said.
De Torres said she understands how difficult and complicated it is for a law firm or a private practicing lawyer to handle corporate clients and environmental cases at the same time.
She said that most of the time corporations and big businesses are the defendants or respondents of cases concerning the environment or public interests.
In 2017, De Torres joined the Center for Energy, Ecology, and Development as head of its research, policy, and law program.
CEED is one of the organizations behind the nationwide campaign against dirty energy sources and a convener of the faith-based initiative "Withdraw from Coal Coalition."
She heads a team that conducts legal and policy research, drafts bills for submission to Congress, and does documentation in communities affected by coal-fired power plants and coal mining.
In 2019, she led the filing of a complaint against the country's Department of Environment and Natural Resources before the Office of the Ombudsman for alleged violation of the anti-red tape law.
The filing of the complaint stemmed from the Environment department's denial to release copies of documents in relation to a petition filed by residents of a coal community in Quezon province.
The said petition sought to cancel the Environmental Compliance Certificate issued to the coal-fired power plant project.
"The works of environmental lawyers, like what [De Torres] is doing, give us a fighting chance in the courts against influential and wealthy corporations," said Father Warren Francis Puno, head of the ecology ministry of the Diocese of Lucena.
The priest admitted that without the help of organizations like De Torres' "we will remain ignorant of how to pursue legal battles against projects that threaten our communities."
"We, the priests and the common people, have very little knowledge about the various legal remedies to assert our rights for a safe and clean environment," said Father Puno.
Aside from technical assistance, "the most important element is the courage and confidence that [De Torres and her team] give to poor communities," said the priest.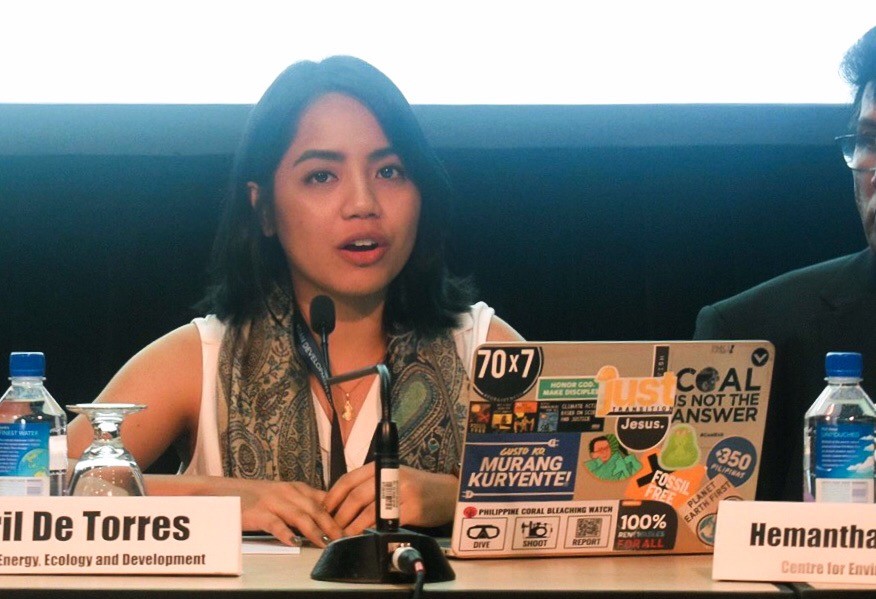 In September, De Torres spent more than a week in a northern Philippine town to secure documents for a case she was about to file against a coal project proponent.
The lawyer has earlier finished a research study detailing the potential of an island in the Visayas region as leader in clean and renewable energy sources.
For a young lawyer who has been in the practice for only over three years, De Torres has an overwhelming pipeline of litigation and research studies in her hands.
"[There are just] too many things to be done, but there are just too few lawyers engaged in environmental laws," she told LiCAS.news.
"It is a sad reality that many lawyers in the country have less interest in this field," she said.
The need for more environmental lawyers is greatly felt in many communities affected by mining activities.
"We need more lawyers to represent communities in legal battles," said Father Edwin Gariguez, former executive secretary of Caritas Philippines.
"To achieve that, we need to focus on the youth and convince them to respond to the 'Cry of the Earth,'" he said.