In the days of the "old normal," Stanley Butalid, a public school teacher in the village of Tipolo in the southern Philippines, had to travel 18 kilometers every day to go to school.
The 45-year-old teacher had to take three motorcycle rides to reach the school that would cost him about US$12 daily during those "normal" days.
Some of his fellow teachers bought their own motorcycles while others decided to stay in the village during weekdays.
---
---
---
With the pandemic, Stanley also has to stay in the village school and sleep in his classroom.
"I have to ask our school principal to allow me to stay here. I have to be tight with my budget now," he said.
Before classes opened this month, Stanley had to sell fruits, vegetables, and salted fish to augment his income.
Now, he has to stop the "business" to focus on teaching.
These days, being a village teacher has become doubly challenging.
Every Sunday, Stanley has to cross a river and climb a mountain to visit and monitor two learners, one is a mentally-challenged 12-year-old who hurts her grandmother.
Stanley does not only take care of the learner but also has to help the grandmother understand the situation of her grandchild.
"This is my role in life — teacher and listener to the problems of other families," said Stanley.
From Monday to Thursday, he visits the homes of his learners to personally monitor if they understood the lessons in the modules.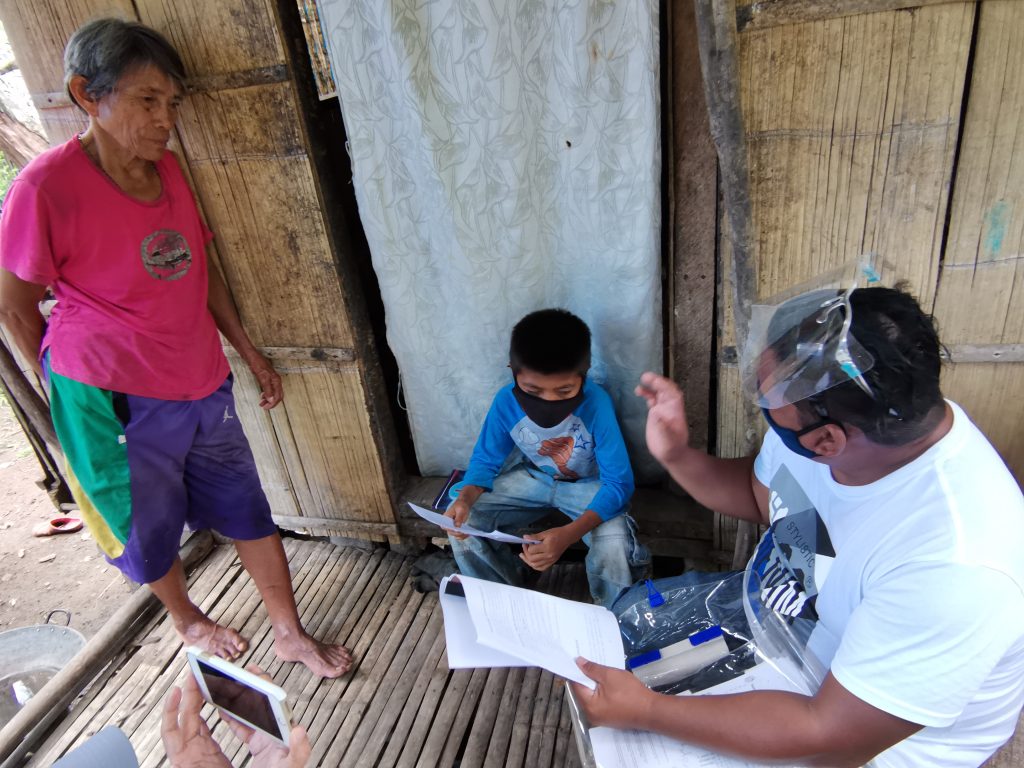 In the afternoon of Thursday, he distributes assessment forms.
On Friday, he retrieves the previous modules and assessment forms and distributes another set of learning modules for the next week.
Stanley said it is difficult to monitor all the children. "There are just too many of them," he said.
With the onset of the rainy season, Stanley faces a new challenge.
To protect the learning modules, he has to wrap it with plastic, seals it in a plastic box, and carries it on his shoulders to the homes of the learners.
Like many other schools in hinterland areas in the Philippines, Stanley's school has poor internet connection.
"If we only have cell phone signal, our work would be lighter because we can monitor the children through their parents," said Stanley.
The Alliance of Concerned Teachers this week expressed serious concern over the "highly precarious" state of education continuity amid the pandemic.
The teachers group said that lacking school health measures and problems on learning materials and devices may disrupt classes, or worse, push students to drop out from school in no time.
"The Department of Education should objectively assess and boldly address the critical problems experienced in the first week of school opening," said Raymond Basilio, secretary general of the group.
He identified school-level COVID-19 transmission, scant and faulty modules, lack of gadgets, unstable internet connectivity, and heavy work and study load as critical, albeit very basic problems, that threaten the continuity of education amid the pandemic.
Basilio sounded the alarm on "impending dropping out of many enrolled students as they get frustrated with problems on learning materials, devices and expenses."
He said the problems encountered during the opening of classes this month are borne out of an "ill-prepared" education continuity plan which started with the government's "failure to provide with adequate funding requirements."
"Our problems in the class opening are clear outcomes of the state's reneging on its duty to the Filipino youth," said Basilio.
At least 24.7 million Filipino children went online on October 5, as primary and secondary schools started classes across the Philippines amid the coronavirus pandemic.
The Department of Education announced that close to 25 million students enrolled this year in the country's 47,000 public schools.
Without face-to-face classes, children attend classes through various education modalities with the guidance of parents and teachers.
Under the distance learning system, learners take their lessons using printed or digitized modules, online, or through television or radio-based instruction.
Depending on available resources and capabilities, schools across the country are allowed to implement "blended learning" or a combination of two or more learning delivery modalities.