Somebody asked me if I was serious when I said in one of my homilies that "To be a Christian is TO BE CHRIST." How can that happen when we're just human beings and he's the Son of God?
It seems to me that most Christians remain unconvinced that, if we are reborn in Christ by the grace of baptism, we are also called to be children of God ourselves. That like Saint Paul, we're supposed to say, "It is Christ who lives in me."
The message that I get from people who are not convinced about this is no different from a remark that I got from a friend who said to me jokingly, "Sorry, I can only try to be Christian; but I don't think I can ever be Christ to others. I don't have a messianic complex. I have no intention of saving the world."
---
---
---
Well, that's something else. I think a messianic complex is a psychological disease. Neither do I have the illusion of saving the world. It is one thing to say "I am the Messiah; and another thing to say, I am a participant in the mission of the Messiah, being part of his body, the Church."
I think most Christians would rather remain as "Christians", meaning, as disciples or followers of Jesus, who alone is the Messiah, the Son of God, the Savior. They expect him to make a dramatic entrance like a "Deus ex machina" in a Greek Drama, ready to come in like Superman to save us each time that we need him. We would rather watch him do his wonderful works, hear his wonderful words, get amazed at his powers.
Our common reasoning is simple: "Of course he can save us because he is God." But we often forget the not-so-obvious: he chose to save us by becoming human like us. And he did so, not only so that he can work FOR US, but more importantly, so that he can work WITH US AND THROUGH US.
Can we really do as Jesus did? Can we really have power over evil spirits as he did? Heal as he did? Multiply loaves as he did? Forgive as he did? Walk on water as he did? Love as he did? Suffer and die as he did? Resurrect as he did?
This is what the disciples are wondering about in today's Gospel. Matthew tells us they asked Jesus privately, "How come we are unable to do what you can do?" And the answer of Jesus was, "Because you have so little faith." Remember he said the same thing to Peter when Peter tried to do what Jesus was doing—namely, walk on water. He cried out desperately when he was overcome by fear and started sinking, "Lord save me!" Jesus' answer was the same, "Oh you man of little faith!"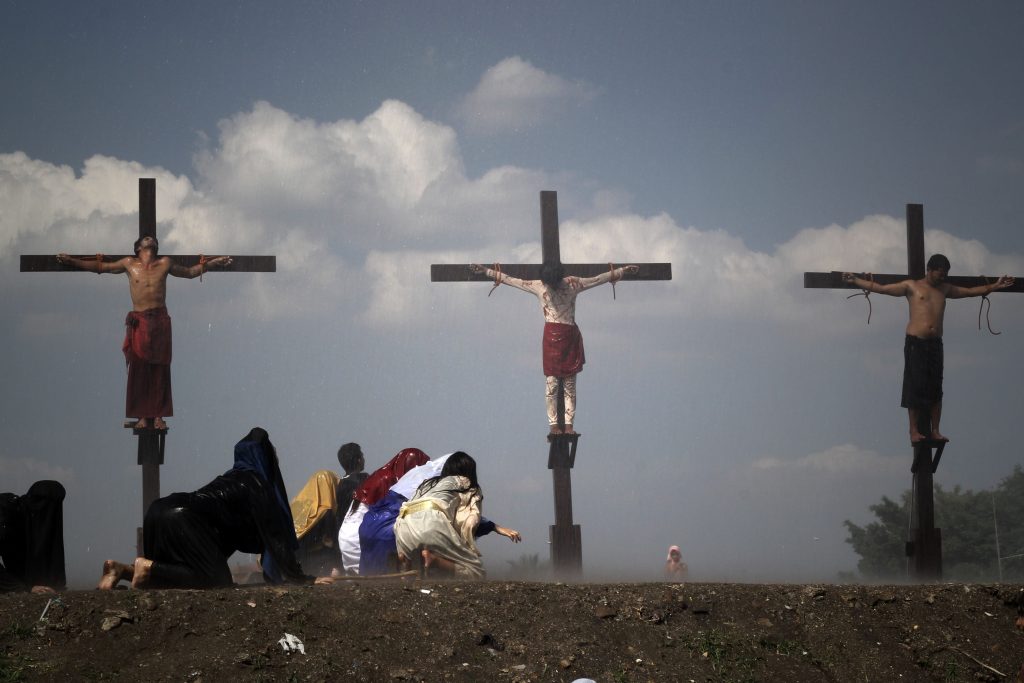 Jesus tried very hard to mentor his disciples so they could grow into apostles, from mere followers to his representatives, from beneficiaries of his mission to his partners in mission. It is the same issue up to now with the people whom we work with. Many would rather remain as followers or beneficiaries, as members of a helpless community waiting to be saved, rather than as part of a liberating, redeeming or saving community. They pray to be blessed but never grow into blessings; they ask to be healed, but never grow into healers. They prefer to listen to the word of God, but they never get to proclaim God's word themselves.
Remember that scene in Luke chapter 24, when the resurrected Jesus appeared incognito to those two disciples who were running away from Jerusalem and were going to seek refuge at Emmaus? Remember how Jesus walked and talked with them and set their hearts on fire as he opened the Scriptures to them? How he broke bread with them and then—disappeared?
He disappeared so that he could reappear in them and through them. That is why their fear was turned into courage; their sadness into joy. Through the fire burning in their hearts, now Jesus could continue his work through them. It is what it means to be an apostle.
He ascended into heaven so that he could send us the gift of the Holy Spirit. The Spirit descended on the community of disciples, so that through his power at work in them, they could become a community of apostles now sent IN HIS NAME, to participate in the mission of the Christ, to do the work of Christ.
In our Gospel today, the disciples are reprimanded for being too dependent on him. Jesus seems exasperated when he says to them,"O faithless and perverse generation, how long will I be with you?" Meaning, when will you ever learn to stand on your own, to grow from beneficiaries to participants of his mission?
Among the key words emphasized at the PCP2, the ones that I remember most distinctly were the terms "Lay Empowerment" and "Participatory Church". We will never achieve those objectives if our Churches remain clericalistic and our laity dependent on the clergy. One of the signs that the Pastors or Shepherds of the Church have failed is when the laity remain as a herd, as a flock of followers, and never grow into fellow Shepherds or participants in the Pastoral Work of the Church.
A few days ago, I gave a recollection and started by playing the song Kristo by Basil Valdez in order to draw inspiration from it. But today, I feel more like reacting to that song, especially the part in the refrain that cries out in lament and says,
"Kristo, Kristo, kulang pa ba ang pag-ibig na dulot mo
Bakit ba ang mundo ngayo'y gulong-gulo?
Ano'ng dapat gawin, kami'y tulungan mo, O, Kristo."
(O Christ, O Christ, is the love that you gave us still lacking?
Why is the world still a big mess?
What should we do? Please help us, O Christ.)
Today happens to be also the Memorial of the Great Reformer of the Church, Saint Dominic de Guzman. At a time when it was taken for granted that only the bishops were successors of the Apostles, St. Dominic organized a group of itinerant preachers who were fired up by the same apostolic tradition. They made a difference in the history of the Church because they dared, not just to be Christians but to be CHRIST to a world that looking for Christ.
This is Bishop Pablo Virgilio David's homily for Saturday of the 18th Week in Ordinary Time, Memorial of St. Dominic, August 8, 2020 (Mt 17:14-20). Bishop David is prelate of the Diocese of Kalookan and acting president of the Catholic Bishops' Conference of the Philippines)