As the Ghost Month arrives, COVID-19's fingerprint on the trail of new coronavirus infections has become much too large to ignore.
As of this writing, the Department of Health (DOH) reports a total of 103,185 cases with 5,032 added on August 2.
What appears to be a daily growth trend of 4,000 to 5,000 cases is putting an enormous amount of strain on hospitals' capacity to accommodate new Covid-19 patients.
Key hospitals battling the infections, including the Makati Medical Center, the Ospital ng Maynila, the Fabella Memorial Hospital, to name a few, have announced overcapacity with some closing its doors to new patients.
---
---
---
In its defense, the government quickly pointed out the equally increasing number of "recoveries," pegged now at 65,557.
The public raised doubts as to the validity of the figures in light of the "mass recovery" adjustment made by the DOH. The adjustment shows that all mild and asymptomatic cases were regrouped under "recovered".
My question is: how many of those diagnosed as mild and asymptomatic remains positive or had actually died?
During the early days of the pandemic, studies have shown that asymptomatic carriers, while unable to show symptoms, remain highly contagious and may have helped spread the virus. They were branded as "super-spreaders".
To make matters more disturbing, in President Rodrigo Duterte's recent State of the Nation Address (SONA), nothing was mentioned about concrete plans to stave off the momentum of the crisis, save for continuing militarization as a response to the pandemic.
Malacañang spokesperson Harry Roque alluded to making Metro Manila into a "living experiment," which can be translated simply into a continuing lockdown. It has been said that authoritarian leaders have been using the pandemic as an excuse to implement draconian measures.
As for our legislative branch, both Houses are making plans to reinstate the death penalty.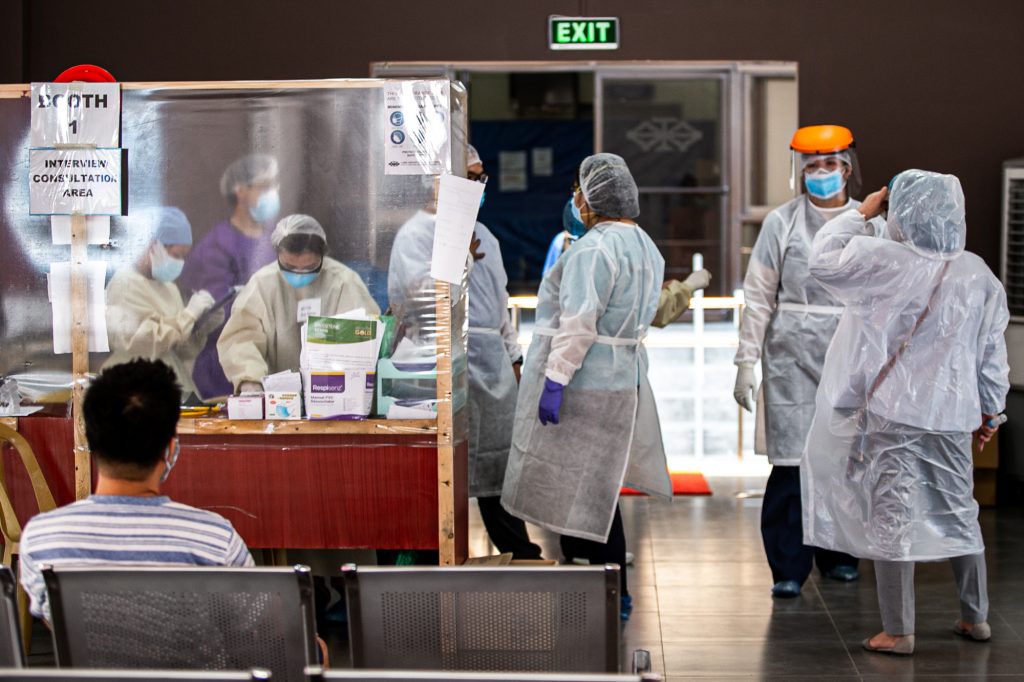 Health workers call for ECQ
As early as April this year, the pandemic's toll on health workers cannot be denied. In one report, the Philippine Medical Association's spokesperson and former president Dr. Oscar Tinio said physicians comprise 1 in 10 of those who have perished in the battle against the virus.
The reasons are varied as they are complex. But the overarching cause can be pinned on government's inability to provide not only the necessary protective gear but concrete strategies to keep the virus from wreaking havoc on the populace.
After close to five months of differing levels of quarantine, the medical community is once more calling for a return to enhanced community quarantine (ECQ) in order to "recalibrate strategies against the Covid-19".
In a letter to Health Sec. Francisco Duque III and National Task Force Chief Implementer Sec. Carlito Galvez Jr., the medical community states that in conjunction with the closure of some hospitals, "Our healthcare workers are getting sick as they take care of patients, responding to the call of duty while battling the fear and anxiety COVID-19 brings. Our healthcare workers are burnt out. Many are resigning and a lot more are discouraged with the seemingly endless number of patients getting admitted in the hospitals."
The group adds: "We are in a losing battle against COVID-19, and we need to come up with a consolidated plan. Hence, we, as frontliners dedicated to win the battle against COVID-19, call on our government to put Mega Manila back to Enhanced Community Quarantine (ECQ) for a period of two weeks, from August 1 to 15."
In answer to the economic strain a two-week ECQ could pose, the medical frontliner community said, "[L]et us remember that we need healthy people to reinvigorate our economy. The current crisis necessitates putting prime importance on effective solutions addressing the health problems at hand. These proposed solutions can have far-reaching effects once implemented. The health sector cannot hold the line for much longer. Our health care workers should not bear the burden of deciding who lives and who dies. If the health system collapses, it is ultimately the poor that is most affected."
The line "Our health care workers should not bear the burden of deciding who lives and who dies" is a reality during emergency situations. The stewardship of meagre resources, such as intubation equipment and ventilators, forces medical workers to turn away other patients once the queue is full.
This particular decision, one among many health workers make on a daily basis, puts a tremendous strain on both the physical, emotional and mental disposition of medical frontliners who, for the past five months, have been overworked, deprived of sleep, and in constant fear for their lives and their families'.
The elevated stress level, to say nothing of day-to-day exposure to the virus, is enough to put their lives at risk of infection.
Dilemma posed by ECQ
With government having no concrete plans to solve the crisis, be that on the social and economic stratum, many fear that another ECQ could endanger lives and chances at a livelihood of workers while under a pandemic.
Small- and medium-size enterprises, already laboring under an immense weight to stay financially afloat, could close shop, adding to the number of unemployed. Recent statistics have shown that 1.73 million Filipinos have lost their jobs since the March lockdown, with an approximate prediction reaching a little over 10 million by the end of the year.
The public transportation industry would be the hardest hit, leaving public utility drivers to fend for themselves and their families for another two weeks should another ECQ be implemented. Market stall vendors, too, as well as farmers, could suffer a serious financial shortfall, what with buyers being prevented to go out of their homes.
Another ECQ, many raised, could embolden some police and military personnel to add to their inventory of abuses. The beginning of the Luzon-wide lockdown saw numerous cases of mistreatment by police personnel, including beatings of quarantine violators and the solicitation of sex in exchange for travel passes.
Problems that should be addressed
The medical community's proposal wasn't empty of good propositions to solve looming problems.
Besides raising hospital workforce deficiency, the lack of contact tracing and failure of quarantine guidelines, workforce and workplace safety should also be implemented well and supported by advanced safety protocols—the use of effective test kits, face masks and face shields when moving about, strict social distancing policies and travel guidelines.
"We need the Department of Health, Department of Trade and Industry, and Department of Labor and Employment to issue clear advisories both to building managers and companies and the working public on physical distancing, sufficient provisions for disinfectants or disinfection protocols, wearing of face shields and masks, and guidance on improving ventilation and air exchange (opening of windows)," the group says.
Any establishment deemed unnecessary at this time, like gyms, fitness centers, tutorial services, review centers, internet cafes, pet grooming services, drive-in cinemas should remain closed for the duration of the new ECQ which would start on August 1.
"We understand that imposing an enhanced community quarantine is a complex decision. Though health may be just one dimension, let us remember that we need healthy people to reinvigorate our economy […] These proposed solutions can have far-reaching effects once implemented. The health sector cannot hold the line for much longer."
It is apparent that in battling the pandemic, Filipinos are left to choose between two "evils": another two-week lockdown which could compromise any chance at continuing or furthering the livelihood of many Filipinos or a less-than-severe quarantine level which gravely endangers the lives of both the public and our precious health frontliners.
"In the end, winning the war against COVID-19 relies heavily on being able to keep our health system capacitated to address the needs of all Filipinos," our frontliners said.
To weigh in on the dilemma we face, I can only say: if this government insists on being deaf and blind to the safety of the people, more so the cry of our health frontliners for government to devise concrete strategies in the fight against COVID-19, no amount of quarantine will save this country from the even deadlier contagion of government incompetence.
Joel Pablo Salud is an editor, journalist and the author of several books of fiction and political nonfiction. The views and opinions expressed in this article are those of the author and do not necessarily reflect the official editorial position of LiCAS.news.