The Philippines will soon slide into a major health disaster unless the government returns to a stricter quarantine phase for two weeks to cobble a comprehensive COVID-19 response that includes worker-friendly measures and compassionate care for the country's majority poor.
On Saturday, August 1, doctors called for a two-week "time out" to recalibrate the government's COVID-19 strategies.
Dr. Jose Santiago, Philippine Medical Association president, said the goal is to allow government planners and on-ground health experts to come together to address the most critical health gaps.
---
---
---
"We proposed that this [Enhanced Community Quarantine] be used as a time out to refine our pandemic control strategies, addressing the following urgent conditions: hospital workforce efficiency, failure of case finding and isolation, failure of contact tracing and quarantine, transportation safety, workplace safety, public compliance with self-protection, social amelioration," read a letter from the medical practitioners.
The letter was addressed to President Rodrigo Duterte, retired Armed Forces chief Carlito Galvez Jr., the chief implementer of the government's COVID-19 containment policy, and Health Secretary Francisco Duque III.
Duterte's office initially struck down the call. His spokesman, Harry Roque, said measures like a strict lockdown have already "served their purpose."
Roque said the government wants to "intensify other strategies" to balance livelihood and health.
Mega Manila, which includes the nearest provinces to the south, make up 67 percent of the national economy.
Roque cited localized village lockdowns and shoved the problem back to local governments, urging them to strictly impose minimum health standards and new measures like "massive targeted testing."
The government spokesman also claimed authorities would be increasing bed capacity and will be hiring more health professionals. But just days before, the Health department complained that medical workers were snubbing hiring calls.
Roque ignored the rest of the doctors' appeals, including a joint effort to iron out kinks in policy and implementation by retired generals heading the pandemic response and leaders of physician colleges.
Later in the day, however, he said the president "has heard the concerns of the medical community" and has directed the Interagency Task Force on COVID to immediately act on the doctors' concerns.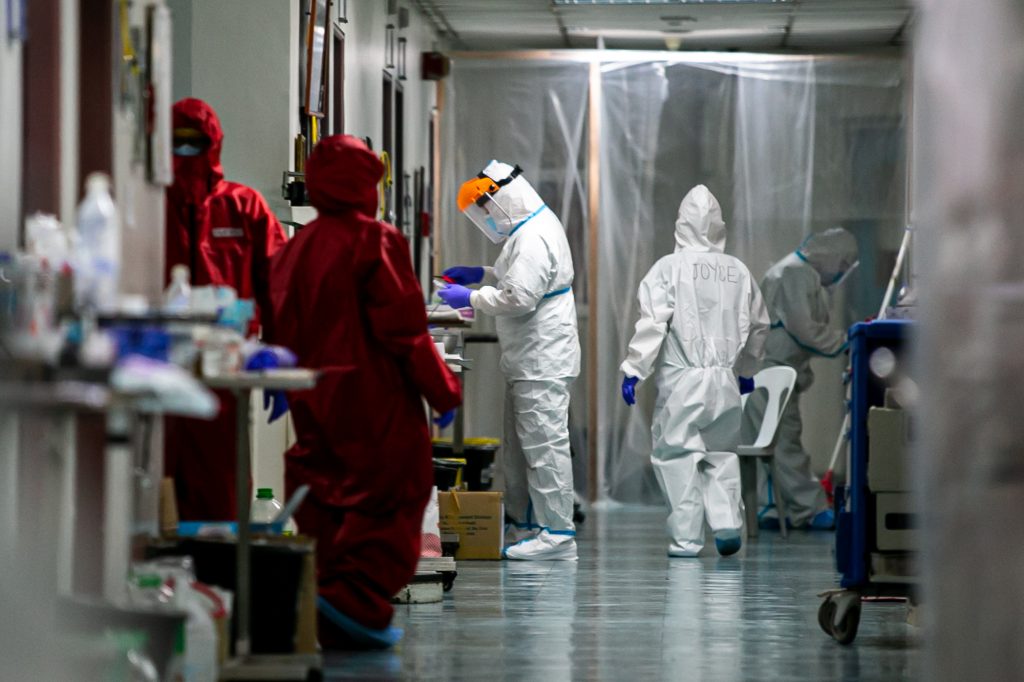 Point of no return
The doctors' list of urgent tasks reads like an indictment of the government's COVID-19 response.
It cited problems in hospital workforce efficiency, failure of case finding and isolation, failure of contact tracing and quarantine, transportation safety, workplace safety, public compliance with self-protection, and social amelioration.
The call came a day after the health department said the country's COVID-19 cases had passed 93,000. It also recorded a big jump in daily cases to more than almost 5,000 after weeks of steady growth from 1,000 to 2,000 to 3,000 cases daily.
"We are waging a losing battle," said Santiago, a direct contradiction of upbeat pronouncements from the health agency and the presidential palace.
"Our health workers are burnt out with the seemingly endless numbers of patients," warned the doctor.
Santiago noted that two of the capital's biggest state hospitals temporarily shut down following a rise in COVID-19 infections among health workers.
An hour after the briefing, a public hospital in the northern city of Caloocan also temporarily closed its doors to new patients.
The doctors slammed a new government policy allowing the re-opening of gyms, fitness centers, tutorial services, and review centers, internet cafes, grooming services and drive-in cinemas.
"We must remember that we need healthy people to reinvigorate our economy," the doctors' statement read. "The health sector cannot hold the line for much longer," it added.
The Philippines has Asia's highest attrition rate for medical professionals.
Dr. Maricar Limpin, a pulmonologist and vice president of the Philippine College of Physicians, said that it is not just a question of bed capacity that the country faces.
"Our health workers are dying again," she warned. "We are the last defense; if we go down, who takes care of you?"
Dr. Aileen Espina of the Philippine Society of Public Health physicians said the surge in cases has also led to resource restrictions and interrupted care for urgent and chronic non-COVID cases.
The Philippines has serious endemic health problems like tuberculosis, diabetes, hypertension, and periodically suffers from seasonal outbreaks of measles, dengue and other infectious diseases.
The four-month lockdown — the world's longest — eased in June but health guidelines continue to hamper critical vaccination needs for other illnesses.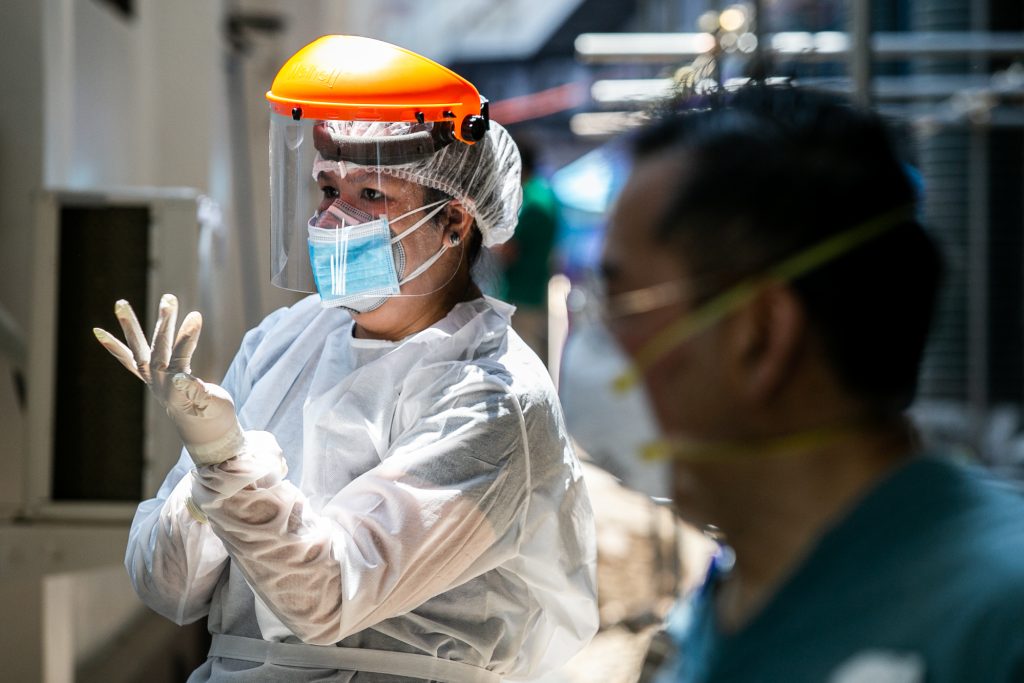 Help workers and the poor
The doctors also urged Duterte to focus on urgent solutions to the pandemic instead of pouring funds to long-term infrastructure projects.
Dr. Antonio Danz said they backed the call of the Move As One Coalition, which includes operators and drivers of public utility fleets for a centralized transport system, where income is based on daily contractors' rates, instead of shavings from individual fares.
He also pointed out the dearth in safe lanes for pedestrians and bikers.
Danz also said the government's rules on workplace safety only works for high-income settings but is "a clear failure" for the vast majority of the labor force who cannot work from home.
The doctors collectively hit the government policy of using one-time rapid antibody tests for work clearance even when international protocols have rejected this.
The practice, they said, has led to misdiagnosis and local outbreaks.
In one big factory, close to 300 workers tested positive for COVID-19. Close to 200 workers of the capital's main train service also got infected, including those with frontline functions like ticket and token sellers.
Espina said that aside from engineering reforms in ventilation and placement of people and business processes, the government should ensure that administrative rules are worker-friendly.
If workers fear forfeiting salaries when they get sick, they will continue reporting even if they feel unwell, she warned, calling for more human social safety nets.
The problem is, most workers already used up leave benefits in the early part of the lockdown as many businesses enforced forced vacations.
The country has reported record-high unemployment and workers' coalitions say the 17 percent government figure is not even half of the real score.
Those with jobs today have yet to recover income, as hurting businesses have placed them on rotating schedules on a "no-work, no-pay basis."
The chaos is worse than what it was at the start of the lockdown in March, said Dr. Lei Camiling of the Philippine Society of Public HealthPhysicians.
"If we continue, with the next surge, we will be like New York City, with patients dying at home or in stretchers, unable to find vacancies," she warned, noting that 71 percent of the country's intensive care unit beds are already full.
Beyond direct health measures, Camiling said government agencies should work together so those affected, especially the weakest, are protected.
"Let's help them so they can comply," she appealed. At the end of the day, we only have each other to help.