Philippine President Rodrigo Duterte will deliver his fifth State of the Nation Address on the afternoon of July 27 in a cavernous hall with only a handful of Cabinet aides and tame legislators present.
The absence of the fawning crowds who laugh at his dirty, sexist jokes, and clap for his orders to kill is matched by the absence of media teams.
Malacañang has allowed only state media to enter Congress, citing health guidelines to contain COVID-19, which has infected more than 80,000 people in the country.
---
---
---
Police officials and Interior Secretary Eduardo Año also banned protests on the same grounds. They were met with defiance.
Activist organizations, the political opposition, religious groups, labor, the urban poor and ordinary citizens staged caravans, biked or walk to the grounds of the University of the Philippines.
Big teams of lawyers have deployed to protect the right to free assembly and expression.
There was no reconciling the rationale for the ban with graphic displays of some 7,000 citizens packed shoulder to shoulder in a Manila sports stadium for days.
They sweltered in the humid daytime weather and then huddled wet as monsoon rains lashed at the bleachers that double as dining and sleeping areas.
Those turned away slept on the sidewalks of Manila's main tourist district. Health experts expressed horror at what could presage a perfect pandemic storm.
The contrast says everything about Duterte's pandemic response: a dependence on police and military tactics while defaulting on the very same health rules it has used to arrest dozens of dissenters over the last three weeks.
In a scene worthy of a mad tea party, a police brass and woodwind band huffed and puffed with masks pulled to their chins as stranded province-bound passengers walked past them.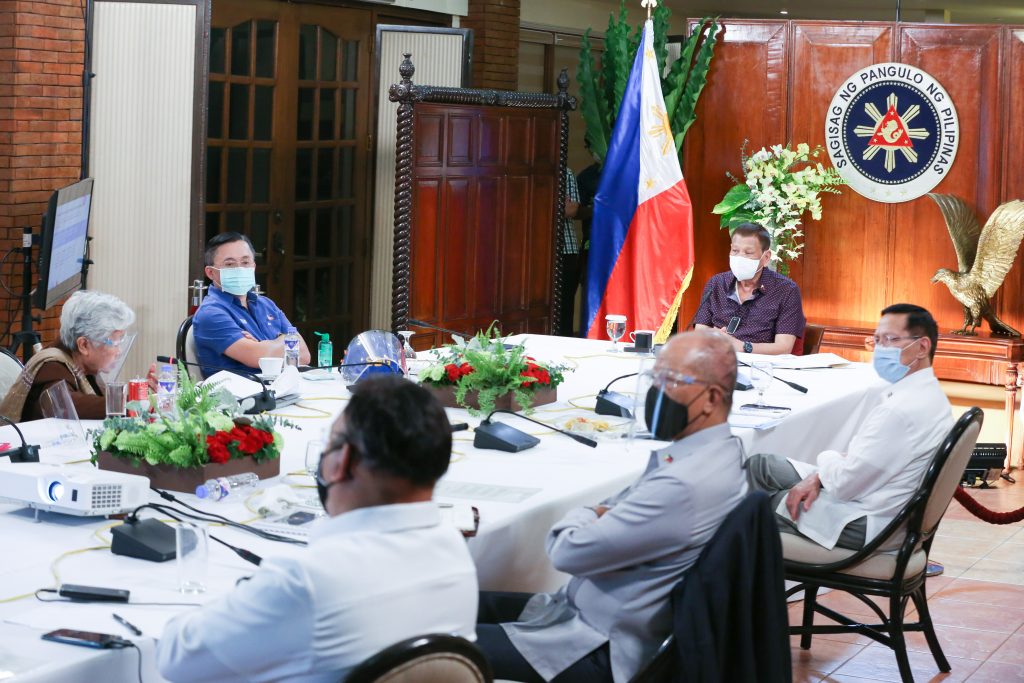 Policy blackholes
Duterte's Cabinet eased the world's longest lockdown in June to revive the economy. Businesses were told to re-open. The government announced a halt of the second tranche of aid for workers, claiming they had regained employment.
But the return to work came with compressed workdays due to sluggish markets and financial streams in the red across most industries.
For weeks, workers were left to fend for transportation. Train and buses were down to a third or half of normal capacity. Cheap public jeepneys were kept off the roads for no clear reasons except Duterte's long-running feud with that sector.
Government refused to subsidize the testing costs of workers. It cited the availability of state insurance, but the health department insisted only those showing symptoms qualified for the gold standard swab tests.
The rest made do with rapid tests notorious for low accuracy rates.
Labor clogged the streets in a desperate wait for rides. Most of them went home to multi-generational households in congested communities.
Within weeks, COVID19 cases spiked — and there's yet no end in sight to the spread of infection.
The government's capacity to create a mess of policy is matched only by its enthusiasm to blame vulnerable citizens for their plight and crackdown on critics.
Anti-terrorism rhetoric soared with the passage of a new draconian law, but the slew of arrests targeted high profile legal activists, including church workers and environmentalists.
Film writers and teachers were arrested for posting snarky comments on social media.
Media organizations came under fire: broadcast giant ABS-CBN's franchise fell to the whims of Duterte's supermajority that ignored the regulatory experts they called to hearings.
Police on July 26 seized thousands of copies of Pinoy Weekly, a Filipino-language magazine, claiming it is illegal and out to foment unrest. It is a registered publication and its editor won a national book award for journalism in 2017 for an anthology of in-depth coverage on conflict and social crises.
Duterte has barely given any press briefing since the lockdown, falling back on bizarre post-midnight performances.
The president alternates between rash promises and moaning about the lack of resources, pledging his love for constituents and then snarling threats at them, claiming he has read every internet resource on COVID19 and then advising people to re-use masks with a little help from abrasive cleansers and gasoline for disinfection.
Without fail, morning-after quarterbacks break down his most outrageous comments to modify, elaborate, and qualify. It has gotten so that aides now vie with Duterte for the most surreal performance trophy.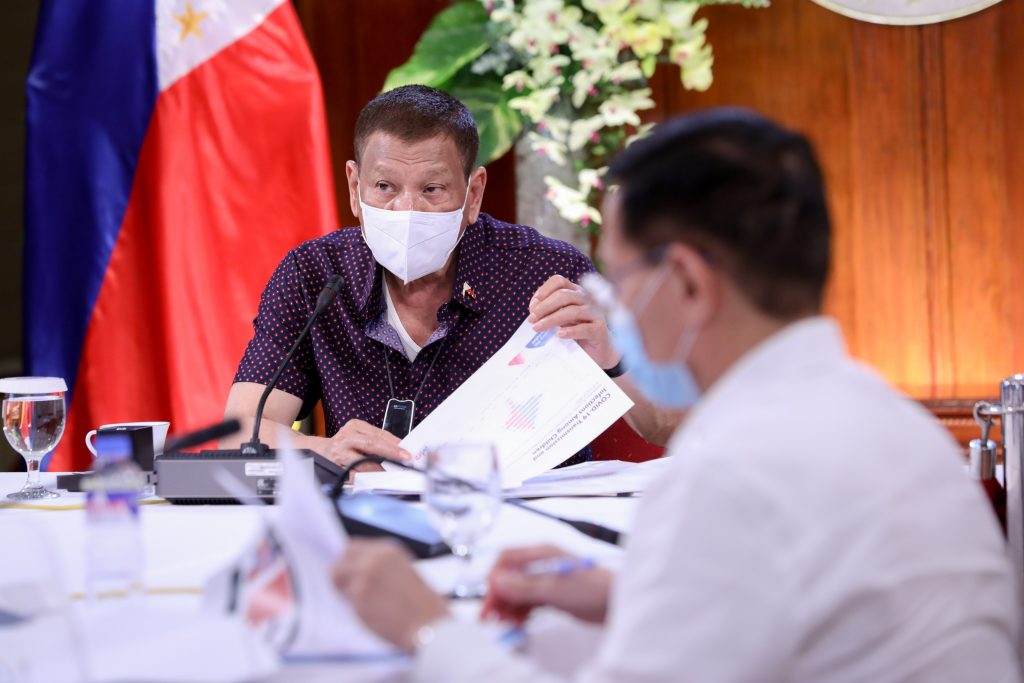 Powder keg
Meanwhile, daily reports of new infections rose from 500 to 700 to 1,000 to 2,000. Contact-tracing, a key peg in containment, is a joke.
A government audit report has reportedly discovered that advance funds for hospitals' testing costs ended up in favored institutions, some of them with no COVID-19 cases.
Promised hazard pay for medical workers — with Asia's most serious attrition rate — hasn't arrived in many areas.
Facing a powder keg in the capital — record-high unemployment, aid backlog of at least 20 percent, surveys showing high rates of involuntary hunger and public despondence and anger — the government rolled out a back-to-the-province program.
Duterte and his most trusted aide, Senator Christopher Go, promised livelihood funds or jobs under big-ticket investors.
Thousands of desperate folks came out from the slums and bedroom communities to take up their offer. They were given rapid tests, pronounced clear. Their destination communities discovered many were positive.
Now some provinces that had kept a lid on the pandemic are in the grip of community transmission.
As tempers flared in the countryside, transport firms got cold feet, forcing hundreds to sleep on wet alleys around ports and traffic islands around airports.
Today, thousands are stranded. Tens of thousands of Filipinos working abroad, now jobless, are coming home to chaos.
Duterte and his men saw the anti-terror law as their ace to quell unrest. A small group of executive officials now have almost limitless powers of arrest, seizure of assets, and surveillance, with little judiciary oversight.
But citizens, galvanized by a media giant's fall, are fighting back.
More than 20 petitions challenging the new law have been lodged with the Supreme Court. The protests and noise barrages are snowballing across the country.
Filipinos, used to deflecting crises with humor, could laugh at Duterte's inanities in "normal" times. The majority who, as surveys show, scrupulously followed quarantine rules, have had it with bad jokes, lies and broken promises.
Duterte may now revel in full tyrant status. He might just meet the same fate as our last one.
Inday Espina-Varona is an award-winning journalist in the Philippines. She is a recipient of the "Prize for Independence" of the Reporters Without Borders in 2018.
The views expressed in this article are the opinions of the author and do not necessarily reflect the editorial stance of LiCAS.news.