Veiled threats from authorities and waves of attacks by a digital army of trolls won't stop members of the Philippine Catholic clergy from speaking out on injustice.
"We shouldn't be afraid," said Father Jerome Secillano, executive secretary of the Catholic Bishops' Conference of the Philippines' permanent committee on public affairs.
"Those who do the people wrong should be afraid," he said in Filipino at an online media forum on July 22.
---
---
---
The priest said members of the clergy will be joining demonstrations on July 27 when President Rodrigo Duterte delivers his State of the Nation Address.
On the same day, a Holy Mass will be celebrated with protesters "to pray for the enlightenment of the country's leaders," said Father Secillano.
Various religious groups have announced their intention to join protest rallies across the country to dramatize their condemnation of alleged human rights abuses and their opposition to the new anti-terrorism law.
The Catholic Bishops' Conference of the Philippines issued this week a pastoral letter condemning the new law.
Father Secillano said the bishops "simply reminded the faithful to remain vigilant and united" and "help each other and pray for everyone including the country's leaders."
The priest downplayed claims by some sectors that the Church has been meddling in non-religious, non-spiritual issues.
Bishop Gerardo Alminaza of San Carlos said the country's church leaders have a prophetic role and would not buckle down to pressure especially when basic human rights are not respected.
"Regardless of what people say, it is part of our responsibility to shed light, guidance and speak on matters affecting the common good … especially when it infringes on the sacredness of human life," he said.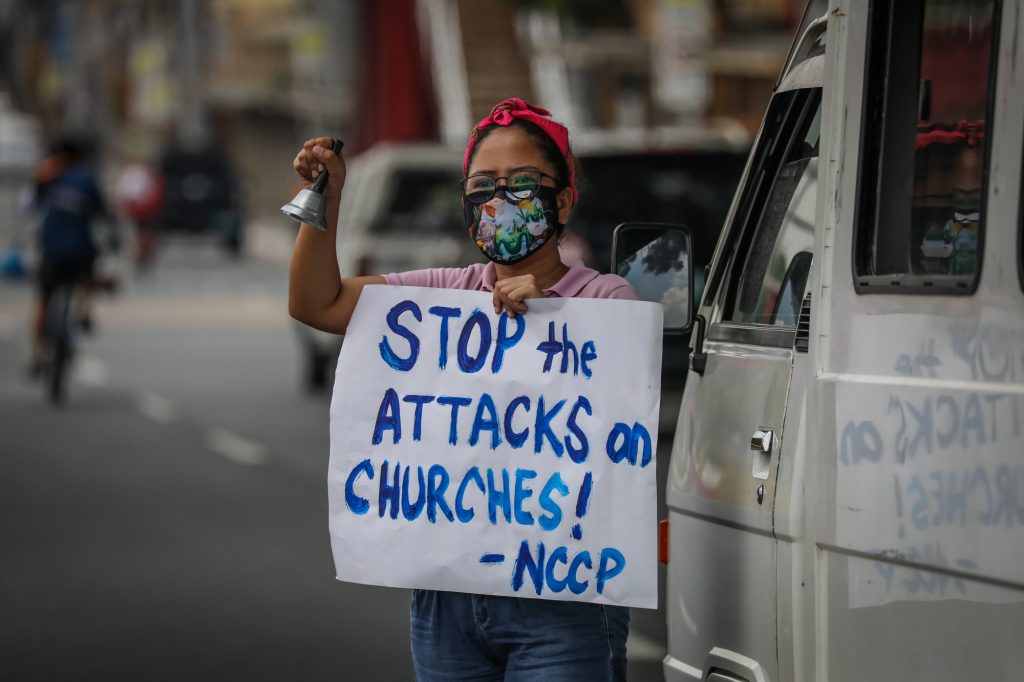 Not a crime to help
"Our faith does not separate body and spirit," said Redemptorist priest Victorino Cueto, rector of the National Shrine of Our Mother of Perpetual Help in Manila's Baclaran district.
"We look at people as a whole," he said, adding that the Church's stance on human rights stems from the belief that human beings are part of God's creation and worthy of His gift of dignity.
The priest said that the sacrament of baptism delivers the unique grace of prophesy, that which has prompts the faithful to not just point out injustices, but also to propose alternatives.
"This is the real heal as one," said Father Cueto said, alluding to the government slogan for its COVID-19 containment program.
The Philippines holds the record for the world's longest and most draconian COVID-19 lockdown, with arrests numbering in the tens of thousands.
The lockdown, however, failed to contain infections, with cases breaching the 70,000 mark.
Critics blamed a new surge in cases on weak social welfare response and lack of focus on the needs of health front-liners and workers as government presses for economic recovery.
The priests said government threats will not stop the Church from working with groups tagged by national security officials as "enemies of the state."
"We do not have a monopoly of bright ideas so we listen to other sectors," Father Secillano said. "This is how we keep democratic institutions alive."
"If we speak and criticize, it is not for us alone, but for the forgotten and marginalized," said Father Cueto said.
"We all have to speak, together, all of us. We cannot abandon them or ignore them," he added.
Changing communities
Father Secillano said falling silent because of fear of persecution would be a surrender of the Church's identity.
"The Church doesn't exist to amass wealth, but to use that to help people," he said. Neither does the Church's duties to its flock stop with charitable acts, he added.
"We exist also to create positive change with educational institutions, hospitals, and services that cater to street dwellers, children, unwed mothers," he pointed out.
"When we listen to them, we learn about what needs to change in society, and so we speak out."
Sister Maria Juanita Daño, who oversees a welfare house in Manila for the Our Lady of Charity of the Good Shepherd congregation, said religious order have poured in resources and time to aid survivors of the government's drug "war" and their families.
During the lockdown, the congregation's convent accepted medical practitioners facing discrimination in their communities.
Nationwide, the houses of the Good Shepherd congregation took in women and children who become victims of domestic abuse during the pandemic.
"We also help prostituted women and distressed overseas Filipino workers around the world," said Sister Daño.
"Talking with them shows us where we need to call for change. It is not just enough to help case by case; we work to help change communities," she said
Father Cueto said there are many upright people in the government and criticism is only aimed at abusers.
"But they need to listen to the ground," said the priest who oversaw a kitchen that feeds thousands of street dwellers and health workers during the COVID-19 lockdown.
"We speak out not because we want conflict, but because we want to see peace," he said. "And that will come with improvement in the quality of service to the people."