I was a young Roman Catholic when I first heard a pastoral letter read in church.
I couldn't now recall the content of the bishops' official statement, but after having read Bishop Pablo Virgilio S. David's recent pastoral statement as acting president of the Catholic Bishops' Conference of the Philippines, I took myself to task: to look into past pastoral letters and see how the Catholic Church, vulnerable as it is to its own flaws, has fared in the struggle for human rights in the Philippines.
---
---
---
The pastoral letter of Archbishop Teopisto V. Alberto on the morning of Sept. 26, 1972, issued four days after the declaration of martial law, proves interesting. On the whole, it was clear and strong, but nonetheless discreet.
Author Robert L. Youngblood describes in his book, Church Opposition to Martial Law, the Church's initial reaction as restrained: "Applauding the President's reforms but deploring human rights violations".
The originally untitled letter said, "We cannot but lament the prevalence of hatred and violence in our country. It is a great deception to think that reforms are to be gained by such means and we exhort our Christian people to realize how alien hatred and violence are to the ways of Christ. On the other hand, we must repeat that those, too, must share the blame for this violence and hatred who have by their callousness to justice and indifferences to the common good given occasion for it.
"We were happy to read the assurance of the President that he was concerned not to prolong martial law unduly. We, too, echo this desire. We also feel that we express the sentiments of the Filipino people in this regard."
Institutional dissent came crumbling down soon after military rule was pronounced on Sept. 21, 1972. With its resources and influence, the Church alone stood between Marcos and a population too bamboozled as to what to do given the sudden barrage of restrictions to its freedoms and display of open violence by the State.
At first, the virtual tug-of-war within the Church hierarchy proved daunting. The conservatives and the moderates vied for the power to control Church policy. A third, the liberals, who were tagged as radicalized elements of the Church, expressed concern over the loss of constitutional rights under martial law.
What seemed to have united the Church's hierarchy was the regime's decision to charge and arrest more than 200 clergy with subversion between the years 1972 to 1977.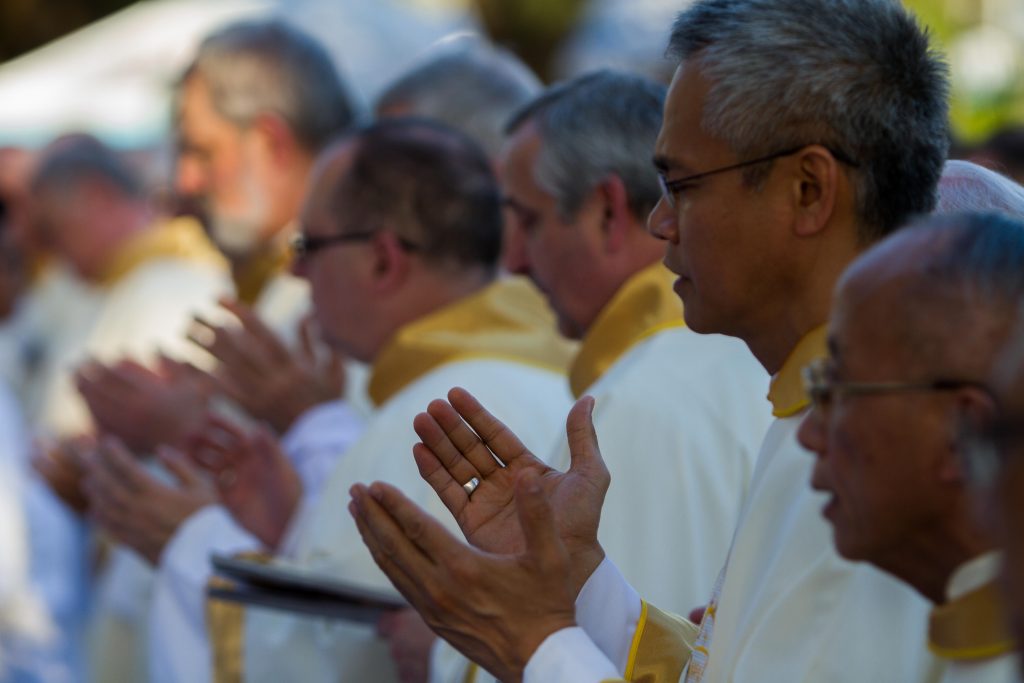 It would take the Church roughly 10 years before it thought and acted as a single entity in the struggle for human dignity, as this pastoral letter read by Cardinal Jaime Sin of Manila on Oct. 7, 1979, the Feast of the Most Holy Rosary, revealed:
"Peace with justice, the opposite of violence, does not just happen. It has to be desired and willed, it has to be worked for and built into the structures of society at all levels. No system, however perfect in theory and in intention, will itself guarantee justice and peace. Access to power by any group of persons can end up in abuse and tyranny [….] A society of justice and peace can be created and can survive only if we are willing to make the needed sacrifices, and exercise continual vigilance. It is to the attainment of these objectives — and not to the flowering of violence — that our present crisis challenges us."
To make matters more disconcerting, the media during Marcos' heyday played up stories on the arrest of hundreds of clergy allegedly joining hands with communist rebels. This reinforced government narratives of the Church's "fall from grace" with the attempt to fuel more division both in the hierarchy and the Catholic congregation.
To this, Archbishop Antonio Ll. Mabutas, former CBCP president, responded forcefully in a pastoral latter dated Nov. 29, 1982, four years before the People Power Revolution:
"Due process, moreover, must be observed at all times. The physical integrity of those taken into custody must be respected. We protest any inhuman treatment of prisoners, whether guilty or not. Searches without warrant, detentions without charges, delayed trials, torture, manhandling, indignity on the person of prisoners — we reprobate all these forms of cruelty and join the popular demand that those guilty of these crimes be forthwith punished. In any human polity there must be room for dissent."
In one of the most rousing pastoral letters drafted on Marcos' call for snap elections, titled "We must obey God rather than men," a clear reference to St. Peter's exhortation to the first century Church, Cardinal Ricardo J. Vidal of Cebu said:
"The presence of this conspiracy of evil should not, however, make us succumb to a paralyzing cynicism. It should rather challenge us all to organize ourselves and our actions so that evil may be conquered by good (Cf. Rom 12:21). The children of the light should not be less wise than the children of this world (Cf. Lk 16:3)… 'We must obey God rather than men' (Acts 5:29). In a conflict of loyalties and interests, God's will must prevail over unjust commands of earthly leaders."
We are all aware of what transpired next. Former Defense Minister Juan Ponce Enrile and former Armed Forces Vice Chief of Staff Gen. Fidel V. Ramos bolted from the Marcos regime and holed themselves up together with their rogue troops at Camp Aguinaldo.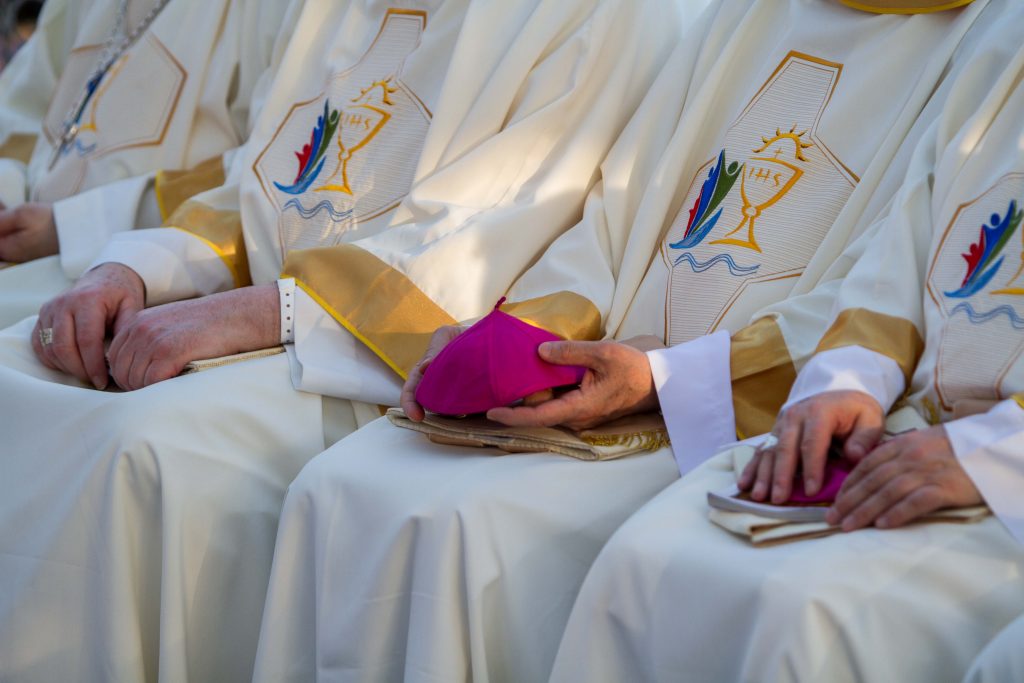 On Feb. 23, 1986, Cardinal Sin, through Radio Veritas, gave the clarion call that would fire millions of Filipinos to go out into Epifanio delos Santos Avenue and oust a dictator.
"I am calling our people to support our two good friends at the camp. If any of you could be around Camp Aguinaldo to show your solidarity and your support in this very crucial period which our two good friends have shown their idealism, I would be very happy if you could support them now. I would only wish that violence and bloodshed be avoided. Let us pray to our blessed to help us in order that we can solve this problem peacefully."
The July 19, 2020, pastoral letter of Bishop Pablo Virgilio S. David, acting president of the CBCP, reminds us of a past too contemptible to ignore:
"The return of 'warrantless detentions' through this new law cannot but remind us of the initial moves in 1972 that eventually led to the fall of democracy and the rise of a dictatorial regime that terrorized the country for fourteen years […] It was from there that we gradually sank into the mire of authoritarian rule. Knowing how, in just the recent past, the law has been used too many times as a weapon to suppress legitimate dissent and opposition, we cannot but share in the apprehensions expressed by the lawyers and ordinary citizens that filed the petition against the said infamous law before the Supreme Court."
Which is why it comes as no surprise that Chief Presidential Legal Counsel Salvador Panelo recently threatened to file a case against the CBCP for its July 19 pastoral letter. Panelo invoked the principle of the separation of Church and State, against which Manila Auxiliary Bishop Broderick Pabillo replied, "Don't we have the right to speak about the government's shortcomings because we are the church we cannot speak out?"
During martial law, the so-called "mosquito press" and the pastoral letters served as windows to what was happening in society. The media, largely under the thumb and payroll of Marcos, couldn't have done any better than to echo government propaganda.
Today, in the era of alt-truth, fake news and revisionist ideas, the pastoral letters are one of few avenues whereby facts and truth can be gleamed. Thanks to the house of Bishop David, recalling the past remains our best bet at reshaping our present and commandeering the future.
Joel Pablo Salud is an editor, journalist and the author of several books of fiction and political nonfiction.