FAMILIES and friends of political detainees in the Philippines appealed to the courts this week to "vote for life" as the number of cases of the new coronavirus disease continue to rise in the country's detention centers.
Marites Asis, mother of 22-year old political detainee Reina Mae Nasino, walked from her house in Manila to the Supreme Court building to appeal for the release of her daughter.
Asis said Nasino, an activist arrested for alleged illegal possession of firearms in November last year, is due to give birth later this month, making her and her child vulnerable to the disease.
---
---
---
"I just want the courts to know that I want my daughter to be freed immediately," said Asis. "If only I could be jailed in exchange for my daughter, I would do it," she said.
As the days passed, and with the impending birth of her grandchild, Asis' could not help but be worried.
"Have mercy, please release my daughter," she wrote in a personal letter addressed to Chief Justice Diosdado Peralta.
It has been two months since Kapatid, a group of relatives of political prisoners, filed a petition seeking the release of political prisoners deemed most vulnerable to the new coronavirus disease.
On June 16, the day of the court's deliberation, Asis stood outside the courthouse holding a red rose made of beads handcrafted by political prisoners to express her "appeal for a vote for life."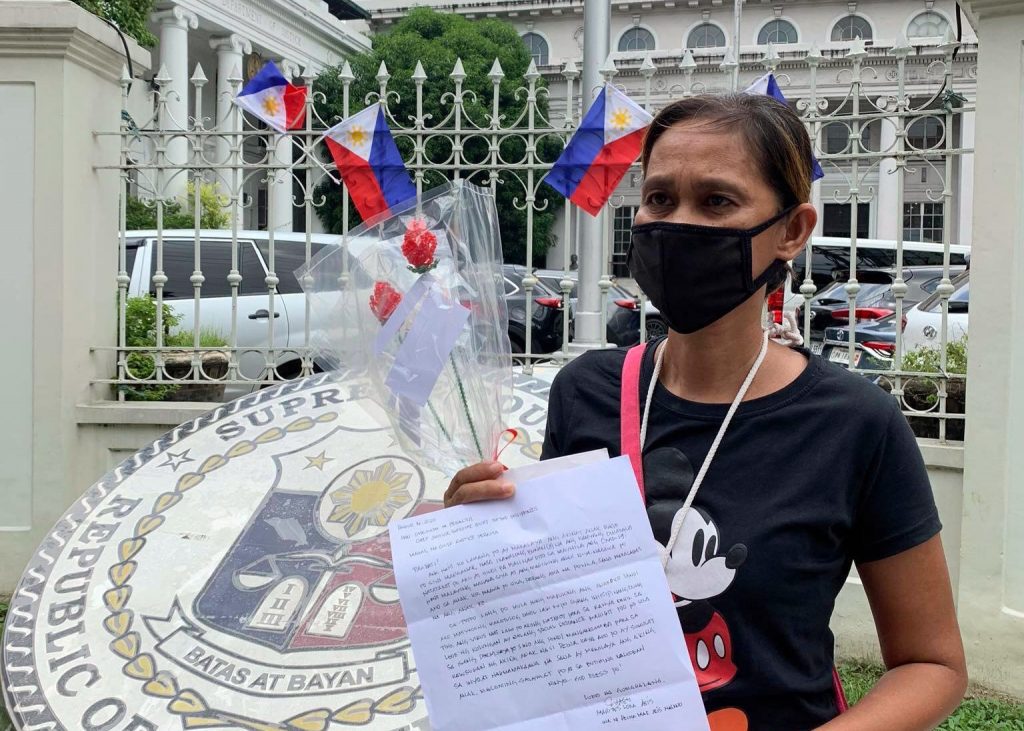 "This is a plea [for the court] to decide in favor of saving human life," said Fides Lim, spokeswoman of Kapatid who is also demanding for the release of her husband, Vicente Ladlad.
Ladlad, a 71-year old peace consultant of the rebel group National Democratic Front of the Philippines, has chronic obstructive pulmonary disease.
"What makes the present conditions worse is that political prisoners like [Ladlad] and [Nasino] don't even deserve a single day in jail," said Lim.
"They are activists not terrorists, but firearms and explosives were planted on them to justify their illegal arrest and keep them in indefinite detention," added the woman.
As of June 11, there were already 745 prisoners and 125 personnel of the Bureau of Jail Management and Penology who tested positive of the new coronavirus disease.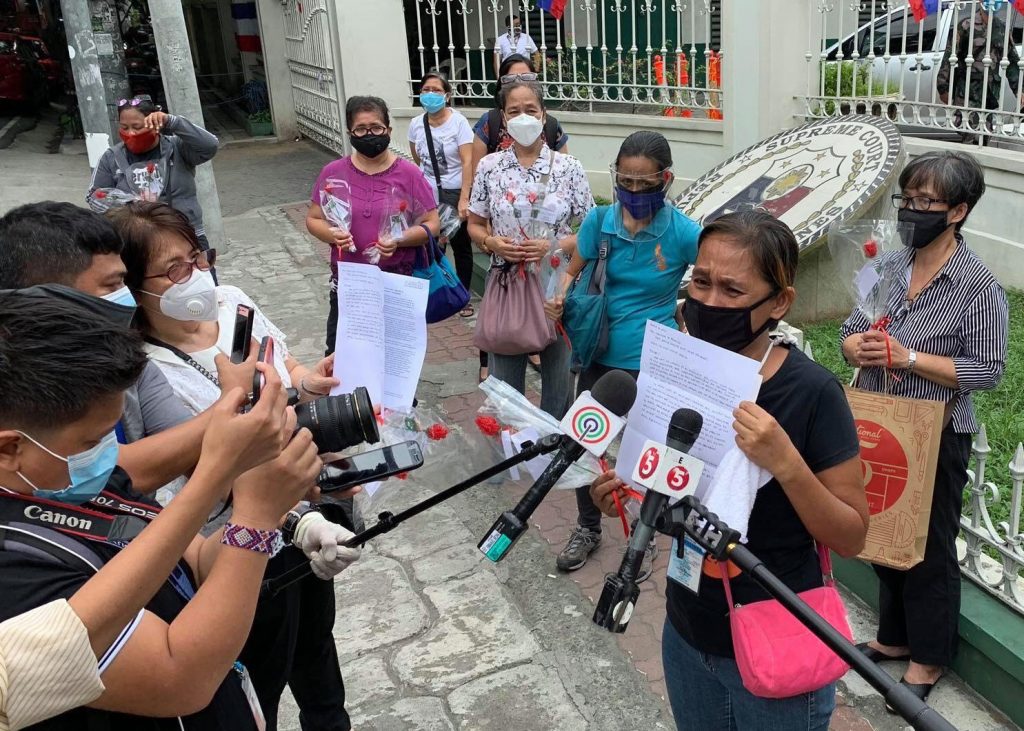 Early this week, 165 convicted prisoners have been granted parole in connection with the government's aim to decongest detention facilities amid the pandemic.
Aside from the 165 prisoners, 21 persons deprived of liberty have been recommended to the Department of Justice for conditional pardon without parole conditions, 24 with parole conditions while 46 have been recommended for commutation of their sentences.
A total of 454 paroles have been deferred pending verification by the National Bureau of Investigation.
The government earlier said those who will be released on parole will have to undergo quarantine at a facility in their respective penal farm and colony before being freed.
Kapatid's Lim, however, said no political prisoner was included in the list of candidates for parole.
"We hope it is a mere oversight and not a deliberate omission why qualified political prisoners are not being granted parole," she said in a statement.
Lim said several political prisoners have already served their sentence and are "overstaying" for as long as 35 years.
According to Kapatid, there are 619 political prisoners in the country, including human rights activists, trade unionists, and peace advocates.