LIBAY (not her real name) cannot skip attending the Independence Day protest rally on Friday, June 12.
"This could be my last," she said, adding that she fears the proposed anti-terrorism measure now waiting for the signature of the president.
"If we will allow the enactment of a law that will intensify the risks for rights workers, then this could be our last celebration of independence day with a protest," said the 30-year old development worker.
Libay has been working in tribal communities in the northern Philippines.
---
---
"I have been vilified and branded as a communist many times because of my activism and involvement in the social movement," she said.
A poster with her name and photograph even circulated in the northern provinces accusing her of being a member of the communist-led New People's Army.
"But I am used to it. Since I started working as rights and environmental activist, I always experience harassment, especially online," she said.
Libay said she already lost count of how many death threats she'd received. She has since ignored the text messages that she said are "meant to scare me."
She admitted that she's "most probably" one of the activists who will likely get arrested and detained once the anti-terror bill becomes a law.
"But more than fear," Libay said she is "enraged" with how the government is trying to silence the people working "to amplify the voice of those who are, in many cases, neglected."
The lockdown due to the coronavirus pandemic has forced Libay to stay at home.
For nearly three months, she was not able to visit an Aeta community that is affected by a huge government project.
Last week, she got a word from one of the tribal leaders that another mountain, which is part of their ancestral domain, has been flattened to pave the way for a golf course.
The golf course is part of a 9,450-hectare "smart city" project that threatens to displace at least 65,000 people from 12 villages, including some 18,000 Aeta indigenous people.
Libay said she still couldn't understand how fighting for the rights of indigenous peoples and for the protection of the environment became acts of terror in the proposed law.
"The government has a weird definition of a communist – people who are serving the poor and the oppressed, and those who fight for the ecology, are communists," she said.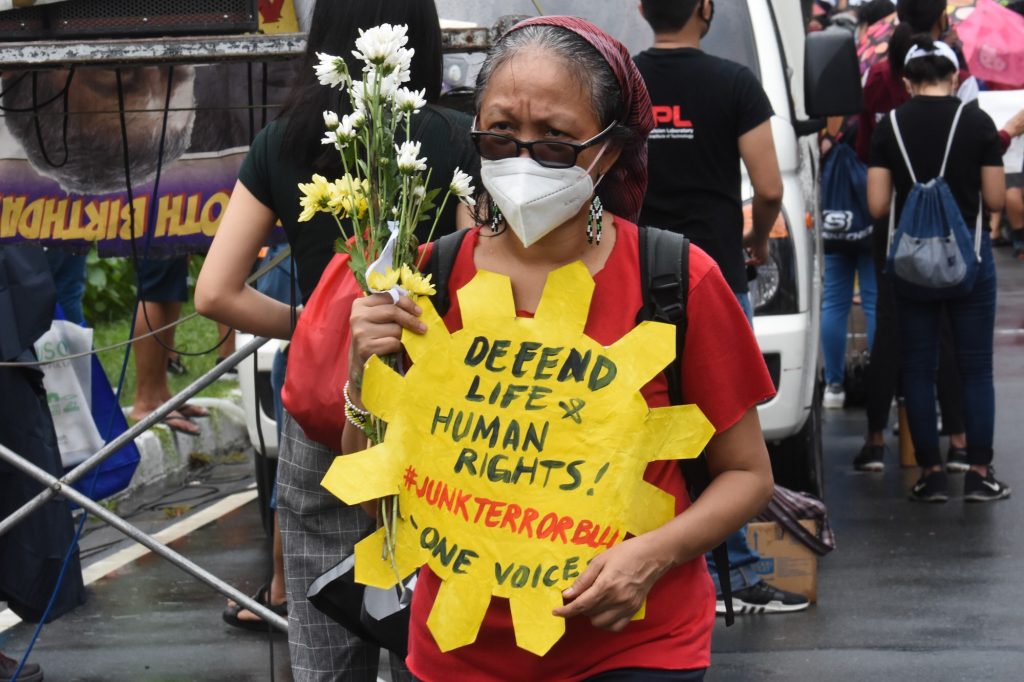 An individual, as well as a group, commits terrorism when he or she "engages in acts intended to cause death or serious bodily injury to any person, or endangers a person's life," or "causes extensive damage to public property," in order to "create an atmosphere or spread a message of fear."
The draft law also makes it a criminal offense to "incite others" to commit terrorism "by means of speeches, proclamations, writings, emblems, banners or other representations tending to the same end."
An Anti-Terrorism Council would be the sole arbiter to determine whether a threat should be considered serious. Those convicted would face up to 12 years in prison.
The bill exempts advocacy, work stoppages, and humanitarian action from the definitions of terrorism, provided they are "not intended to cause death or serious physical harm to a person, to endanger a person's life, or to create a serious risk to public safety."
Under the bill, a suspected terrorist can be detained without a warrant for 14 days, which is extendable by 10 more days, and can be placed under surveillance for 60 days, extendable by up to 30 more days.
The bill authorizes the wiretapping of suspected terrorists for a maximum period of 90 days as an amendment to the Anti-Wiretapping Law and detention without judicial warrant of arrest for a maximum period 24 days of suspected terrorists instead of the present three-day maximum.
Environmental activist groups have joined opposition to the proposed measure.
Leon Dulce, national coordinator of Kalikasan People's Network for the Environment, said environmental defenders, who have been protesting against large-scale mines and extraction projects, "have been targets of state repression."
From 2001 to 2019, the group recorded at least 272 environmental defenders who have been killed. Almost half, or 48.2 percent, of those who were killed were small farmers and landless agricultural workers while 33.81 percent were indigenous people.
The large-scale mining sector has been a consistent driver of environment-related killings. Attacks against anti-mining advocates comprise 54.4 percent of the monitored killings.
This is followed by land defenders opposing agribusiness plantations at 25.4 percent and forest defenders campaigning against deforestation at 17.3 percent.
With the proposed law, Dulce said extrajudicial killings of environmental defenders will continue to rise because of its "very vague and broad definition" of terrorism.
"Even without this law, activists are being killed every day in this country, what more if a law that will legalize impunity will take effect," he said.
Kalikasan recorded the "biggest escalation of killings" of environmental defenders under the administration of President Rodrigo Duterte.
The group said 157 green activists were killed from July 2016 to the end of 2019, which made the Philippines the deadliest country for environmental defenders.
"With the shrinking space for a civil society already constrained by the (coronavirus) lockdown, [the Anti-Terror Bill] is an additional threat to land rights defenders," said Jaybee Garganera, national coordinator of Alyansa Tigil Mina.
Despite the new threats and the impact of the proposed law on environmental workers, "the work must go on," said Libay.
"We cannot stop working because the poor and the environment are suffering. A bullet in the head, maybe, is the only thing that could stop me from what I am doing now," she said.