For nine years, Jesuit priest Eli Lumbo has been administering to the spiritual needs of about 30,000 inmates in the Philippines' New Bilibid Prison.
The past two months, however, had been very challenging for him and for the other priests who are serving in the prison service.
During "normal days," before the pandemic, the priests celebrate daily Masses, hear confessions, and teach in the prison's college.
These days, on top of their usual tasks, the chaplains now serve as "social support" for the inmates.
---
---
---
"We are like the [Social Welfare department] here," said Father Lumbo, who is also executive director of the Philippine Jesuit Prison Service Foundation.
"What we're doing now is not our job, but there is so much need that you can't just sit and watch, so we try to provide for everything," said the priest.
Although prisoners, or "persons deprived of liberty," are isolated from society, they also face the same problems people outside face.
Before the pandemic, relatives of inmates bring in food to augment the US$1 daily food budget of the prisoners.
With the lockdown, prisons are struggling to provide sufficient food for the inmates. "We help the kitchen with vegetables donated to us," said Father Lumbo.
Most of all, the priests have to listen, and listen a lot these days.
The thought of having inmates infected by the new coronavirus disease is driving the prisoners "psychosomatic," said the priest.
As of last count, there were 53 confirmed cases of the disease in the prison with three deaths.
In a Facebook post, the priest said it is "heartwarming and consoling," however, to experience firsthand how people are "more and more sensitive to the needs of the inmates."
He said he has been "busier" now compared to before the pandemic.
"In the past, I was with inmates most of the time. I interacted with them, listened to their stories, and spoke with them," said the priest.
He could see their facial expressions and hear their inflections. "I felt I really was able to know them."
"Now, as I am not able to enter as much as I want … most often I read or hear stories. I read from short notes from the inmates. And somehow, I still could still hear them and see them," shared Father Lumbo.
"I thus feel that these days have made me realize that I have truly entered their world," he said.
He shared how he learned about the death of one inmate due to COVID-19.
"I really felt the pain of losing someone dear to me. I felt the heaviness in the face of death. I also felt the fear of the inmates. Although I am not with them physically, I could sense what they feel," he said.
"There is pain. There is fear. There is anxiety," wrote Father Lumbo.
"But there is also a deeper of joy, of peace and of faith. Because God continues to provide for His children," he said.
"Because despite the closed gates or doors, Jesus enters the hearts of people so that those incarcerated can still experience the joy of seeing and believing in the risen Christ," he added.
Inside the maximum security compound of the prison, Father Firmo Bargayo Jr. had to teach prisoners proper hygiene, lecture on viral infection, and help in disinfecting prison cells.
When the inmates understood the gravity of the situation, they donated shirts that were later sewed into 18,000 face masks.
"Everyone is wearing face masks now," said Father Bargayo. "The goal now is to produce more so that each one can have at least two masks," he said.
There were no doctors in the prison compound because medical personnel were deployed to hospitals.
The chaplains had to come up with a "Bantay Kalusugan" (Health Watch) that trains inmates to serve as health front-liners in the facility.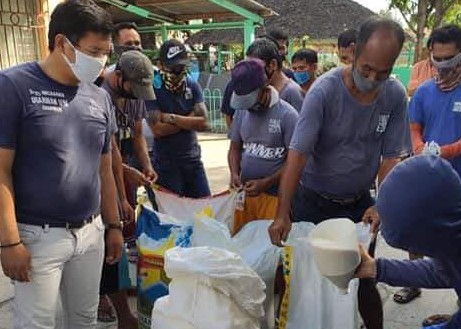 There's a lot to be done, said Father Lumbo.
"Every time I go around, there are always people asking when we will celebrate Mass," he said.
The holding of public Masses have been suspended as part of quarantine protocols.
"So we made a prayer, printed it out, and distributed it to all of them," said Father Lumbo.
He said these are trying times even for priests, but it is also a time for them to deepen their vocation.
"It's very exhausting, but we do what we can," he said.