The videos come one after another.
A psychologically scarred survivor of a brutal war in the southern Philippines bleeds to death on the sidewalk from police-inflicted gunshot wounds, kin and neighbors warned against coming to his aid.
A couple delivering oxygen for a critically-ill patient pleads to be let through a checkpoint, where a man stands before their vehicle with a long firearm and a scarf covering his face.
A thin man howls with pain as men in black shirts whip him with long, thick sticks; they carry the wailing victim to a van like a pig destined for slaughter.
---
---
---
The United Nations has warned against despots taking advantage of the new coronavirus pandemic to increase levels of atrocities.
The Philippines, led by President Rodrigo Duterte, is on the list of countries where state response to COVID-19 has been accompanied by abuses.
Bishop Pablo Virgilio David of Kalookan has reported that slum dwellers in his suburban diocese north of the capital have been arrested for simply stepping out into alleys for air.
In the city of Marikina, an industrial town to the east of Manila, stepping unmasked into a sidewalk to respond to a knock on the door also gets you arrested.
Georgette Gagnon, director of Field Operations of the UN human rights office, notes that 120,000 people have been arrested under the country's "highly militarized" response to COVID-19.
Duterte and his lieutenants brush off complaints of abuse, insisting the tough measures are aimed at protecting citizens from the pandemic.
But a leader who orders law enforcers to shoot dead "unruly" citizens and packs his Cabinet with retired generals has created a new toxic social landscape, with the poor bearing the brunt of injustice.
"Injustice is as dangerous and as virulent as any known deadly disease," said Josalee S. Deinla, spokeswoman for the National Union of People's Lawyers.
"We hear the stories every day: hundreds of people — including minors and the elderly — being arbitrarily detained for leaving their houses to buy or search for food," she said.
The Duterte response is highlighted by policies heavy on prohibitions but weak on social safety nets, centralization of decision-making powers coupled with heavy demands on local governments.
It has also spawned thousands of Duterte wannabes, said human rights lawyer Edre Olalia, citing whimsical decision-making from national to grassroots levels.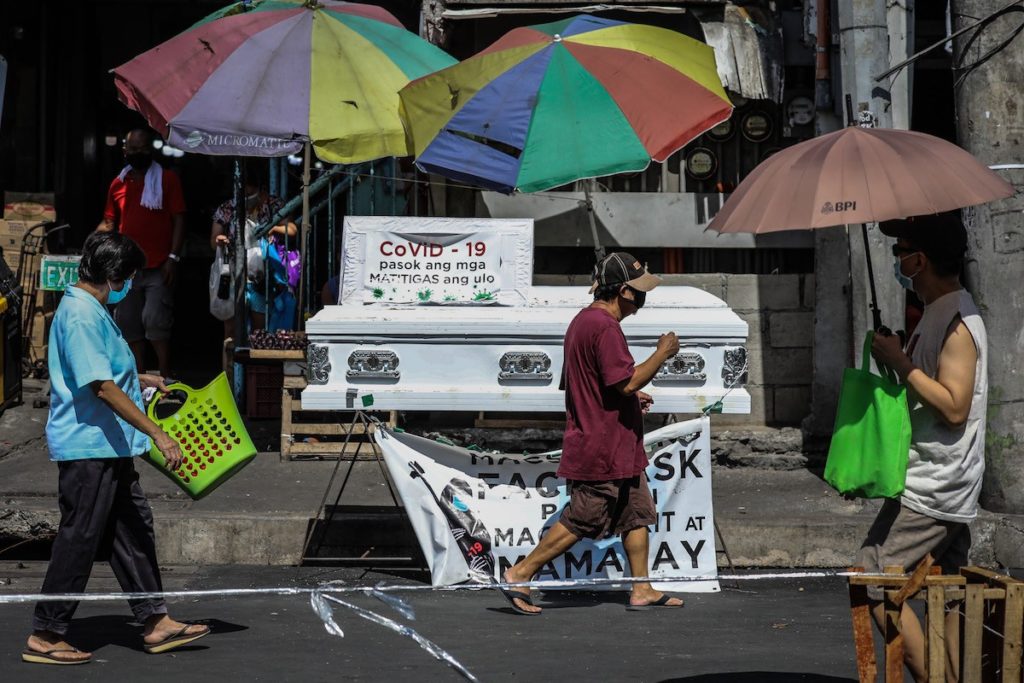 Videos of cruelty
On Sunday, April 26, a leader of a neighborhood block barred delivery of oxygen supplies for a critically-ill patient, citing a local rule banning movement from 10 a.m. to 3 p.m.
On a video recording, a man with a long firearm blocks the path of a vehicle as Louie Bugayog begs to be let through, showing a message from a nurse of a patient experiencing respiratory distress.
The answer to his plea: "If the patient dies, it was meant to be."
Police on April 21 killed a psychologically-scarred veteran of the war in Mindanao.
At dusk that day, hundreds of thousands of Filipinos watched videos of Cpl Winston Ragos toppling over, almost in slow motion, as lawmen warded off screaming kin and neighbors from aiding him.
He died a few hours later in the hospital.
Police Master Sgt. Daniel Florendo Jr said he shot in self-defense when Ragos made a move to pull something out of his sling bag.
Video footage, however, show police taunting Ragos, who stood still for a long moment with his hands raised, back turned to the lawmen.
Relatives said they begged police not to shoot, explaining the victim's psychological state.
The police announced, "we're going to kill him" as they ordered people into their homes. Ragos' original crime was cursing rookies manning a checkpoint near his residence.
---
---
---
The military has demanded an independent probe into the incident and sent out a strong message by burying the veteran with full honors.
A week after the shooting of Ragos, a video taken by a Quezon City resident showed a group of local government civilian enforcers beating 38-year old Michael Rebuia, a mentally challenged man who had been allowed by the neighborhood to sell fish and help in a water refilling station.
The sound of canes falling on flesh kept time to Rebuia's cries of having done nothing wrong. An enforcer told protesting residents: Do not tolerate lawbreakers. Rebuia's crime: not wearing a mask.
The head of the city "discipline task force," Rannie Ludovica, justified the arrest by claiming Rebuia had later tested positive for drugs.
Lawyer Olalia notes that a mentally challenged man, already beaten black and blue, could not have been in any position to protect his rights while under custody.
Phil Robertson, deputy director for Asia of Human Rights Watch, has urged the Philippines government to "rein in out of control law enforcers and public officials committing rights abuses" during the lockdown.
"The lockdown and quarantine, and even the emergency powers bestowed on President Dutete, do not excuse the actions of officials to wantonly violate international human rights norms and the Philippine Constitution, which specifically protects citizens from unreasonable searches and arrests," he said.
'Rescue'
Police use euphemisms to rationalize their harsh actions.
When Manila police demolished the makeshift homes of 78 families in the Sampaloc district just before the start of Mayor Francisco Domagoso's "hard lockdown," the city police chief, Brig. Gen. Rolando Miranda, called it a "rescue."
Human rights group Karapatan said the families were forcibly crammed into "a small building with no proper ventilation," forcing some to seek shelter in outside nook and crannies.
If they are caught, they could face unusual and cruel punishment. Some violators of quarantine rules are made to sit under the sun for hours. Some are brought overnight to cemeteries. Some are forced to march in a parade of shame, tied by ropes to one another.
A local official forced some arrested members of the LGBT community to perform lewd acts in public.
---
---
---
Domingo Egon Cayosa, president of the Integrated Bar of the Philippines, has warned the government against imposing "inhumane penalties" under the health emergency.
"Penalties should be consistent," he said. "These cannot depend on the whims of enforcers."
But that appeal is likely to fall on deaf ears.
Duterte, a lawyer, constantly pledges to protect law enforcers from criminal suits. He has accused rights workers of serving the interests of criminals and believes human rights lawyers enable lawbreakers.
Inday Espina-Varona is an award-winning journalist in the Philippines. She is a recipient of the "Prize for Independence" of the Reporters Without Borders in 2018. The views expressed in this article are the opinions of the author and do not necessarily reflect the editorial stance of LiCAS.news.