Bishop Pablo Virgilio S. David, of the Diocese of Kalookan, isn't someone who's easily cowed by challenges and obstacles.
Among his critics, the prelate has been publicly pilloried by Philippine President Rodrigo Duterte a number of times for the bishop's unequivocal stand against the government's relentless war on illegal drugs, and the rising number of what he believes are extrajudicial killings in his diocese.
Bishop David has been among the most vocal in condemning the country's bloody anti-drug war, which has targeted mostly small-time dug pushers and users.
But the prelate is undeterred by all the unwanted attention from the presidential palace, and wants only to do the work that must be done.
Caloocan City, north of Manila, is a hardscrabble, industrial type of place. Divided on a north-south vector, it has a population of 1.5 million, many hailing from working-class backgrounds.
It is among those cities where illegal drugs have proliferated in recent years, prompting authorities to intensify their crackdown on street-level drug pushers as well as users.
Caloocan City hit the headlines in 2016 when a 17-year-old high school student, Kian de los Santos, was dragged by three policemen from the family residence in a slum community for alleged involvement in illegal drugs. He would later turn up dead.
The police said the boy fought back when they tried to serve an arrest warrant. His family, however, doubted the police's version of events, and ultimately took the matter to court. Only recently, the three policemen involved in the incident were found guilty of premeditated murder and sentenced to lengthy prison terms.
---
---
---
The entire nation was shocked by the manner in which the teenager was brutally killed, and calls reverberated for a stop to the bloody war on drugs.
For a time, the anti-drug campaign slowed down, but it has since accelerated in pace, with authorities reporting so-called "buy-bust" operations, resulting in the confiscation of millions of pesos worth of methamphetamine hydrochloride, locally known as shabu.
The number of drug war casualties has topped 6,000 since mid-2016, although human rights groups claim that over 30,000 have actually been killed.
It is in this context which the diocese is doing its work.
The Catholic Diocese of Kalookan comprises Malabon City, Navotas City, and the southern portion of Caloocan City. It was created by Pope St. John Paul II on June 28, 2003, and canonically erected on Aug. 22, 2003, with the installation of its first bishop, Deogracias S. Iñiguez.
On Oct. 14, 2015, Pope Francis named Pablo Virgilio S. David, D.D. STh.D., as the second bishop of Kalookan.
The diocese covers an area of 55 square kilometers. It has a population of 1.2 million, 89 percent of whom were baptized Catholics. It has 36 diocesan and religious priests serving 26 parishes.
With Bishop David at the helm, the diocese has implemented various programs aimed at helping the families of the victims of the war on drugs.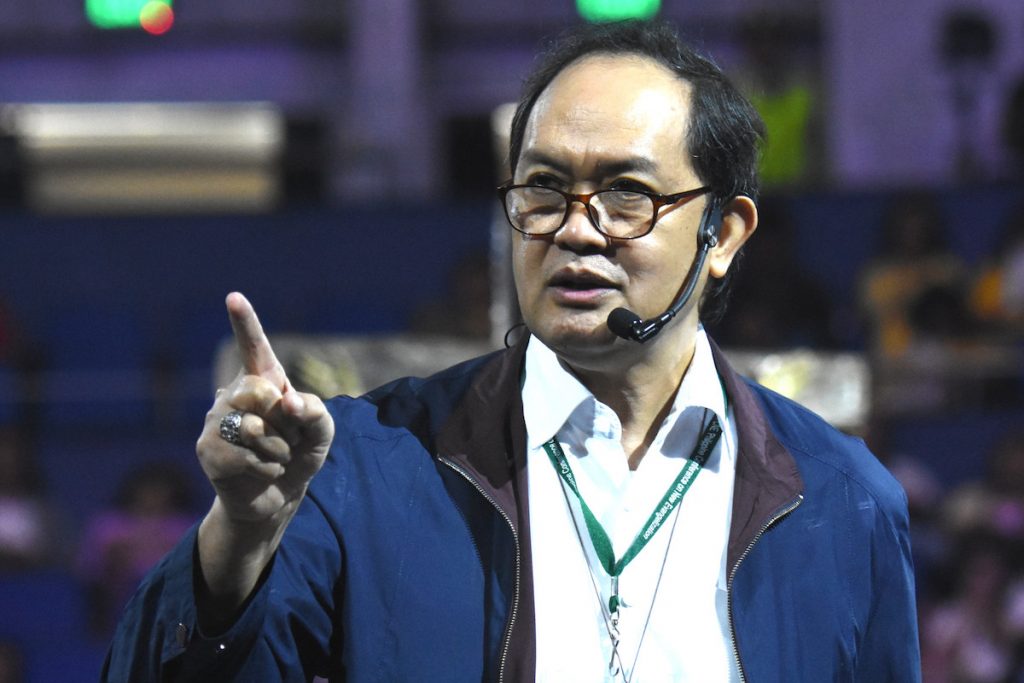 "Salubong" is a rehabilitation program for drug dependents that has been running for six months. It gives people with substance abuse disorders psychological counseling that is family and community-based. Part of the rehabilitation process is teaching them how to set up livelihood projects so that they can return to being healthy members of society.
Under the Commission of Social Services Development of Caritas Kalookan, the diocese also extends welfare assistance to widows, and offers educational opportunities to the orphaned children of extrajudicial killings.
The work of the diocese extends to other fields, including coordinating with Caritas Manila in its flagship Youth Servant Leadership and Education Program. This program seeks to break the chains of poverty by providing opportunities for college education for poor and underprivileged (but deserving) youth.
The Center of Mercy for Street Children, located at the San Roque Cathedral, is a project that allows the homeless access to free food, bathing facilities, libraries, and tutorials on Catholic teachings.
---
---
---
Donors also support the MASID Center ("Mga Anak Din Sila ng Diyos," or "They Are Also Children of God") project as a halfway house for the spiritual renewal of out-of-school youth in the diocese.
Bishop David's diocese is also involved in other programs, including individual counseling for drug dependents; counseling for families of the victims of extrajudicial killing; trauma therapy; capability building; basic counseling skills training; skills enhancement and personality development; online counseling via Catholinks; and livelihood facilitation programs.
Indeed, with the Diocese of Kalookan casting such a wide net, Bishop David has too much on his plate to bother with threats to his personal safety and security. Those risk are all in a days work for a man who will march through the darkness to lead others to the light.