Keep quiet about human rights violations out of fear or apathy — or both — and you may well be complicit in perpetuating the culture of impunity in the country.
That seems to be the rationale driving faith-based and human rights groups' efforts to bring the international community's attention to what they describe as the "worsening human rights crisis" in the Philippines.
At least 16 organizations under the Ecumenical Voice for Human Rights and Peace in the Philippines (EcuVoice) —including Gabriela, Bayan, Ibon Foundation, ACT Philippines, Rise Up for Life, and for Rights and Migrante—have banded together to submit their individual reports to the Office of the United Nations High Commissioner for Human Rights (UNHCR) Michelle Bachelet.
They are on the right track in doing so.
Their move comes six months after the signing of an Iceland-led resolution on the Philippines that was adopted by the UNHRC.
The administration of President Rodrigo Duterte has slammed that resolution as undue interference in the country's internal affairs.
The Church and human rights groups, however, are undeterred and want the international body to conduct a full-scale probe of human rights violations since 2016, aiming to halt a culture of impunity and bring those responsible for violations to justice.
At a press conference on Jan. 31, EcuVoice convenor Edita Burgos said the reports aimed to portray the human rights situation that has developed under the administration of President Duterte.
"The Duterte administration's anti-narcotics campaign, its counterinsurgency program through Oplan Kapanatagan, its 'whole-of-nation attacks' under Executive Order No. 70, and its rampage against critics and political dissenters have immensely contributed to the hyper state of impunity," Burgos said.
Burgos has been a thorn in the side of the Philippine government since 2007, when her son Jonas was snatched from a restaurant in Quezon City by armed men believed to be part of the state security apparatus.
He was never heard from again, in yet another case of enforced disappearance. The military denies having had a hand in his disappearance, but Burgos thinks otherwise.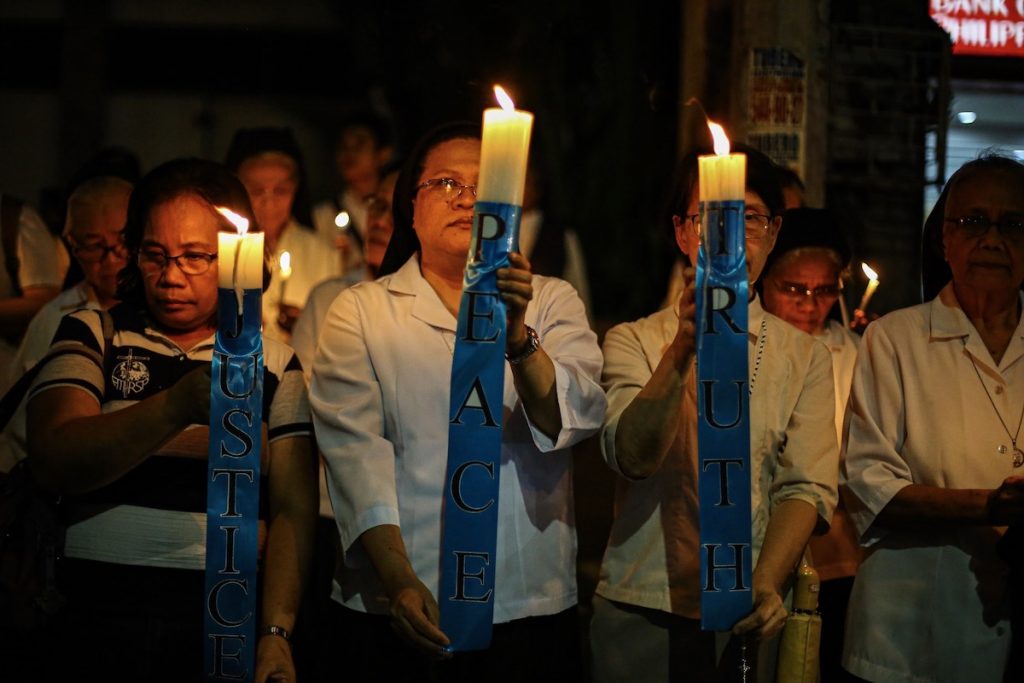 ---
---
---
A strong stand by the international community condemning human rights violations would no doubt exert additional pressure on the government to take decisive steps to end this culture of impunity.
Bachelet is expected to deliver her report to the UNHRC in June.
The move by various church and rights groups to submit additional evidence to the UNCHR is therefore timely and appropriate, as it would reinforce their claim of a "worsening" human rights crisis in the Philippines.
Should the UNHCR report provide damning proof of this culture of violence and impunity, I can almost see the Duterte administration raising hell and attacking Bachelet for her "biased opinion," which he will claim is based on nothing more than evidence presented by the Church and human rights groups. 
But the Philippine government must remember that the 1987 Constitution explicitly provides that "the state values the dignity of every human person and guarantees full respect for human rights."
Besides this clear-cut policy, the fundamental law has a Bill of Rights with no less than 22 sections. One of these provides that "no torture, force, violence, threat, intimidation, or any other means which vitiate free will shall be used against him. Secret detention places, solitary confinement, incommunicado, or other similar forms of detention are prohibited."
The network of church and human rights groups now seeking redress before the international community recommends that the UNHCR initiate fact-finding missions or official visits of UN special rapporteurs to the Philippines, as well as the creation of a Commission on Inquiry to look deeper into allegations of human rights violation.
These recommendations are logical and reasonable, but my apprehension is that the Philippine government will merely condemn these as tantamount to interference in the country's domestic affairs. Even worse, the state might portray them as imagined atrocities by sworn enemies of the state.
Yet, the Church and human rights groups should persist in their quixotic crusade, and must not allow every human rights violation to go unreported, unrecorded, or otherwise get lost in clouding of consciousness.
Ernesto M. Hilario writes on political and social justice issues for various publications in the Philippines. The views and opinions expressed in this article are those of the author and do not necessarily reflect the official editorial position of LiCAS.news