On August 3, when he was informed about the death of 17-year-old Jerhode Jemboy Baltazar, Society of the Divine Word Father Flaviano "Flavie" L. Villanueva immediately stepped in to provide aid and support to the grieving family.
The priest, who is the founder of AJ Kalinga and the Paghilom Program, promptly dispatched Randy Delos Santos, the uncle of 17-year-old Kian who tragically fell victim to police violence in 2017, to attend to the needs of the bereaved family.
On Friday, August 11, Father Flavie and the family met for the first time. The scene was chaotic, marked by a flurry of media attention and the presence of high-profile figures who paid their respects at the wake – reminiscent of the circumstances that surrounded Kian's untimely passing as well.
---
---
On that very day, Jemboy's mother was scheduled to return home from Qatar after an absence of over two years, during which she had been separated from her family while awaiting repatriation.
The scenario unfolded like a bustling circus, with officials and media personnel vying to capture the most impactful shots as the mother made her arrival.
Saturday brought a noticeable sense of tranquility, as both Father Flavie and Randy visited the bereaved family.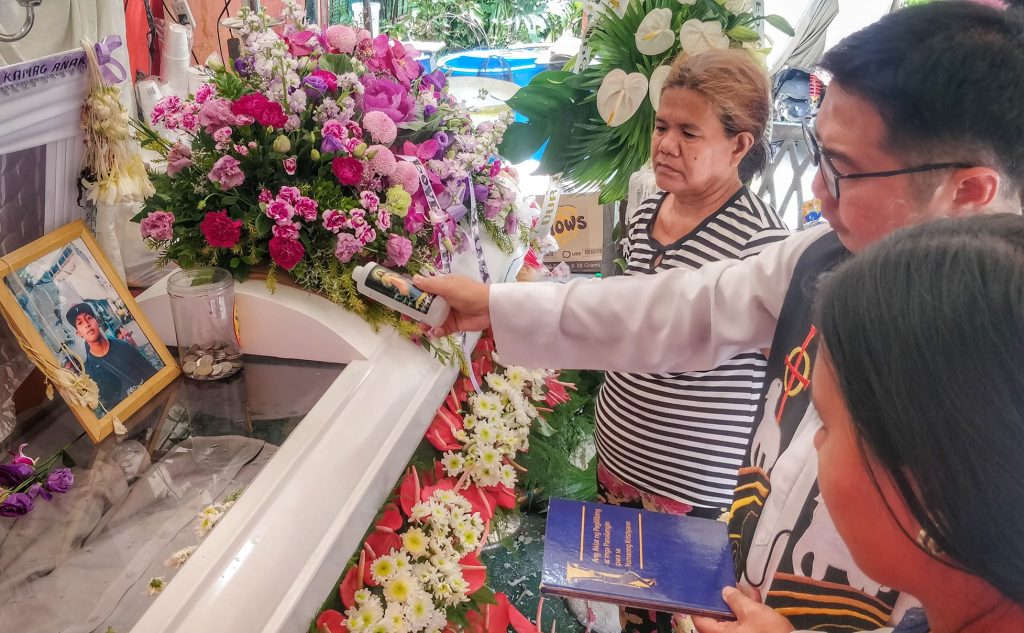 Jessa Baltazar, the eldest among the three siblings, confided in Father Flavie about her recent dreams involving Jemboy on a boat, where he earnestly implored her for assistance and pleaded not to be left stranded.
Jessa also recollected the cherished memories of Jemboy, who, despite being the youngest, exhibited a remarkably protective instinct toward his older sisters.
Regrettably, these cherished memories now stand as poignant reminders, as a group of Navotas police officers callously ended the life of the teenager.
Fr. Flavie asked Jessa what source of strength propels her to pursue the case, considering that many others facing similar circumstances often opt for the easier path.
"These memories of Jemboy provide me with the strength to press forward with the criminal case against the police officers who robbed my brother of his life," Jessa recounted.
Upon hearing this, a smile graced Fr. Flavie's lips, and he addressed the two sisters, saying, "Your courage not only emboldens me but also provides me with the fortitude for the endeavors we've been committed to over the past seven arduous years."
On August 10, Bishop Pablo Virgilio David of Kalookan condemned what he described as "an obvious remnant of the kind of impunity that characterized the behavior" of the Philippine National Police during the "dark years of the infamous 'war against illegal drugs' waged" by the Duterte administration.
"Even granting that the identity of the suspect is correctly established, should a police officer simply fire his gun at a suspect if he is unarmed and not resisting arrest?" said the prelate.
"Is it correct to fight criminality using criminal means?" he said, adding that "deliberately killing people in cold blood—even if they might be suspected of engaging in drugs or criminal activities—is already plain murder, not just homicide."
The prelate called oh parishes, mission stations, and Basic Ecclesial Communities in Navotas City "to express their solidarity with the bereaved family and band together to express a strong message to the Navotas Police: 'Jemboy's life matters'."