In Indonesia, a mosque has achieved two important targets – it has succeeded in nudging communities to manage waste and use the profit gained to support the mosque and congregation's activities.
Baitul Makmur Mosque in Bekasi, West Java, has accomplished these through the Gerakan Sedekah Sampah Indonesia (GRADASI), which translates to Indonesian Waste Charity Movement. This aims to reduce plastic pollution in communities by "donating" household waste in mosques.
"GRADASI aims to increase the environmental awareness of the congregation and visitors that waste is our shared responsibility, not only of the government or other organization that manages waste," said Suhapli, the coordinator for GRADASI in Baitul Makmur Mosque.
---
---
Data from Indonesia's National Waste Management Information System showed the country produced 19 million tons of waste in 2022, of which 18.2 percent was plastic.
Plastic waste has caused many problems in the archipelago such as unsightly landscapes, polluted marine ecosystems, and potentially, health issues due to the leaching of microplastic.
A religious approach like GRADASI can be successful in Indonesia, where an overwhelming majority of citizens – 87 percent – identify themselves as Muslims. If implemented widely, this movement has a strong potential to change the mindset of 280 million Indonesians, and lead to wiser plastic use and better plastic waste management.
Gaining momentum
The movement was initiated in 2021 through the efforts of the Coordinating Ministry for Maritime Affairs and Investment, the Ministry of Environment and Forestry, the Secretariat for the National Coordination Team for Marine Debris Handling, United Nations Development Programme Indonesia, and the Indonesian Ulema Council.
Among the key messages of the initiative is how the concept of "Sadaqah" — or the voluntary giving of alms or charity — can be done not only by financial means but also by waste donation.
Under GRADASI, the congregation of mosques can donate waste such as glass, metal cans, paperboard, and of course, plastic in drop boxes provided by mosques.
The collected waste is taken to recyclers where it is shredded into smaller pieces that are then sold as a material to manufacture new plastic. This increases the circularity of plastic production – the more plastic waste is recovered, the less virgin plastic material is needed.
As of March 2023, 123 tons of waste have been collected from 34 mosques that reported their waste collection data through a monitoring system. Of this, 38 tons is plastic waste.
Two years since its initiation, GRADASI is gaining momentum as more houses of worship have joined the movement. Initially, there were only six mosques that implemented this program. Currently, about 100 mosques all over Indonesia are carrying this out.
Suhapli admitted the response to the initiative was mixed in the beginning, with some of the congregation worried this would make mosques dirty.
"We conveyed that the aim of GRADASI is to educate, keep our surroundings clean, and fund the activities of the mosque, and then people started to understand this movement's purpose," Suhapli added.
In 2021 and 2022, Baitul Makmur conducted "GRADASI Akbar," a major event where the mosque was open all day to collect waste. Unlike GRADASI, waste collected in GRADASI Akbar was sold to recyclers directly.
GRADASI started gaining widespread media coverage after those events, leading to more people visiting Baitul Makmur to learn about the initiative's model. This convinced the local community to support and join the movement.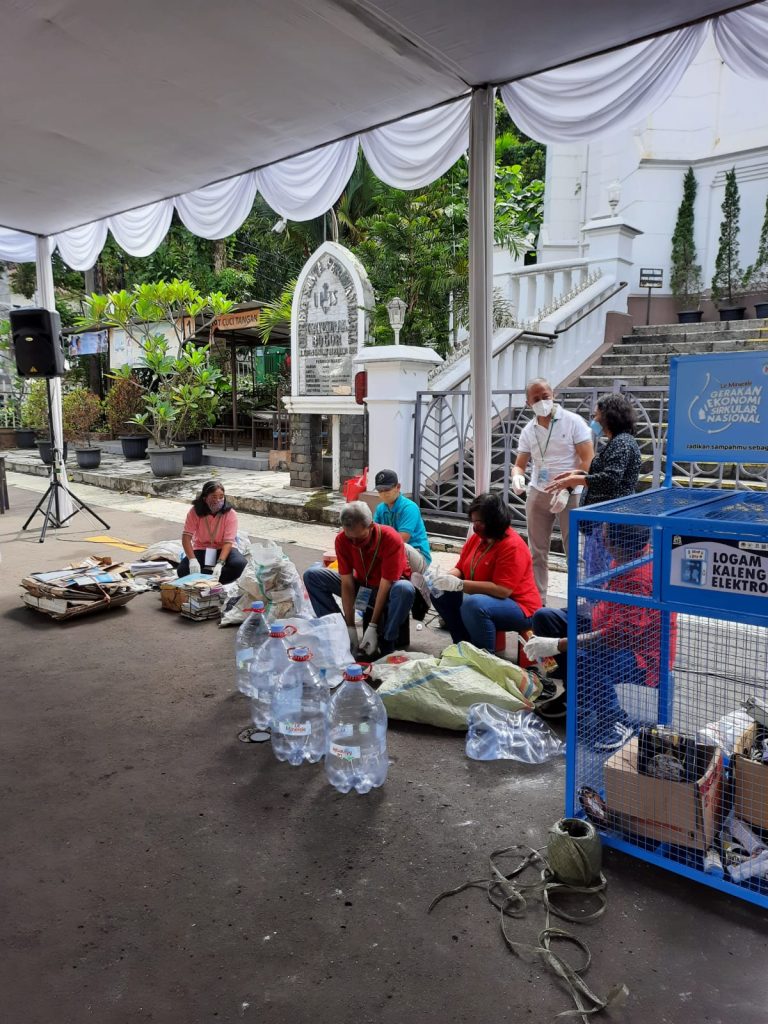 Helping Indonesia to meet targets
GRADASI supports the goals of the Indonesian government to reduce plastic waste. Indonesia aims to manage 70 percent and reduce 30 percent of its waste by 2025. The country also targets to slash 70 percent of its marine plastic debris by 2025.
GRADASI also supports efforts to achieve the "Zero Waste 2050" target. The government aims to reduce planet-warming greenhouse gas emissions in the domestic solid waste sub-sector by no longer sending solid waste to landfills by mid-century. This will contribute to Indonesia's commitment of reaching net zero emissions by 2060 or sooner.
Due to GRADASI's contributions, the government backs the program. Sinta Saptarina Soemiarno, director for waste reduction at the Ministry of Environment and Forestry of Indonesia, said the government is helping spread the initiative to relevant institutions, religious organizations, and communities.
This is done to inspire thousands of mosques and houses of worship of other religions to participate in the replication of this movement.
Education, solar, and more: What the plastic sale revenue supports
In Baitul Makmur, the sale of plastic collected from the two GRADASI Akbar events reached around IDR 7 million (around US$450). When combined with the sale of other waste such as metal and paper, the profit amounted to around IDR 45 million (almost US$3,000).
The money is used to pay the tuition of underprivileged "santris" (Islamic school students) and even to install solar street lights near the mosque.
In Al Muharram Mosque, Yogyakarta, the profit from GRADASI is used to help the less fortunate and orphans.
Meanwhile, in Malang in East Java, GRADASI works with 98 schools, while in Jombang, another city in the province, GRADASI works with 92 "pesantren" (Islamic boarding schools). There, the program supports students who cannot afford uniforms and school supplies.
Other houses of worship have also started implementing this program. The Diocese of Bogor in West Java, along with governmental and private partners, launched in 2022 "Kolekte Sampah." Its model is similar to GRADASI, but it is implemented in churches.
Father Yosef Segu, chairman of the Ecology Commission of Bogor Diocese, said that "Kolekte Sampah" is a form of ecological conversion stemming from Laudato si', the encyclical on the environment of Pope Francis.
"[Through Kolekte Sampah], there has been real action from the church towards the waste problem that is not only in the form of appeal, education, or study, and the congregation appreciates that."
Fifteen out of the 28 churches under the Bogor Diocese are currently doing the initiative.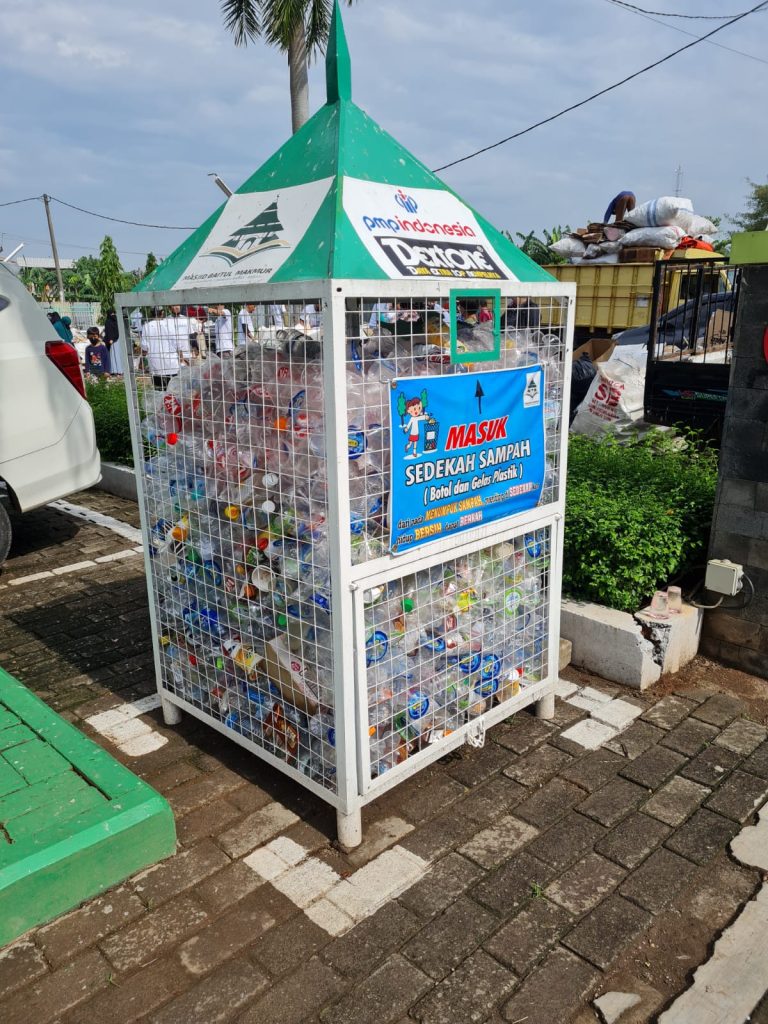 Roadblocks along the way
Despite the benefits, GRADASI has an inclusivity issue. Implementers will have to consider the movement's potential impacts on waste pickers, whose main source of income is household waste–a resource that GRADASI might begin monopolizing on. To address this, waste pickers might be involved in the program.
Other challenges include funding as mosques need money for dropboxes, meetings, and information and education campaigns, said Hayu Prabowo, chairman of the Environment & Natural Resources Body of the Indonesian Ulema Council.
Prabowo said the private sector should contribute to funding GRADASI as part of their Extended Producer Responsibility.
There is also a need to develop local champions who can lead communities in different regions in carrying out the program, which is limited to Jakarta.
Meanwhile, the challenges for Kolekte Sampah are different. According to Segu, there is a lack of recyclers in some areas and a lack of human resources in churches that can support the implementation of the movement.
To extensively replicate this movement all over Indonesia, it is crucial to utilize the network of the religious communities.
Prabowo said that apart from replicating this movement through provincial level offices, the Indonesian Ulema Council is also collaborating with Plastic Bank, an organization that recycles plastic waste, to enhance the capacity of mosques in managing plastic waste.
The government, according to Sinta, can also provide support in the form of providing facilities and equipment such as segregated trash bins at places of worship. In addition, appreciation and official awards can also be given to houses of worship that actively participate in such environmental movements.
This story was made possible through the support of Climate Tracker Asia, a non-profit that supports and trains climate journalists and advocates in the region through fellowships and story grants. Indonesian journalist Ariel Adimahavira is a recipient of a grant from Climate Tracker Asia's program on solutions to plastic pollution and climate change.