The observance of the Holy Week in the predominantly Catholic Philippine has become an opportunity for Filipinos to showcase their artistry and business acumen.
Days before Palm Sunday, men, women, and children usually travel from the provinces for a once-a-year business opportunity.
From the overloaded trucks, they bring out on the pavement, where they settle to work during the weekend, baskets and sacks filled with coconut palm fronds.
With hands moving swiftly, the fronds are clipped, twisted, formed into birds, flowers, hearts, lightning, swords, balls, birds, shrimps, and crosses.
---
---
The lowly coconut palms are turned into "something worthy for the Lord" called "palaspas."
For the past three years, however, many "palaspas" makers have been out of business because of the pandemic.
In 2022, Arlene Rizaldo woke up at three o'clock in the morning to travel to Baguio City from the town of Agoo in the nearby province of La Union.
The 47-year-old vendor used to bring home about US$175 from the annual two-day ritual. Her income was cut to half in the past two Palm Sundays after borders closed to prevent the spread of COVID-19.
"Noong nag-pandemic, doon na lang ako sa Agoo nakapagbenta. Kumikita lang ako ng halos [US$90] (During he pandemic, I was only selling in Agoo. I only earned about [US$90])," she says.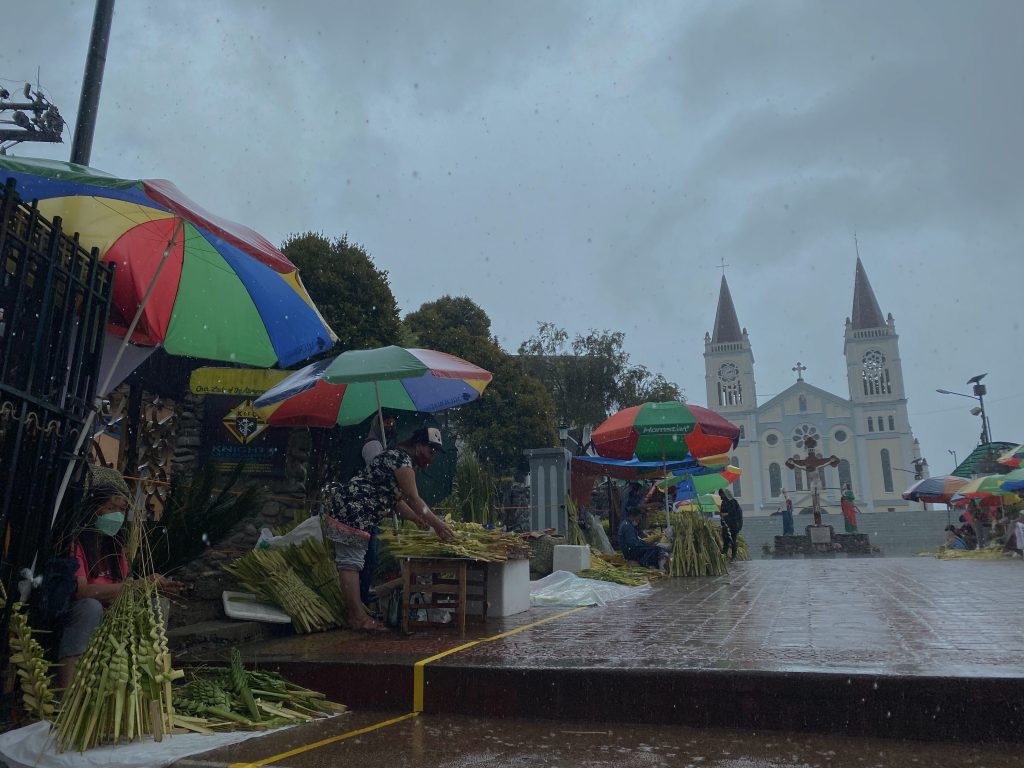 The price of "palaspas" ranges between US$0.60 to US$1, depending on the design.
The tradition of weaving the "palaspas" from young coconut palm leaves dates back to the pre-Hispanic era
In a 1589 account, Franciscan Father Juan de Plasencia noted that Filipinos use "leaves of the white palm, wrought into many designs" to decorate lamps during festivities.
Similar uses of the "palaspas" have also been noted in non-Catholic ethnic groups. The Islamized Tausug tribe in Mindanao uses lightning-shaped "palaspas" as wedding decorations.
Catholics carry the palaspas in the early morning of Palm Sunday for priests to bless. The fronds are later taken home and placed on front doors or windows supposedly to ward off evil spirits.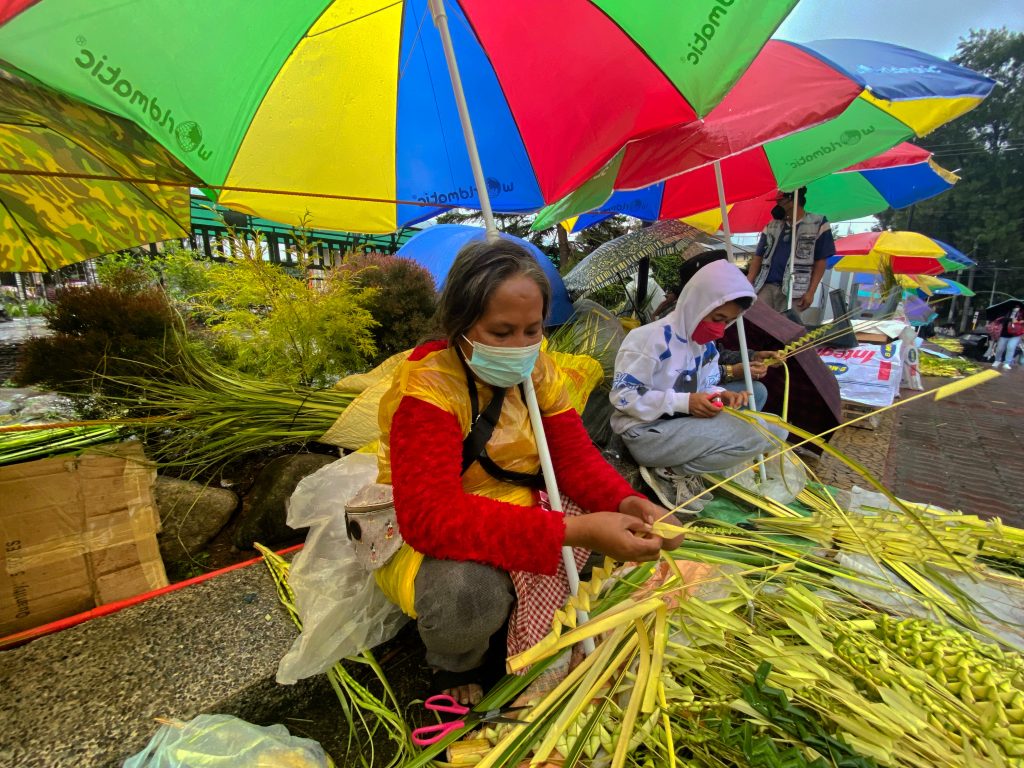 Arlene plants coconut trees for her "palaspas" business, but she said pests, which she suspects was brought by the "uncertain weather," have destroyed most of the palms.
To compensate for the shortage, she travels to the province of Pangasinan for an hour-and-a-half to buy palm fronds for US$2 per tree.
"Kadalasan, mga P3,100 din yung puhunan (Usually, I spend abouot US$70)," she said. "Okay lang naman, maliit yung tubo, pero ang importante ay nakakabalik na sa malakasang benta at maubos (It's okay, I profit a little, but what's important is we are back in business and the palm fronds are sold out)."
Arlene said she doesn't make as many "palaspas" as before due to her disability.
"Hindi ko na po pinipilit, pero sa awa ng Diyos, nakakagawa pa rin ako mga 300 palaspas, kalahati ng kaya dati (I don't push it, but with the grace of the Lord, I was able to make about 300 'palaspas, half of what I used to do)," she said.
She said the doctor told her she has cellulitis.
Cellulitis is a common bacterial skin infection that causes redness, swelling, and pain in the infected area of the skin. If untreated, it can spread and cause serious health problems.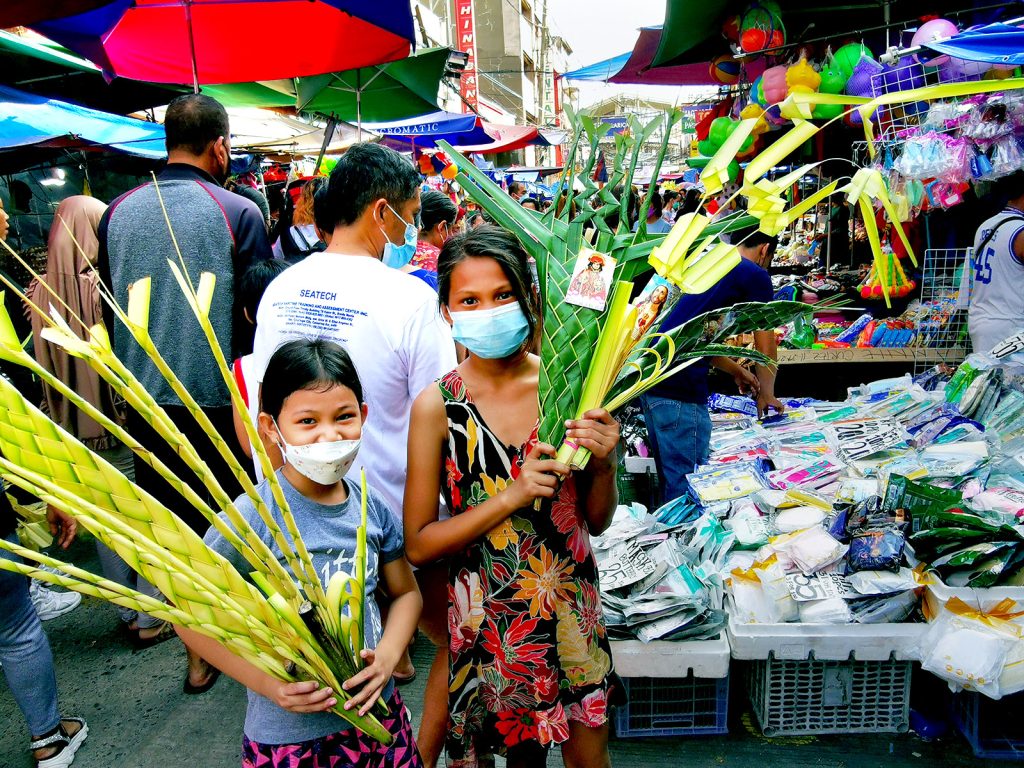 Arlene traveled with a cousin to Baguio on a rented jeep for 12 hours.
"Umalis kami ng 3 p.m. ng Biyernes, tapos dumating kami mga pasado 1 a.m. na ng Sabado (We left about 3 p.m. on Friday, and we arrived here about 1 a.m.)," she said.
"Sanay na po. 1993 pa lang ganito na ginagawa namin, business trip kumbaga (We are used to it. We have been doing this since 1993, it's like a business trip)."
Lorena said she has been anticipating the business trip after her family's "palaspas" production business was put on hold by the pandemic.
"Hindi na kami talaga nakabenta kasi pahirapan ang supply nung dahon mismo (We were not able to sell because there was also a shortage of supply of palm fronds)," she said.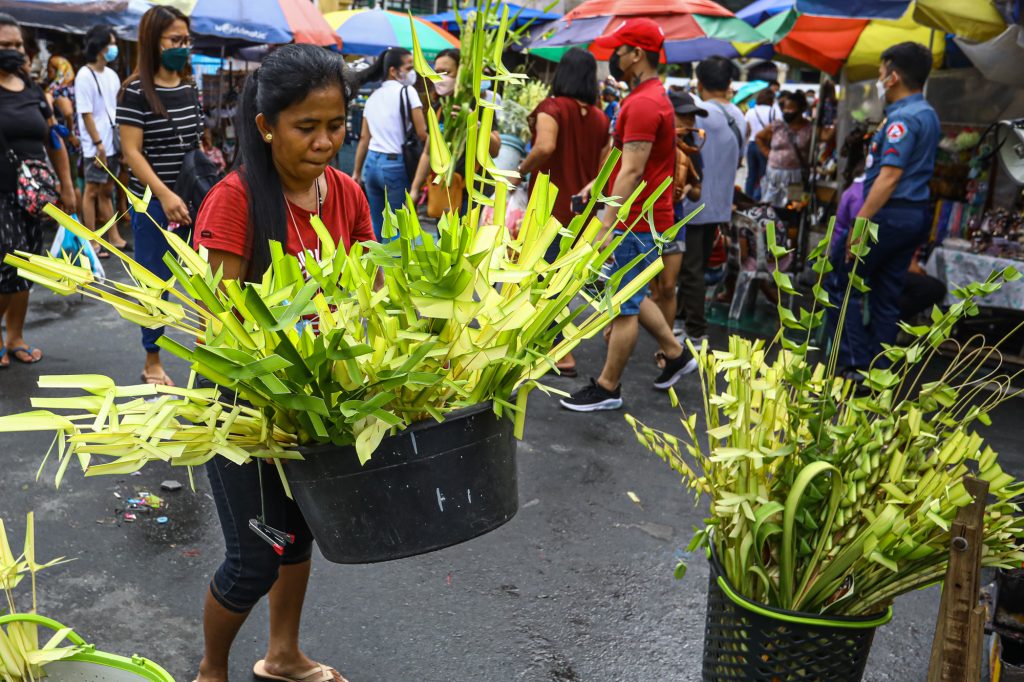 Lorena said there were a lot of buyers earlier in that day, until the rain started.
In a few hours, Lorena, her cousins, and the almost a dozen of other "palaspas" makers from Laguna would board their jeeps for the trip back home.
Arlene said she learned to weave "palaspas" when she was a child. Now, her children are also making and selling "palaspas" in Manila.
"Sana hindi mawala ang tradisyon, kasi isa itong paalala ng pagmamahal ng Diyos, na binigay niya sa atin, ang kanyang anak (I hope the tradition will not be lost because this is a reminder of God's love that he gave to us, his children)," she said.
This story was originally published on April 10, 2022.