Most Filipino Catholics pray at least once a day.
This was the result of a survey done by pollster Social Weather Stations conducted in December and released on Tuesday, February 21.
The survey found out that seven out of ten Filipino Catholics pray at least once a day.
The survey, however, also found that only 38 percent of Filipinos attend religious services at least once a week.
The SWS said 79 percent of their respondents were Catholics.
The survey result showed that 24 percent of the respondents attend religious services twice or more in a month while 20 percent attend once a month.
It said that nine percent attend religious ceremonies from two to 11 times a year and seven percent take part in religious activities once a year.
Three percent of the respondents said they never attend church services.
Ninety-three percent of the respondents have gone to a place of worship in the past three months while three percent watched religious services online or on television.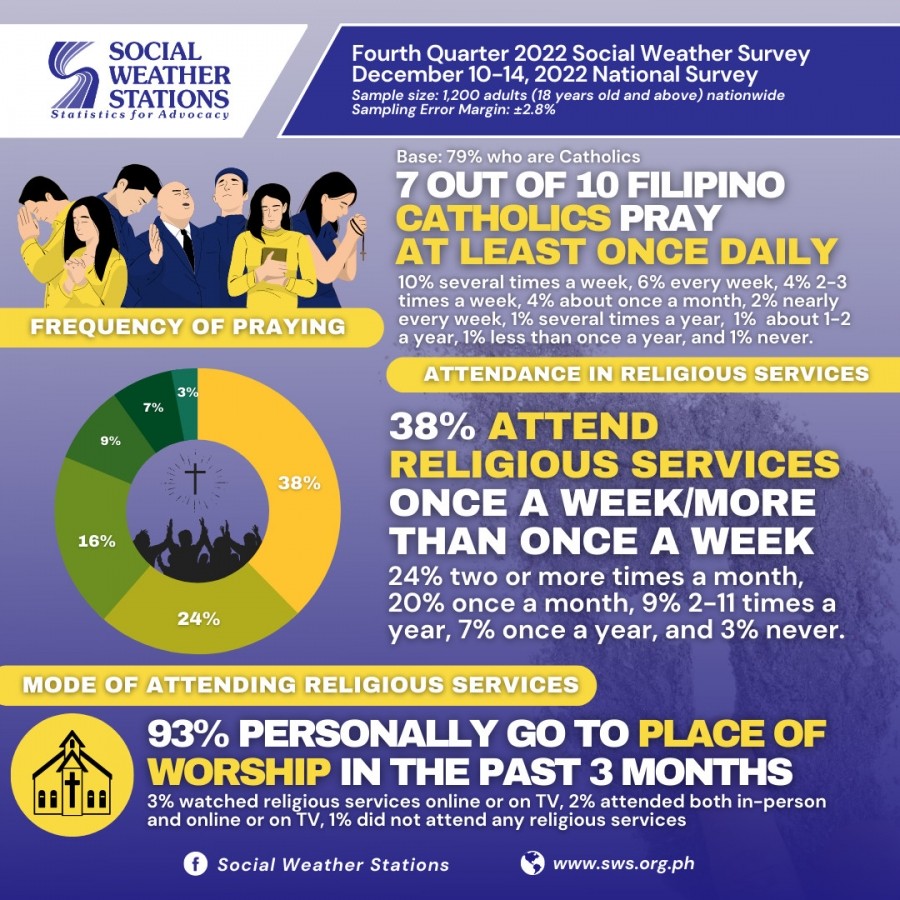 In October last year, Bishop Pablo Virgilio David of Kalookan, president of the Catholic Bishops' Conference of the Philippines called on the faithful to return to churches for Mass, especially on Sundays.
"We strongly encourage our faithful to return to the Sunday Eucharist with a purified heart, renewed amazement, and increased desire to meet the Lord, to be with him, to receive him and bring him to our brothers and sisters with the witness of a life full of faith, love and hope," the prelate wrote in a circular.
He said "the faithful are to hold the Eucharist in highest honor, taking active part in the celebration, receiving the sacrament devoutly and frequently, and worshipping it with supreme adoration."
During the pandemic, Catholic dioceses across the country dispensed the faithful, especially the elderly, children and the sick, to attend Mass on Sundays and Holy Days of obligation.
Echoing the letter of the Vatican's Congregation for Divine Worship and the Discipline of the Sacraments to the episcopal conferences in September 2020, Bishop David said that "no broadcast is comparable to personal participation" in the Mass "or can replace it."