Pope Francis said human rights should not be "violated" and hit out at use of the death penalty as he arrived in Bahrain for his second trip to the Gulf on Thursday, November 3.
The leader of the world's 1.3 billion Catholics, who is the first pope to visit the tiny nation, is visiting to promote dialogue between Christians and Muslims.
But rights groups had urged him to also use the visit to speak out about alleged abuses in the Sunni-led monarchy.
---
---
Pope Francis told dignitaries, including his host, King Hamad bin Isa Al-Khalifa, that religious freedom should be "complete and not limited to freedom of worship."
Speaking less than three weeks from the World Cup in neighboring Qatar, which has faced fierce scrutiny over its migrant workers, the pope also demanded that "working conditions everywhere are safe and dignified."
"Much labor is in fact dehumanizing," he said at the gleaming Sakhir Royal Palace. "This does not only entail a grave risk of social instability, but constitutes a threat to human dignity."
The first papal visit to the island nation follows this pontiff's 2019 trip to the United Arab Emirates, also aimed at inter-faith outreach.
Pope Francis, 85, uses a wheelchair due to knee problems and boarded and disembarked from the plane on an electronic platform.
Uniformed guards on horseback and Vatican and Bahrain flags lined the route of his short journey to the palace, where he was greeted by cheering children.
'Lives should not be taken'
It is vital that "fundamental human rights are not violated but promoted," the pope told the audience.
"I think in the first place of the right to life, of the need to guarantee that right always, including for those being punished, whose lives should not be taken."
Bahrain has executed six people since 2017, when it carried out its first execution in seven years. Some of those were convicted following a 2011 uprising put down with Saudi military support.
During his trip, which lasts until Sunday, the pope will hold an open-air mass and lead prayers for peace at a vast new cathedral.
But the run-up to the visit has been marked by calls for him to press his hosts on rights issues.
Families of inmates on death row in Bahrain issued an open letter appealing for him to intervene.
"Our family members remain behind bars and at risk of execution despite the clear injustice of their convictions. Many of them were targeted because they took part in pro-democracy protests during the 'Arab Spring,'" they wrote.
Human Rights Watch has accused Bahraini courts of issuing the death sentences based on "manifestly unfair trials."
On Tuesday, it and eight other rights groups urged Pope Francis to publicly press Bahrain to "halt all executions, abolish the death penalty, and seriously investigate torture allegations and violations of the right to a fair trial."
A government spokesman has rejected the allegations, saying Bahrain "does not tolerate discrimination" or prosecute anyone for their religious or political beliefs.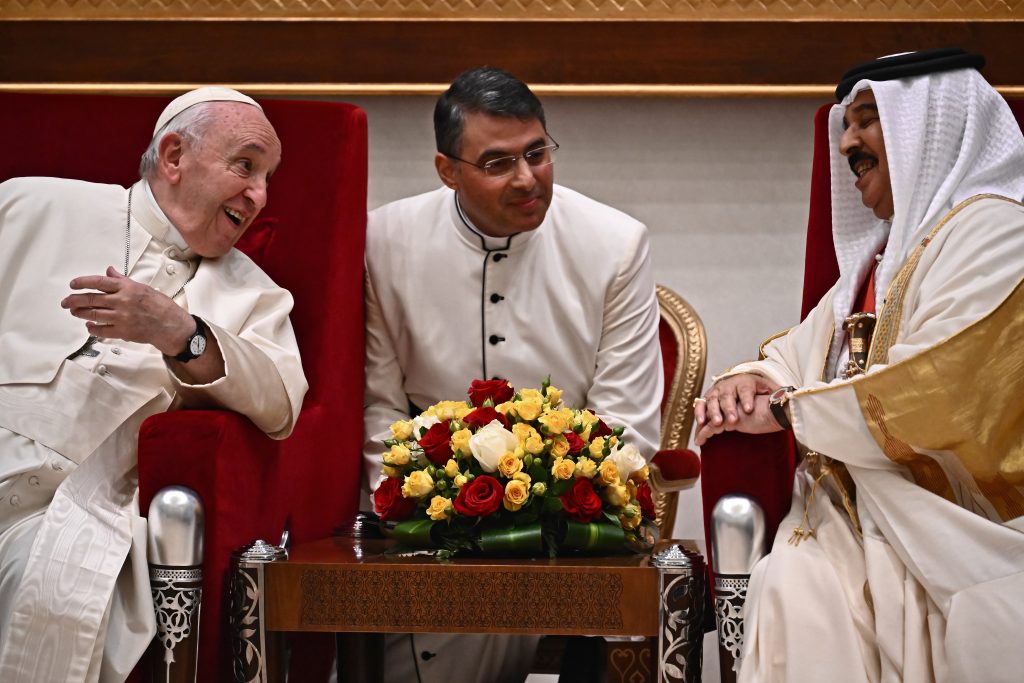 'Banner of dialogue'
On Friday, Pope Francis will address a forum for "human coexistence" organized by the UAE-based Muslim Council of Elders. Afterwards, he will hold a private meeting with Sheikh Ahmed al-Tayeb, grand imam of Cairo's prestigious Al-Azhar, Egypt's highest Sunni institution.
The Argentine pope has made outreach to Muslim communities a priority during his papacy, visiting Muslim-majority countries such as Egypt, Turkey and Iraq, and most recently in September, Kazakhstan.
Ahead of the voyage, Vatican spokesman Matteo Bruni told journalists he would not guess whether Pope Francis would broach the topic of human rights but said the pope's view "concerning religious freedom and liberty is clear and known."
Friday's "prayer for peace" will be held at the cavernous Our Lady of Arabia Cathedral in Awali, which seats more than 2,000 people and opened in December.
It was built to serve Bahrain's approximately 80,000 Catholics, mainly workers from southern Asia, including India and the Philippines.
On Saturday, Pope Francis will lead mass at Bahrain's national stadium before a crowd of nearly 30,000 people, where workers on Wednesday were adding finishing touches, including a giant gold cross above Francis' chair.
Pope Francis will preside over a prayer meeting with Catholic clergy and others on Sunday before returning to Rome.