To mark the 50th anniversary of the declaration of martial law in the Philippines, activist group Akbayan held a "road trip" for young people to "deepen their appreciation of history and democracy."
Dubbed "Road Trip: A martial law history bus and walking tour," the activity brought participants to places that the activist group said defined the martial law period, such as the Mendiola Bridge, the Cultural Center of the Philippines, the Manila Film Center, the Coconut Palace, the Ninoy Aquino monument in Makati, the Edsa Shrine, the People Power Monument, the Bantayog ng mga Bayani and the University of the Philippines.
"This is a profound journey for the truth, for the memory of those who gave their lives for the freedoms we have now, and the lessons that this dark past should teach us," said Akbayan Party spokesperson RJ Naguit.
---
---
He said the activity is a reminder for everyone "that history is not a random collection of names, dates and places."
"It is about the struggle, and the search for the truth behind the past. It is a living guide for the future of our youth and our nation," said Naguit.
History professor Xiao Chua led the tour and shared stories behind the historical sites and the stories of those who were abused and those who struggled against the dictatorship during the years of martial law.
At the Manila Film Center, the tour participants offered flowers for the workers who lost their lives in the rushed construction of the US$21 million infrastructure project in a bid to make Manila the "Cannes of the East."
In 1981, the administration of former dictator Ferdinand Marcos Sr. imposed a news blackout after more than a hundred workers died when the scaffolding of the building collapsed, trapping the workers under quick-drying wet cement.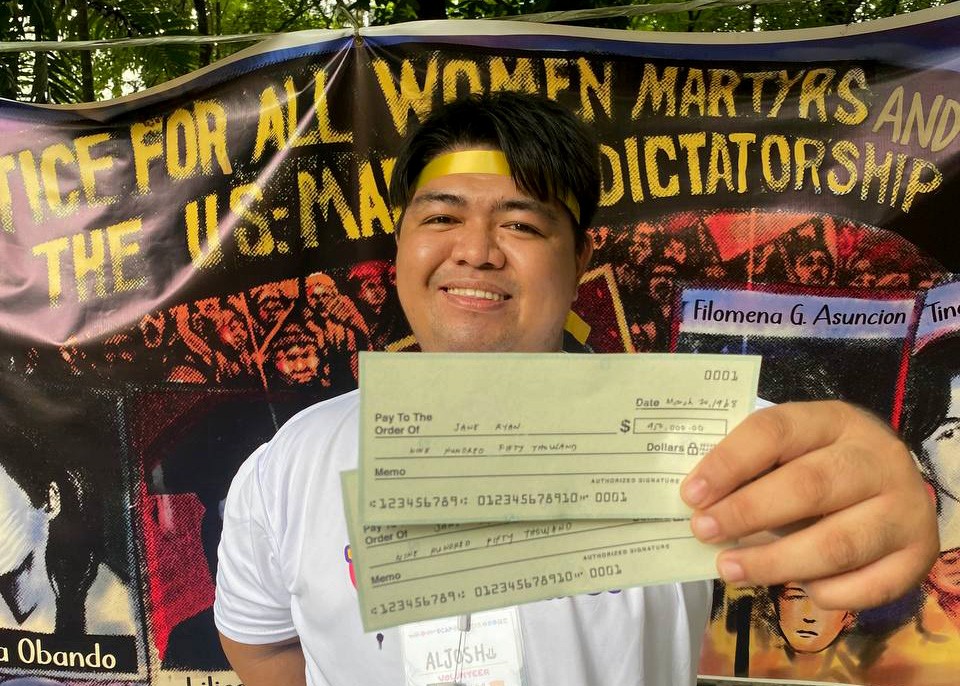 At the Bantayog ng mga Bayani, a "Bawiin ang Ninakaw Treasure Hunt" was organized to familiarize the tour participants to the Marcoses' ill-gotten wealth, its impact on the economy and the people's daily lives.
A moment of silence was also offered to remember the heroes and martyrs who fought the Marcos dictatorship.
Meanwhile, at the UP Diliman campus, the participants were brought to the Arts and Science building known as Palma Hall, and the UP Freedom Memorial Site, home to the iconic Aviation Security Command van, which carried former Senator Benigno "Ninoy" Aquino after he was assassinated at the then Manila International Airport in 1983.
Inside the bus, creative learning exercises and cultural presentations were prepared by the tour volunteers. Solidarity videos and songs were also played.
"We will not surrender our country's memory to fakery. Even as the enemies of truth have the upper hand right now, we will continue to push back and reclaim our stories and history," said Naguit.