(This is Part 6, the last part, of an open letter to Jose G. Burgos Jr., former publisher-editor of WE Forum and Malaya, the pioneer mosquito press (opposition newspaper) during martial law. Joe passed away in November 2003 at the age of 62. He was honored with the title Press Freedom Hero of the World by the International Press Institute along with 49 others on the 50th anniversary of the founding of IPI.)
Dear Joe,
Thank you, dearest Joe, for the letters you wrote from jail.
Your letters have assuaged the worry and the longing of the kids. After reading your letters, knowing you were physically alright, they became less hushed. Instead of the sullen and bewildered disposition, the kids now hopefully anticipated their important participation in the family's struggle.
Just look at the letters they wrote in response to yours. Do you remember the letters below? They are their father's children, courageous, prayerful and faithful.
(Excerpts of translated letter of Peachy, 16, the eldest daughter.)
December 9, 1982, 8:23 PM, At home
Dear Dads,
How are you? I hope everything's fine. Don't worry about us. There are a lot of people who are taking care of us. And all of them are praying for you.
You are really very popular now. Imagine, you are in the headlines everyday! The only problem is that all the newspapers write the same stories, it is as if they are copying from each other. There is nothing new in the papers. I tell everyone not to believe in what they read because they are all lies. Isn't this true?
I have just read your letters. And I miss you so.
So that is how your prison cell looks like. There are some things in the description that I don't understand. Please explain it to us when we visit you.
We are all behaved. Sonny Boy and myself will take care of things. Yakang-yaka Dads. Burgos 'ata kami. Anong say mo Dads: Wa' ka na say 'no? (Be assured we can do this. Aren't we Burgoses? What else can you say Dads?)
It is not fair that you and Tito Teddy are in solitary confinement while the rest are kept by twos in their cells.
Our prayers are always with all of you, Daddy. We've been reciting the rosary wherever we are.
I understand what you and the rest are doing. And I will continue the struggle and fight for freedom. I will not stop until I have achieved my goal — that is, to live free. As Jonathan Seagull states, "Freedom is the very nature of our being and whatever stands against that freedom, must be set aside, whether it be limitation or ritual or superstition."
You can count on me, Dads. I will fight and struggle to get our freedom back, the freedom that was long lost.
I am so proud of you.
Take care Dads, I miss you so much. Truly I miss you.
Peachy
(Excerpts of translated letter of Sonny Boy, 15.)
December 9, 1982
8:15 pm
At home
Daddy,
How are all of you there? Hope you're all fine. We've been praying for you and your brave companions. We are very proud of you.
We know that you are one of the few men who is not afraid of the "power" and who is brave enough to tell the truth.
I'm just wondering what the Philippines will look like in the future, Dads. Will we become a country of robots?
Who else will speak out if we, the people, don't?
I know, we know and God knows that what you're doing is right. I'll continue telling the truth, seeking freedom no matter what they say.
I will be very proud if they say I am a son of Joe Burgos.
Please don't worry about us, we're all fine. Don't think that we are all like sitting ducks here. Even if we are still young, Ate, Jayjay, Jay-El, and myself are trying to do something to help you in our own way. I'm planning to make a very big painting about the things that are happening now.
Well as Jonathan Livingston Seagull says — "You must do the best of what you do. You must reach and touch perfection." And I really think that you are on your way to that perfection. Remember, I am not afraid because the only true law is the law which leads to freedom. I love my country and my fellow Filipinos.
I love you.
Sonny Boy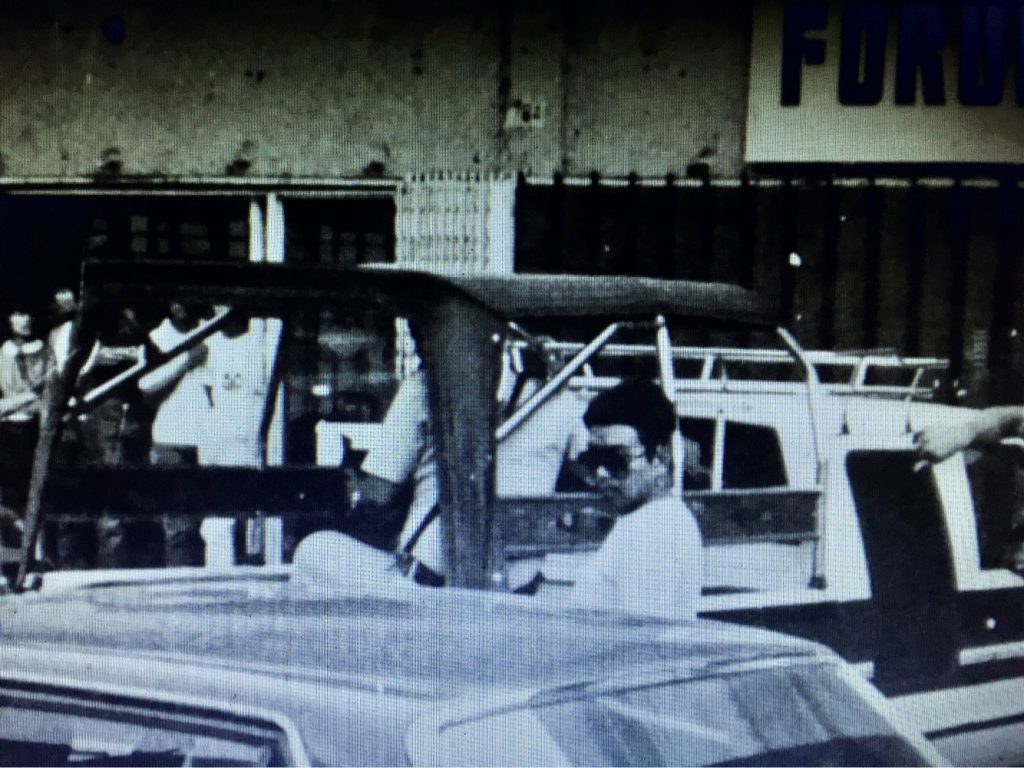 But the visit to the camp, the day after the letters were written, was another traumatic experience.
You were unaware that before we were allowed in, every inch of our bodies were searched for I-don't-know-what.
You knew that someone would be listening in to our conversation, so with a little prodding, the kids tried to be as noisy as they could. That way, we could talk about the messages of the lawyers and your instructions about the publications without being heard.
To this day, the indignity of the body search remains in our memories, especially in our eldest girl. The silent outrage at the "insult" inflicted remains fresh.
Leaving the camp with heavy hearts, we didn't know that in a few days you and the rest would be released as a result of international pressure on the government.
So there we were in the old house in Project 6, after the lawyers said you and the rest would arrive safely on that day. I tried to ensure that the preparations were attended to: asking Mang, your grandaunt to prepare pinakbet, your favorite; attending to the in-laws who had a hundred and one questions; keeping the kids calm as they excitedly strained their necks trying to be the first to get a glimpse of you, and trying to be composed myself in spite of the nerves, as news reporters interviewed us.
It was the boys who first noticed the military jeep with a few escorts approaching. They sprinted to meet you, and it was Jay-el who first reached you. Lifting him up in your arms, the happiness in your faces captured and the next day, the headlines screamed "BURGOS released!"
Even before we could hug as a family, a plain clothes security person asked me to sign a kind of typed receipt which read: "Received one live body of Jose G. Burgos Jr."
I remember that the euphoria of having you back with us would slowly die down. The days that followed, we had to contend with the house arrest order, with a guard stationed in our house 24/7. And practically no resources for our daily needs.
It was the afternoon of the 24th of December when I opened the door to my friend, Nieves Locsin. She was in a hurry and just dropped by to deliver the envelope with a short note. "You and Joe may let Christmas pass, but the kids MUST have their Merry Christmas." After she left, a stranger, who turned out to be Julie Amargo, delivered another envelope. Did He not assure us, "Therefore I tell you, do not be anxious about your life." (Mt 6:25)
I remember within a week after you were released, you decided to put out Malaya newspaper. The Malaya newspaper was not mentioned in the order that closed WE Forum. Whether it was prevision or intuition, certainly Malaya was a grace. Malaya was in Filipino, in response to demands by readers. It was low-key, not to catch unwanted attention and possibly, would be the "solution" in case WE Forum was closed down. True enough, this was what happened.
Ang Pahayagang Malaya is another long story of pushing the limits and courage.
Many others have their memories of courage about WE Forum and Malaya, and I am sure they too remember.
I remember, you always reminded everyone, "No one has a monopoly of courage" whenever you paid tribute to many other publications for publishing the truth under the most dangerous and treacherous conditions during martial law.
Today, as I end my letter to you, I acknowledge that our family was in a unique "opportunity" to play a role during martial law and by God's grace we responded generously even if this meant that years later, we would lose a son to enforced disappearance.
It seemed impossible until you did it, pushing the limits in publishing an above ground newspaper at the height of martial law.
I hope, my dearest Joe, that breaking my silence about these memories we hold sacred, would tell people that martial law was golden only to those who were in power. Martial law brought so much suffering to the ordinary Filipinos, to those who sought the truth and lived it.
Remembering and reliving the agony and the injustice was not painless, especially now that the recalling is done at this time when it seems that the sacrifices of the past to recover our freedoms are brought to naught.
It is worth the excruciating pain if the youth of today would only realize that they will be the victims if they allow historical revisionism to cover up the truth about the horrors of martial law.
But the truth must be told. There was once a family who loved the truth and gave their all to share the truth.
Edita Burgos is a doctor of education and a member of the Secular Order of Discalced Carmelites. Gunmen — believed to be soldiers — abducted her son Jonas Burgos in Manila in April 2007. He is still missing. She was general manager of the publications WE Forum and Malaya.