Philippine schools will reopen for face-to-face class in November amidst concerns over a growing education crisis in the country due to the COVID-19 pandemic.
"We have a plan for full face-to-face (schooling) by November of this year," said President Ferdinand Marcos Jr. in a media briefing on Tuesday, July 5.
"Let's get this done quickly. Of course we're careful, but we're always in a hurry because we have to get much done in very little time," he said.
---
---
The president, however, said he will encourage booster vaccination for children to combat the increasing threat of COVID-19's various variants.
On Tuesday, the Department of Health (DOH) gave the green light on the booster shots for ages 12 to 17 years old.
Former Education secretary Leonor Briones earlier assured that vaccination will not be made mandatory for learners and schools, to qualify for face-to-face classes, must comply with heath measures from the Health department.
Late last year, the Department of Education began allowing select schools to hold limited face-to-face classes for vaccinated students and teachers.
The implementation has progressively been expanded, and as of June, about 32,000 public schools have started holding physical classes.
COVID-19 cases have been on the rise again in recent weeks, with the latest data from the Department of Health showing a 60 percent increase in the number of new infections from June 27 to July 3 compared to the previous week.
The Philippines is one of the last to resume full-time, in-person classes since the pandemic began, with schools shuttered in March 2020 in tandem with lengthy lockdowns.
The United Nations children's agency Unicef has warned that school closures have caused enormous losses in education around the world, with some governments slow to reopen classrooms even as vaccination rates increase.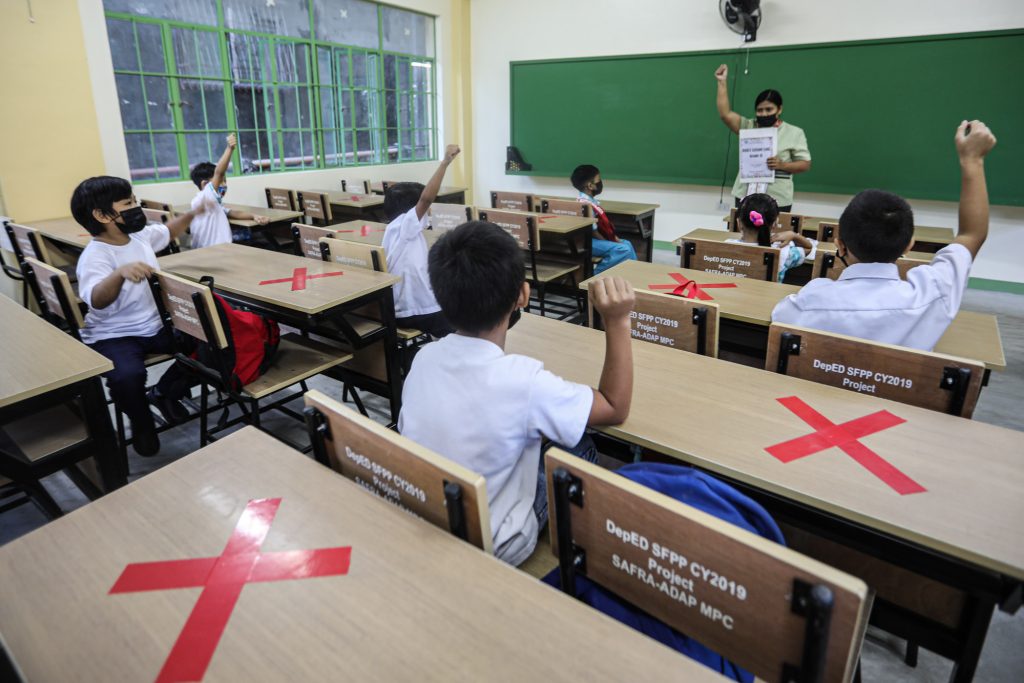 Alliance of Concerned Teachers secretary-general Raymond Basilio welcomed the new government's announcement.
"Our teachers have seen a terrible loss of learning since 2020 that is exacerbating poverty," he said.
Basilio said some teachers in the association had complained that a number of elementary and even high school students still could not read or write.
He said the government's "blended" learning program – involving online classes, printed materials and lessons broadcast on television and social media – was "problematic."
Modules were poorly vetted, and young Filipinos had limited Internet access, he said.
A report published jointly last month by Unicef and other agencies said the pandemic had increased "learning poverty" by a third in low- and middle-income countries, with an estimated 70 per cent of 10-year-olds unable to understand a simple written text.
"Put in strictly economic terms, unless we take action to recover learning, this generation of students is at risk of losing US$21 trillion in potential lifetime earnings," Unicef executive director Catherine Russell said last month.
Last year, 15-year-olds in the Philippines were at or near the bottom in reading, mathematics and science. – with a report from AFP