I remember the first time I met her right after my son, Jonas Burgos, was forcibly taken in April of 2007. My other son and I went to Karapatan, an alliance of human rights organizations, to seek help.
Marie Hilao Enriquez, secretary general, met us at the door. She held my hands and stared at me. There were no words, just silence. Pity, compassion, a reaching out, and a smoldering "something," were apparent in her eyes. There was a determination revealed only by her firm pursed lips. At that time I could not understand what could be in her mind.
You see, even if I worked for more than 14 years in publications that fought the dictatorship during martial law in the Philippines, I must admit, I was quite naïve about enforced disappearances. The truth that unless one directly experiences this inhumane torture, of uncertainty, whether as a relative or a friend of a disappeared, one cannot understand completely what it is all about.
---
---
Now I realize that she knew that at that very moment when we met, my Jonas was being subjected to torture by his abductors. Now I understand that she already knew that the chances of getting him back alive and well would be practically nil. Now I understand that Marie already knew that this mother and the family would experience unimaginable torture.
After the long silence, I heard a whisper, almost as if she was just talking to herself, "There will be a reckoning. Those beasts will pay."
Then she hugged me tight.
Marie Hilao Enriquez, though a victim of torture while imprisoned for two years at the height of martial law, never stopped fighting human rights abuses. Even while behind bars, she gave her voice to the voiceless.
When in prison, pregnant with her first child along with another pregnant political prisoner, she voiced out the plea of her baby to be born outside prison bars. She was the voice of the two unborn unfortunate fetuses. She led a hunger strike to demand the release of pregnant mothers.
Then after their birth, again she demanded for the release of nursing mothers so they could get medical attention, embarking on another hunger strike. This time, with the support and voice of the media sympathetic to her cause, the voice of the babies through Marie's voice demanding that babies and mothers be brought out of detention were heard.
After two years of imprisonment with torture, they were released. Her voice won for her and another nursing mother their release.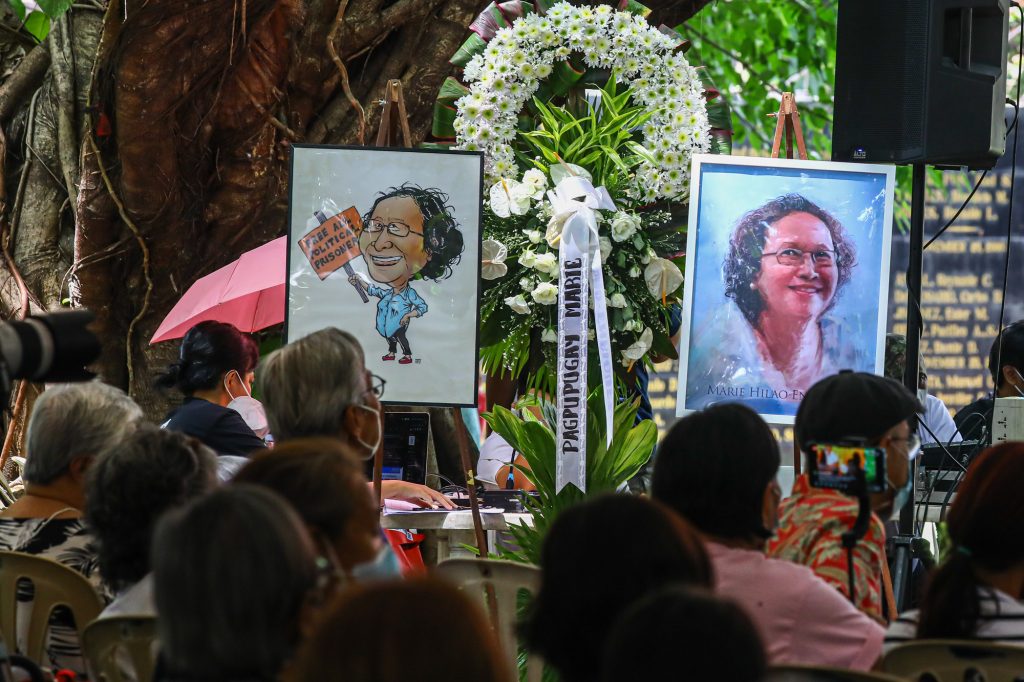 Even after obtaining her freedom, her voice was not silenced. She became a member of Kapisanan para sa Pagpapalaya at Amnestiya ng mga Detenidong Pulitikal sa Pilipinas or Kapatid (Association for the Release and Amnesty of Political Detainees in the Philippines).
Notwithstanding threats to security and life, lending her voice, her time, her talents and her resources to all victims of human rights abuses, whether they be political prisoners, victims of enforced disappearance, indigenous people displaced from their homes, extrajudicial killings and others whose rights were violated, Marie gave her voice consistently and unselfishly.
After EDSA People Power 1, she lent her voice to the Samahang Ex-Detainees Laban sa Detensyon at Para sa Amnestiya (SELDA), another association whose aim was to obtain the release of political prisoners.
Her critical role of consolidating data used in the filing of the historic class action suit against the former dictator Ferdinand Marcos Sr. in Hawaii was a major contribution that resulted in the winning of the case. The victory of the case resulted in reparations granted to many victims, this author included, and restoration somehow, of the dignity of the victims.
Her voice in the campaign for the enactment of Republic Act No. 10368, or the Human Rights Victims Reparation and Recognition Act of 2013, was among the loudest among the advocates and victims. Lending her voice to the victims, Marie led in the formation of CARMMA in 2016, a coalition against the historical lies of the Marcoses.
This voice has been passed on to many human rights defenders and multiplied a hundred times after she became the founding secretary general of Karapatan.
It was not only what she did to help pursue justice for victims and the assistance that she made sure was extended to victims, but her selfless mentoring of so many activists and human rights workers all over the Philippines that is her most treasured legacy.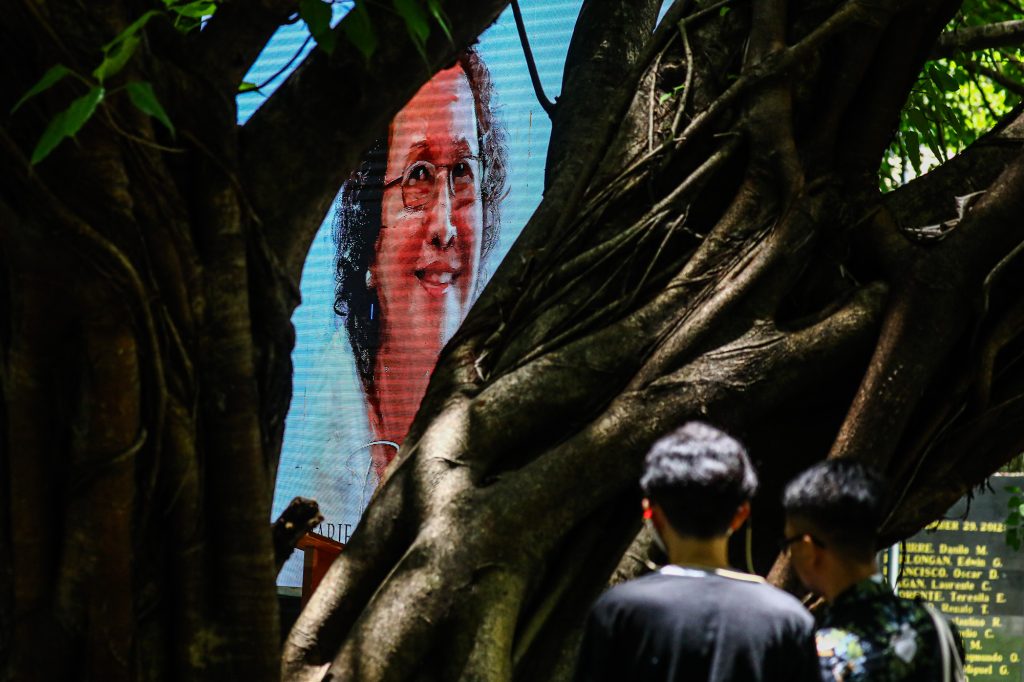 With many chapters all over the country, members of Karapatan are now at the forefront in the battle against human rights abuses in the Philippines. At the last general assembly of Karapatan attended by Marie, who was already in a wheelchair, all participants acknowledged that Marie remained to be their inspiration in offering their voices for the voiceless.
Her voice, multiplied a hundred times for the least served indigenous peoples, for the voiceless victims of the disappeared and those left behind by victims of violence, continue to be heard in the rights defenders she mentored, some of whom are now victims of red-tagging, harassment, and even death.
Marie heeded the call of Proverbs 31:1-9, "Speak up for those who cannot speak for themselves, for the rights of all who are destitute. Speak up and judge fairly; defend the rights of the poor and needy."
And even if individually we are but a small voice, we must remember Mother Theresa of Calcutta who said, "I alone cannot change the world, but I can cast a stone across the waters and create many ripples."
The ripples continue to spread even after Marie moved on to her true homeland. Marie's voice lives on to touch and empower many to revitalize the work and offer their own voices for a just and truthful society. Marie's voice is her legacy.
This makes us wonder, Will we give our voice to the voiceless among the poor, the disappeared, the ignorant and the oppressed?
Edita Burgos is a doctor of education and a member of the Secular Order of Discalced Carmelites. Gunmen — believed to be soldiers — abducted her son Jonas Burgos in Manila in April 2007. He is still missing.