Shanaya (not her real name), a Tamil, started her day early on Wednesday. Every year, she looks forward to May 18 to honor family members and friends who perished during Sri Lanka's civil war.
Sitting on the sand in the province of Mullaitivu, about 300 kilometers from the capital Colombo, Shanaya recalled how she spent the prime of her life during the war.
"We were moving from place to place as the military advanced from all sides," she said.
"First, I lost my younger son in a cluster bomb attack in Matalan, then my husband — a nice, hardworking man — was killed by heavy artillery shelling while he was inside a tent in Mullivaikal."
---
---
"My brother was also killed in the shelling," recalled the woman. And as if she did not lose enough, her two sons and a daughter went missing.
"I have been searching for them everywhere for the last 13 years, but still I did not find them," she said.
"I lost my whole family. I am forced to be in this situation. I don't know where they are and I am still searching for them."
The 26-year conflict between the separatist Liberation Tigers of Tamil Eelam, which fought for an independent government, and the Sri Lankan military left tens of thousands of Tamil civilians dead.
The war was marked by countless atrocities by both sides, according to Human Rights Watch.
In the final months, the LTTE used human shields, and the government indiscriminately shelled self-declared no-fire zones, allegedly killing tens of thousands of civilians.
Hundreds of Tamils were forcibly disappeared in army custody, said the human rights organization.
Shanaya said it is not easy to lose a loved one, but grieving for them has been made even harder.
"There were times, especially when there were prohibitions and restrictions to commemorate the dead on May 18, I would light a lamp inside the house in fear and remember them," she said.
Every year, on May 18, Sri Lankan Tamils mark Mullaivaikkal Memorial Day commemorating those who died in the civil war that ended in 2009.
In recent years the authorities have sought to suppress the commemorations, issuing court orders, intimidating participants, shutting down events, and even detaining mourners over allegations of terrorism.
When allowed, Shanaya would come to the memorial grounds to pay her respects to the dead.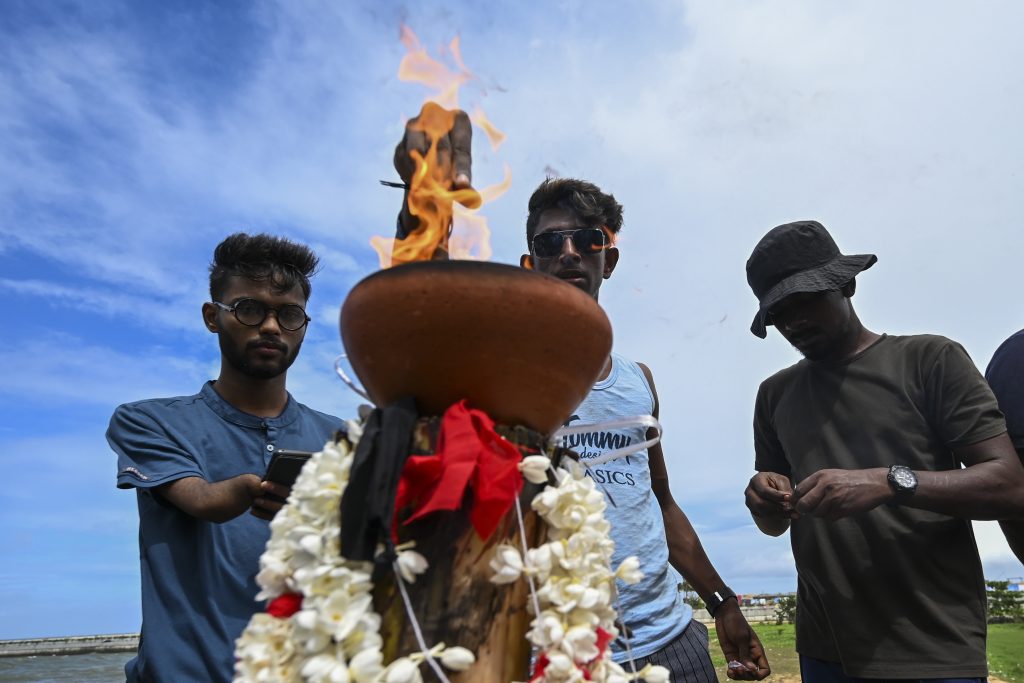 The struggle continues
Since the war ended, people in the Tamil-majority north and east have frequently faced repression.
The Mothers of the Disappeared, who have protested since 2017 to learn the fate of their loved ones, endure government surveillance and intimidation. On March 20, police attacked and beat them.
An Office of Missing Persons set up by the previous government is discredited. The authorities have demolished memorials to Tamil victims of the war.
"The discrimination of minorities, specifically of the Tamils, continues," said Claretian missionary priest Rohan Dominic.
"Up to now, state forces do their best to prohibit the memorial activities," he said.
This year the anniversary comes at a time of unprecedented public protest in Sri Lanka.
Amid a devastating economic crisis, thousands of protesters on the streets of Colombo are demanding the resignation of President Gotabaya Rajapaksa.
On May 9, pro-government thugs attacked protesters, setting off a wave of violence and disorder across the country.
The president brought the army onto Colombo's streets and a state of emergency is in force.
Despite the threats, another Catholic priest dared to lead this year's memorial observance.
Father Leo Armstrong said "there's a lot of dangers out there … but it is important that a Church person stand in front of the people."
"Some of our priests were killed and forcefully disappeared, so safety is not guaranteed even for priests and the religious in our country," he said.
The priest said "it's our duty to speak for our people, to fight with them in remembering their dead."
Human Rights Watch said it is "crucial" that this year's memorial events go ahead without interference.
"There is a hope among many that the demands for change now being raised in Colombo could lead towards a more pluralistic Sri Lanka, said Meenakshi Ganguly, South Asia director of HRW.
Quoting human rights lawyer Ambika Satkunanathan, Ganguly said "there is growing awareness and space to speak of issues previously thought not possible," including war crimes.
Offering hope
At 10 in the morning on Wednesday, people were expected to gather in their village churches for a ceremony.
First, they would offer a two-minute silence for prayers, then they would take out their lamps, light these, and offer flowers to the dead.
"By the end of the ceremony, we allot time for them to declare their intentions, their hopes," said Father Armstrong.
By six in the evening, church bells would toll and people would share congee. "For many, that's the only good thing that happened to them, the sharing of food," said the priest.
He said that when more than 400,000 people were left with nothing to eat, they were taught to turn their rice into broth.
"Since they really have nothing, they boil the rice and add salt and share it with each other," he said.
Now, it has become a tradition. Young people prepare congee on the roadside to offer to passersby.
"At times when there is nothing, the congee becomes a symbol of hope," said Father Armstrong.
The civil war has left more than a hundred thousand people dead, 80,000 widows, and more than 200,000 families affected.
The United Nations is yet to recognize the incident as a genocide. Instead, it classified it as a "crime against humanity."
In March last year, the UN Human Rights Council passed a resolution accusing the Sri Lankan government of "obstructing accountability."
Father Rohan said it is important for people to continue talking about the injustices done and being done to the Tamil people.
"There is no hope for justice in their country, we must make them feel that the world knows and will not forget," said the missionary priest.
Shanaya eventually found one of her sons after 13 years of searching. "I still have hope. I will find my other children," she said.