Hesitancy among Filipinos to get vaccinated against the coronavirus disease dropped during the last quarter of 2021, shows the result of the latest survey done by pollster Social Weather Stations.
The result of the survey, which was taken in December 2021, shows that fewer adult Filipinos were unwilling to get immunized against COVID-19.
The survey result shows only eight percent of adult Filipinos did not want to get vaccinated against COVID-19, down from 18 percent in September, 21 percent in June, and 33 percent in May.
---
---
Of those who expressed unwillingness, one percent said they would probably not get the vaccine and seven percent would surely not get jabbed.
Only six percent were uncertain about getting vaccinated, down from 19 percent in September 2021.
A report released by the World Bank, however, said that the slow pace and low rate of vaccination in the Philippines compared to its neighbors may be to blame for the spread of the Omicron variant of COVID-19.
The World Bank's Philippine office said "vaccination continued to lag regional peers" in the Philippines.
"The slower vaccination and higher mobility during the holiday season are the likely causes why the Philippines is one of the first to experience an Omicron variant surge in the region, recording higher cases per capita than other ASEAN countries, as of January 11," it added.
The survey result notes that vaccine skepticism declined in all areas: from seven percent to four percent in Metro Manila, 15 percent to eight percent in Balance Luzon, 24 percent to 15 percent in Visayas, and from 25 percent to eight percent in Mindanao.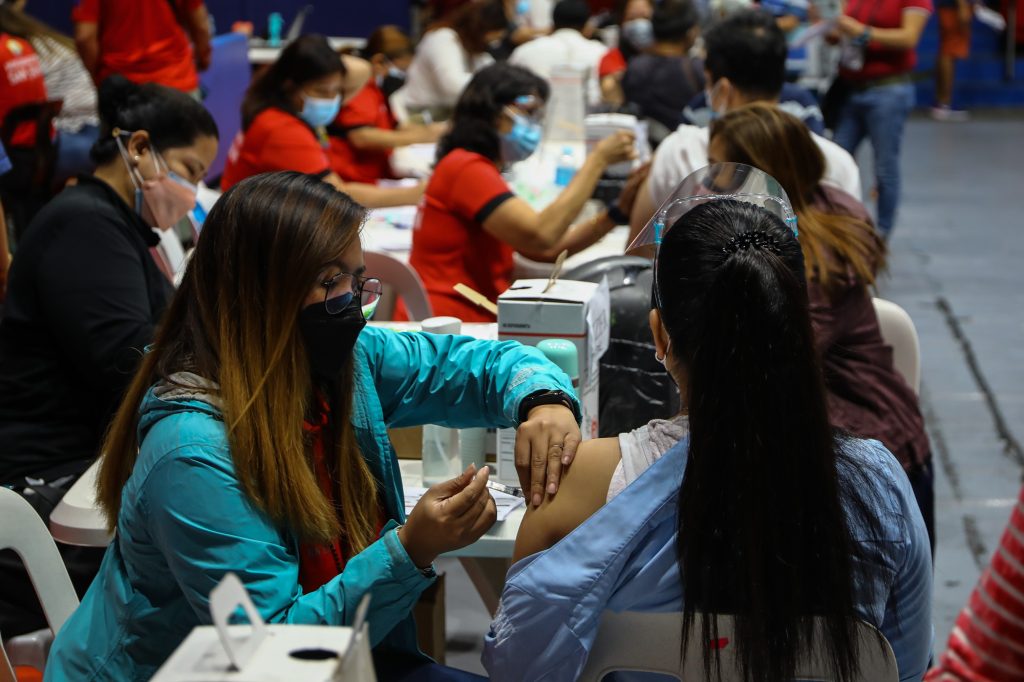 "While skepticism is less among the better educated, the percentage of those unwilling to get vaccinated fell from September 2021 to December 2021 in all educational groups," read the SWS statement.
It said that the percentage of those unwilling to get inoculated decreased to single-digit levels in all age groups, except among those 55 years old and above.
The poll also found that 50 percent of adult Filipinos received at least one vaccine dose. Broken down, 38 percent received two doses, while 13 percent got one dose.
The percentage of people who received at least one dose has steadily increased from 10 percent in June and 35 percent in September.
The proportion rose in Metro Manila to 81 percent from 71 percent, in Balance Luzon to 52 percent from 36 percent, in Visayas to 37 percent from 21 percent, and in Mindanao to 40 percent from 25 percent.
At least 35 percent of the unvaccinated said they were willing to get immunized against COVID-19, of which 33 percent would surely get vaccinated and three percent would probably get vaccinated.
The survey was conducted from December 12 to 16 using face-to-face interviews of 1,440 adults. The sampling error margins are ±2.6% for national percentages, and ±5.2% for Balance Luzon, Metro Manila, Visayas and Mindanao.