Who came to the lowly stable in that silent night? Who were there to worship the child in Bethlehem while the rest of the world was sleeping?
In his apostolic letter, "Admirabile Signum" (2019), Pope Francis relates how it all started in Greccio, an old hill town in rural Italy.
In order "to bring to life the memory of that baby born in Bethlehem" with all the discomfort of a manger, St. Francis of Assisi asked a local man, John, to create that scene for him. There were no statues in the creche that John made. Instead, on the eve of December 25, simple farmers of the village came with their torches, candles and flowers, with their ox and donkey and, together with the friars, celebrated the Eucharist in the stable.
---
---
---
Survival as resistance
Let me narrate two related personal stories. On weekends, I have been helping my Vincentian confreres in Payatas for 20 years now. In the last five years, there was a problem that we were not prepared to handle: extrajudicial killings. There was a time around 2016-2017 when we were burying 6-8 persons per week—some of them killed in front of the church or at the side of our chapels. We have journeyed with their orphans and widows for five years now. We have listened to their stories of pain and hope.
In those first months, when the international media still did not know, the killings were projected as police performance. The killers introduced themselves as policemen, and shot people to instil fear. They actually succeeded. No one went to the wakes. The "manangs" who used to pray for the dead did not come. It looked like everyone believed in the government propaganda: that addicts are hopeless; they act like animals.
But a small group of victims—their mothers, widows and orphans—refused to believe in this dominant narrative. For them, those who were killed were their loving husbands and fathers. While millions cheered President Rodrigo, this small group of women fought for justice and their mere survival.
Today, they have a thriving sewing shop that has sustained them during the pandemic. Despite fear of reprisal, they have also testified in the ongoing case against Duterte at the International Criminal Court.
I will never forget what one old mother of a victim told me: "They want to kill us. No, we will show them that we will live." For the victims, to merely survive is already an act of resistance and hope.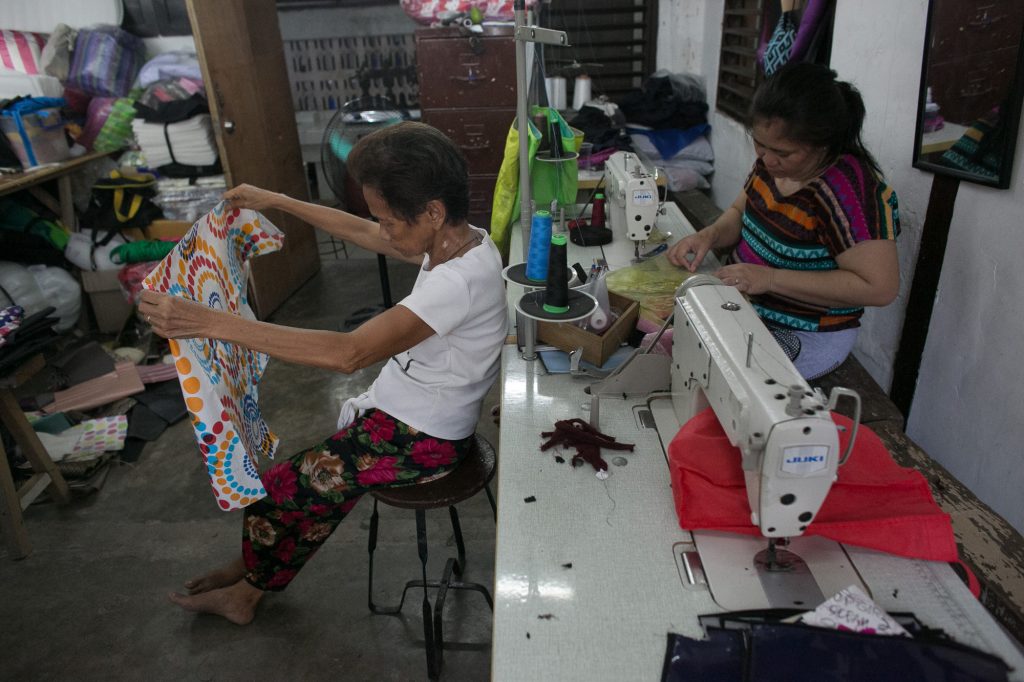 'Tinood ang gaba'
My second story goes back to about 35 years ago in a remote place in southern Cebu called Oslob. It was the 1985 presidential elections. My father was an elementary school teacher in a remote mountain barangay far from ours. My mother, who was a sari-sari store owner, was forced to be the "barangay captain" of our little barrio called Hagdan because no one wanted to take the position.
Though she was not affiliated with any political party, all the "money" that had to be given to the people from the ruling party at that time (Kilusang Bagong Lipunan) passed through her. Being a devout Catholic, she must have been in a moral dilemma. Not knowing what to do, she hid the bundles of money in their cabinet. When my father discovered it, he flared up in anger. He gathered the whole family in the sala of our little house and burned the money in front of all. Hindi daw dapat kaming mabuhay sa perang hindi namin pinagpawisan. Tinood gyud kuno ang gaba.
That made a strong impression on all of us, eleven children, most of whom were small kids then.
There is a lot of talk nowadays about the problems of Class C, D, and E who are under the spell of patronage politics. For sure, also because of poverty, people do take goods and money at election time. But there also exists millions of simple and honest people who resist these temptations with a strong moral sense based on their Christian faith. In contrast, many in the Class A and B remain as rabid enablers of the corrupt as seen in the past and present political coalitions of plunderers.
Ambivalence and hope
I recalled these two personal narratives as they provide a window to the ambivalence we see in the politics of our time. On the one hand, millions are swayed by targeted propaganda as it amplifies fear in people's minds, many of them educated people—priests and religious included. On the other hand, the victims—mostly women and orphaned children, indigenous peoples and poor farmers—are the one's "holding the line", to borrow a phrase from Maria Ressa.
On the one hand, thousands throng to politicians waving goods and money in secret whispers or in broad daylight. On the other hand, millions of ordinary people—despite their poverty—are holding the "moral line."
My hope for the future lies in the active "sense of faith" of these people, the sensus fidei that the Synod on Synodality wants so much to recover.
Social poets in (post)pandemic times
In a recent meeting with social movements, Pope Francis describes these simple people at the grassroots as "social poets."
"You are social poets, because you have the ability and the courage to create hope where there appears to be only waste and exclusion. Poetry means creativity, and you create hope. With your hands you know how to shape the dignity of each person, of families and of society as a whole, with land, housing, work, care, and community" (Pope Francis, 19 October 2021).
Like the shepherds in Bethlehem, it was these simple people who first recognized the Messiah, while Herod's army were maliciously scheming and the whole of Bethlehem was complacently sleeping.
In the same spirit, from my first two stories, it is these ordinary people—armed with their simple faith and moral sense—who show us the hope in this populist and (post)pandemic world.
They are the "social poets" of our times.
Father Daniel Franklin Pilario, C.M. is a theologian, professor, and pastor of an urban poor community in the outskirts of the Philippine capital. He is also Vincentian Chair for Social Justice at St. John's University in New York.