She drew the drapes to cover the window but she could still hear the dripping of the water and the rain outside.
The sound of the rain brought back memories of eight years ago when super typhoon "Haiyan" devastated her hometown in the central Philippines.
Marinel Ubaldo, now a 24-year-old environmental activist, was in her last year in high school student when "Haiyan" hit the Philippines in November 2013, killing more than 6,000 people and displacing thousands of others.
She could still remember the "calm" of the night before the typhoon struck her village in Salcedo town, Eastern Samar province.
"My whole family was already in the evacuation center, which was just 10 meters away from our house, hours before the storm landed," she recalled.
Marinel brought a bag with her mobile phone, charger, notebook, and pen in it, and an encyclopedia "so I can read until the storm passes."
She did not bring any clothes, thinking that she could easily go home after the storm. "It has always been that way," she said years later.
Marinel and the people of the village of Matarinao were used to typhoons and rainy seasons. The fishing village is facing the Pacific Ocean where typhoons are frequent.
"My father is a fisherman. I grew up not worrying about food because we live along the coast. The ocean has always provided for us," she said.
She said their house "endured many storms… until super typhoon Haiyan happened."
At about three o'clock in the morning on Nov. 8, 2013, everyone inside the evacuation center panicked as they hear the wind outside.
"I saw a woman, who was carrying a child, whose head was almost cut by a galvanized iron sheet that was blown by wind," said Marinel.
The roof, windows, and doors of the evacuation building were also blown away. People inside were injured by broken glass and flying debris.
When the storm subsided, 11 people in the village of Matarinao were found dead.
Marinel could not believe her eyes when she went out to check on their house. Only a quarter of its floor area and three columns were left.
"Everything was gone. Everything in it was washed away by the waves," she said.
Marinel said she regretted that she did not bring the small box that contained medals, certificates and other awards. Gone too were her literary works.
"That box symbolizes who I am, my achievements, my self-worth," she said. "Nothing was left of our home, and losing that box felt like losing my identity, my dreams, my significance as a person."
Marinel's village was isolated after the typhoos. There was not food. People relied on root crops to survive. There was no clean water, no electricity, and no roof to cover their heads.
"We lost all our clothes, we were all wet and cold," she recalled. "I was only 16 years old and I was confused and devastated."
The path to recovery was "thorny and painful," she said. It took months before Marinel was able to go back to school and more months before life started in the village.
"Haiyan" affected more than 14 million people in 44 provinces across the country, displacing at least 4.1 million people, killing over 6,000 individuals, and leaving nearly 2,000 people missing.
It damaged more than one million houses and disrupted the livelihoods of nearly six million people. The overall cost of damage was estimated at US$5.8 billion.
The uncertainties after her near-death experience pushed Marinel to work to support her college education.
"After 'Haiyan' happened, it seemed like my future became more unsure," she said, adding that her parents were not earning enough to support her education.
The fisherfolk in the village stopped fishing because they lost their boats and the marine life was depleted.
"People were also hesitant to eat fish," she said.
"We couldn't bear the thought of eating fish that may have fed on the bodies of our neighbors and people we know," said Marinel.
The tide started to turn when she got a college scholarship from an international humanitarian organization.
The group also commissioned Marinel to become a "youth facilitator" for climate change adaptation and mitigation workshops in the region.
In 2014, she was invited to speak and share her experience in various international climate conferences. She was also featured in an international documentary film.
"Sharing my story and the story of my village became a way of healing," she said.
A year after "Haiyan," Marinel decided to "stand up as a 'climate warrior' instead of speaking up as a survivor."
"I realized that climate change is not just an issue of destruction and suffering or of adaptation and mitigation, but is also an issue of human rights," she said.
Since then, Marinel has been amplifying the voice of vulnerable communities. She has visited different countries to appeal to governments and world leaders to "heed the voice of the vulnerable nations."
In 2015, she attended the United Nations Conference of Youth (COY), an annual gathering of youth organizations worldwide, and the Conference of Parties in Paris, France.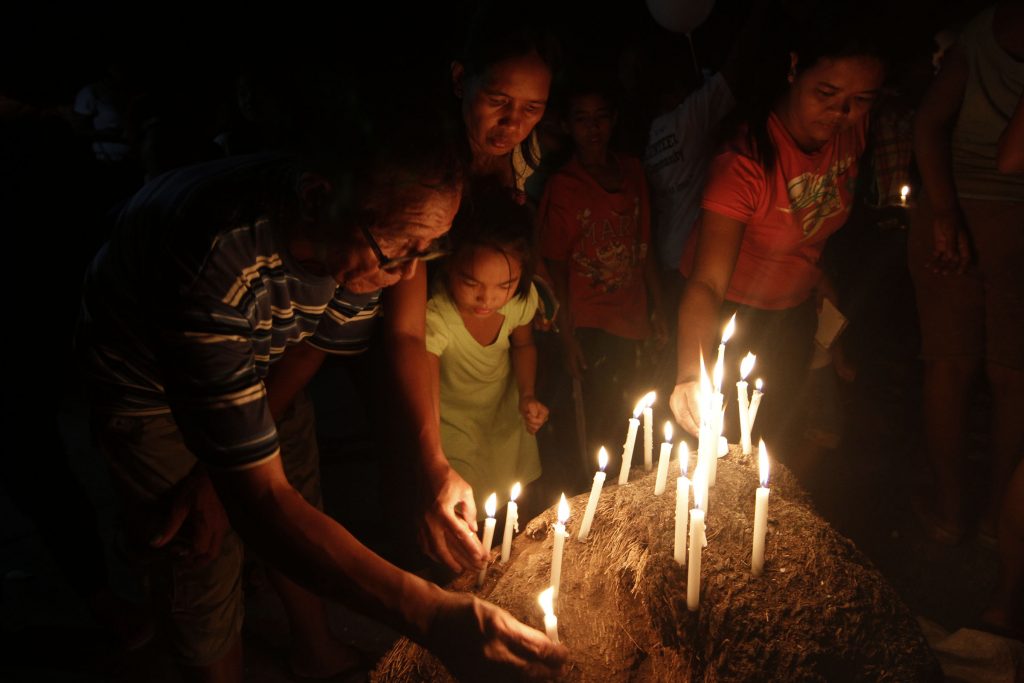 This year, Marinel and another Filipino environmental activist will be attending the Pre-COP26 summit in September in Italy. She is also the country coordinator for this year's COY in Glasgow, Scotland, in November.
"We want the carbon majors to acknowledge their accountabilities for what they have done to us, to my community and other vulnerable communities around the world," she said.
Fighting for the "young generation's future" has become Marinel's commitment. She said she wanted the youth to "stand together as the voice of the environment."
In her speech before a US Senate subcommittee meeting on "combating climate change" early this year, Marinel called on young people to "create a bigger impact" in society.
"Never underestimate our power to make a change," she said, adding that "we must do it collectively."
Marinel criticized world leaders who say that "the youth is the future" but fail to realize that "we, the youth, are the 'now.'"
She said that "now is the time that we dream and work for a better future."
"And if they will continue denying us the life that we deserve, we must sustain the resistance and fight," she said.