There was a notable increase in the number of churches under military attack in Myanmar in recent weeks, said reports from communities and independent media organizations.
In several towns in Kayah and Shan states in the eastern part of the country fighting between the military and local militias and resistance groups caused damage to at least eight churches.
Among the churches that have suffered damage by the attacks are the Golden Temple of Jesus and Jeroblo Marian Shrine and Our Lady of Lourdes Cave in Pekon, Mother Mary's Church in Moebye, St. Joseph's Church in Demoso, the Catholic Church in Daw Ngan Khar Village, and St. Peter's Church in Loikaw.
---
---
---
A Radio Free Asia report quoted a Catholic priest from Demoso in Kayah state saying, "It's just a building, but it hurts people in their hearts. Are they just targeting us? I would like to appeal to both sides not to carry out such attacks in future."
Hundreds of people have reportedly sought shelter in churches when soldiers attacked villages. During clashes in Moebye and Pekon, people sought sanctuary in churches, but government soldiers reportedly attacked the churches resulting in casualties among the civilians.
Cardinal Charles Maung Bo, Myanmar's highest Catholic Church official, has earlier expressed "immense sorrow and pain" over the attack on churches in the country that resulted in the death of civilians.
"We record our anguish at the attack on innocent civilians who sought refuge in Sacred Heart Church," said the cardinal, who is also president of the Federation of Asian Bishops' Conferences.
"This needs to stop," said Cardinal Bo in a statement on May 25. "We plead with you all, related organizations, kindly do not escalate the war," added the prelate.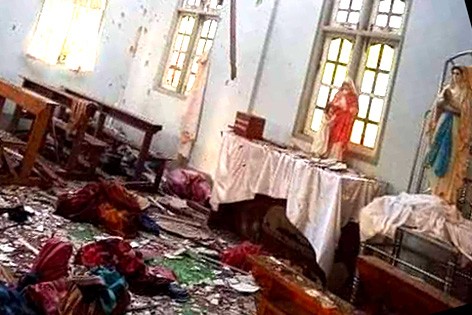 "Our people are poor, COVID-19 robbed them of their livelihood, starvation stalks millions, the threat of another round of COVID-19 is real. Conflict is a cruel anomaly at this moment," said the cardinal.
Mu Nang, a Catholic who lives in Kayah State, told RFA that she was devastated by the destruction of the churches. "We would rather have our house hit than the church," she said. Kayah state has one of the highest concentrations of Christians in the country.
"The attacks on religious buildings is a violation of international laws of war. The shooting of people who are hiding and taking refuge in there is another serious matter," said Aung Myo Min, human rights minister for the parallel National Unity Government, in an interview with RFA.
Fighting in Kayah state since May 20 has forced more than 100,000 residents to flee their homes. An estimated 40,000 people have reportedly sought shelter in 23 churches. – with a report from Radio Free Asia