A 500-step stairway from an "eco-garden" to the world's fourth "Living Chapel" was inaugurated on March, 30, 2021, on the hills of Alcantara town in the central Philippines to mark the 500th anniversary of the first Easter Mass in the country.
Named "Romblon ad Gentes" or "Romblon to the Nations," the religious complex in the Diocese of Romblon will serve as a place of prayer, reflection, and "faith in action" where the faithful can gather and learn about history and the teachings of the Church.
With seven pillars made of bamboo, the "Living Chapel" symbolizes the seven goals of Pope Francis' encyclical "Laudato si'": Response to the Cry of the Earth, Response to the Cry of the Poor, Ecological Economics, Adoption of Simple Lifestyles, Ecological Education, Ecological Spirituality and Emphasis on Community involvement and participatory action.
---
---
---
A short 500-step pilgrimage starts at a "Monument of Respect" to three indigenous cultural communities — Sibuyan Mangyan Tagabukid, Bantoanon, and Ati — and goes through the Laudato si' Garden and the shrine of Saint Francis of Assisi and prayer stations before ending at the "Living Chapel."
The first "Living Chapel" is in Rome, the second in Venice, and the third in another parish in the Diocese of Romblon.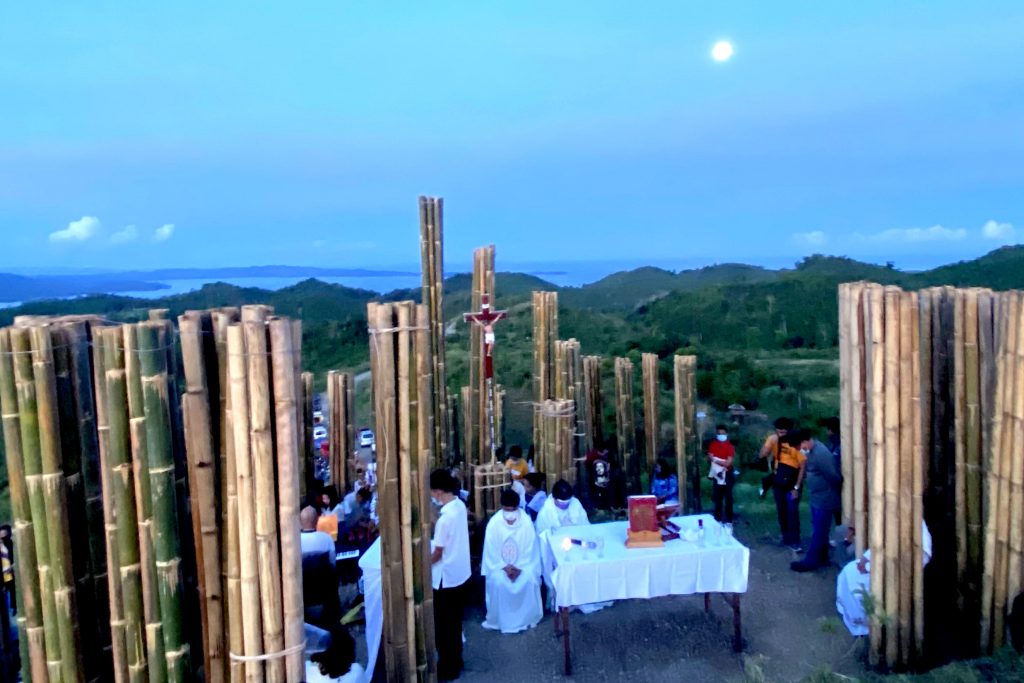 "The open-air sacred space will be a center of reflection and learning on ecological spirituality and sustainable actions for the care of creation," said Rodne Galicha, executive director of Living Laudato si' Philippines, a faith-based organization inspired by Pope Francis' encyclical.
The "Living Chapel" was constructed with plants, recycled materials, and other sustainably sourced elements. Indigenous flora species were used for landscaping while a rainwater collector facility, an endemic tree nursery, and solar panels will soon be installed.
In his homily during an early morning Mass, parish priest Ethelbert Magbata highlighted the importance of the Christian faith in the lives of Filipinos, saying that the 500 years of faith "that formed us as Filipinos and Asians … is a great blessing to be grateful to God."