UPDATE: The government has announced the suspension of religious activities during the Holy Week
There will be less songs during this week's celebrations of the Holy Eucharist in Metro Manila's churches as the predominantly Catholic Philippines observes the Holy Week.
"There will be limited songs that will have to be sang during the celebrations to prevent spreading the virus," said Father Genaro Diwa of the Ministry of Liturgical Affairs of the Archdiocese of Manila.
He said only one cantor and one instrumentalist are allowed during the celebrations.
---
---
---
The priest said audio visual feed of celebrations outside churches are prohibited to prevent the mass gathering of people.
Father Diwa said the Vatican has earlier instructed to forego the traditional ritual of "Washing of the Feet" during the Holy Thursday observance during the pandemic.
The government has announced that it is allowing religious gatherings inside churches at 10 percent once a day from April 1 to 4, Holy Thursday until Easter Sunday.
"This is good news for those who want to hear Mass during the Holy Week," said presidential spokesman Harry Roque in a recorded announcement on March 26.
The Christian world observes Holy Week starting March 28, Palm Sunday, until April 4, Easter Sunday.
"The [Catholic Bishops' Conference of the Philippines] requested for it, and the [Inter-Agency Task Force on Emerging Infectious Diseases (IATF)] listened," said Roque.
He said those who will physically go to church to attend religious services should register ahead of time.
Roque said the ruling covers all religions, not only the Catholic Church.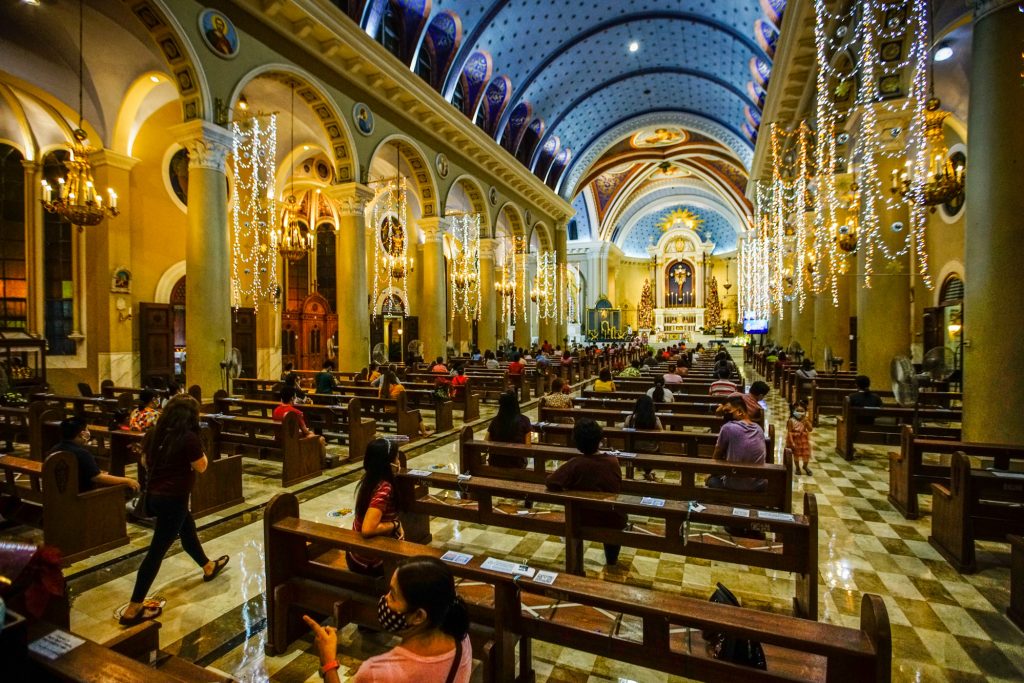 "It's a welcome development for the faithful," said Father Jerome Secillano, head of the Public Affairs Committee of the Catholic bishops' conference.
"At least, [the people will] be given a chance to celebrate and commemorate the Easter Triduum, Easter Sunday being the highest point of our faith," said the priest.
"The Inter Agency Task Force must have realized that faith is also vital to surviving this crisis," he added.
Father Secillano said the Church will strictly implement health protocols to prevent the spread of the coronavirus disease.
"Having been allowed now, the Church is expected to implement strict health protocols to ensure the safety of our people," he said.
The Philippines reported 9,838 coronavirus cases on Friday, the biggest daily jump since the pandemic began.
The recent spike in infections has forced authorities to widen tighter restrictions in the capital Manila to surrounding provinces.
The Philippines has seen record new cases in three of the past five days, while infections reported in the past 10 days accounted for a tenth of its total 702,856 cases.