Frustrated medical experts and politicians have called for an overhaul of the main Philippine pandemic task force shortly amid new curbs on mobility across the country's industrial and commercial heartland.
President Rodrigo Duterte authorized on March 21 border closures in a "bubble" spanning Metro Manila, the national capital region, and the neighboring provinces of Laguna, Cavite, Rizal and Bulacan.
Only essential travel will be allowed entry and exit at the outermost reaches of an area with a combined population of 26 million. There are new bans on religious gatherings and some business activities and operational limits for other sectors of the economy.
---
---
---
Duterte hopes the new curbs will bring infections down to manageable levels by April 4. His aides say they also aim to complete COVID-19 vaccination for all health workers next month.
But critics warned that his government's failure to institute critical changes in the COVID-19 containment program could put to waste the new slowdown.
Scientists, politicians and activists across the political spectrum said the absence of mass testing, poor contact tracing, weak capacity of public health systems and social safety nets, and uneven quarantine and isolation guidelines threaten 110 million Filipinos.
The government announced new restrictions as daily infections crossed the 8,000-case threshold and half of the region's major hospitals turned away new patients because they had run out of beds and critical care facilities.
"This is a system-wide failure," said opposition Sen. Risa Hontiveros. "At 8,000 cases a day, it will take just over a month to hit 1 milion COVID-19 cases,"
Part of the problem, critics said, is the failure of Duterte's pandemic task force to consult stakeholders.
Unilateral actions regularly meet opposition; almost every announcement is followed by retractions, adjustments and modifications – and plenty of rancor among all sides of the country's political divides.
Defiance
Several bishops, including Bishop Broderick Pabillo, apostolic administrator of Manila, had announced shutdowns to stem COVID-19 cases before the government announcement.
But the grant of permission for gyms, spas, and Internet cafes to continue operations provoked senior clergy.
Bishop Pabillo issued a pastoral letter that said churches in the cities of Manila, Pasay, Makati, Mandaluyong, and San Juan will continue religious services at the current ten percent capacity.
On church-owned Veritas 846, the bishop told Catholics to defy the ban, saying churches have been consistent in implementing health protocols, which include a ten percent capacity cap.
Bishop Pablo Virgilio David of Kalookan expressed his rage with an ALL CAPS post on Facebook as he railed at the contrast of banning church gatherings at the holiest time of the year while allowing 70 percent capacity in fitness centers and 50 percent in personal care establishments.
Both accused the government of imposing new rules without consulting affected sectors.
A council of Mayors across the capital region also rejected the continued operations of gyms and spas, saying it would contradict goals to dampen spread of COVID-19, which has now infected 678,000 persons and killed close to 13,000.
Another mayor, Jerry Trenas of Iloilo City in the central part of the country, also caused a viral storm when he vowed to defy a surprise order by the regional Inter-Agency Task Force on Emerging Infectious Diseases (IATF) to also restrict travel restrictions in Western Visayas and ban the entry of returning residents from the Luzon bubble.
'Missing links'
The rollout of the new rules brought chaotic scenes similar to what greeted citizens at the start of the March 2020 lockdown across the main island of Luzon.
Anger over health system gaps that fueled the surge, and questions over a vaccination program weighed down by political patronage, sparked calls for the abolition of the IATF or an overhaul of its military-heavy leadership.
Senate President Pro Tempore Ralph Recto called for a revamp of the pandemic task force leaders and the addition of new members with a record of efficiency and precision running big  "companies with a million moving parts."
Hontiveros pushed for the replacement of the IATF's retired generals, as well as those at the helm of an implementing task force, with medical specialists.
Duterte's office rejected the calls, insisting the task force had the best logistics planners because of their military backgrounds.
The Philippines holds the record for the world's longest lockdown, yet has the second most number of COVID-19 cases in Southeast Asia. There were 91,700 active cases on March 24, according to the health department, with another 6,666 new cases.
About 35 of 75 hospitals in the capital with intensive care facilities have reported critical bed-capacity levels. The biggest medical establishments are now turning away cases.
It isn't just a question of beds. Images of grieving, fatigued health workers flood social media once more. Medical associations reported that around a thousand health workers have been infected since the start of the year. With many others in quarantine, staff extended work shifts as wait-listed patients spilled outside hospital doors.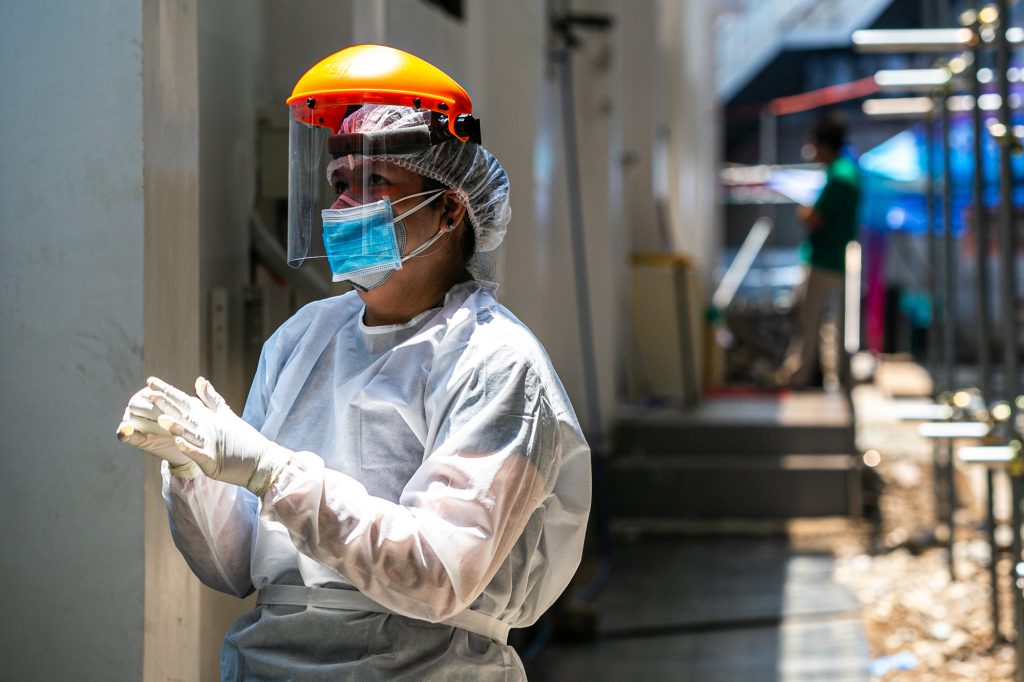 It's early 2020 all over again. The country's learning curve lies there and dies there. Top officials continue to ignore expert advice with proof of success in countries, like Vietnam, where infections remain low.
"The IATF has continuously and confidently walked in the wrong direction, backwards, no matter how many times the public and lawmakers have called them out," said Hontiveros.
Vice President Leni Roberdo said old targets of 30,000 to 40,000 COVID-19 tests daily can no longer work in the current surge.
Renato Reyes, the secretary general of the militant alliance Bayan, agreed with her, noting that their 2020 recommendation was 120,000 tests daily. He also noted the need to clear a validation backlog, improve health care system capacity, and providing aid to displaced sectors.
Officials of Quezon City, which has the highest infection rates in the capital region, said the current contact tracing force is not even half of what's needed to cover almost three million residents.
Dr. Rolly Cruz, head of the city epidemiology and surveillance unit (CESU), told LiCAS.news, they have asked the Department of Interior and Local Governments to bring back 800 contract tracings jobs lost since yearend when the department decided not to renew contracts.
The ideal ratio for contact tracing is one case to 37 contacts. Current capacity, according to Cruz, is 1:8. While the city is also in the process of getting new local hires, it has asked the DILG and the Metro Manila Development Authority to augment their force with another 2,000 workers.
Towns and cities across the country have likewise requested reinforcements. The DILG however, insists the country's 255,000 contact tracers are more than enough to meet the health department's 1:800 standard ratio.
Gaps
Dr. Antonio Leachon, an advocate of a harder lockdown, told LiCAS.news the slowdown should be used to slot in missing pieces of the pandemic puzzle.
"We have so many rules but these do not address the roots of the problem," Leachon said. "But the government has no metrics of success. There's no accountability. There is no data mining and plan of action for they key factors causing the spike."
The Health department still insists tests should be given only to those who show symptoms of COVID-19 infection. Those without symptoms pay out-of-pocket for tests.
Local governments are begging for national aid in doubling or even tripling existing contact tracing efforts.
Dominican priest Nicanor Austriaco, a professor of biological science and a research fellow of the OCTA think tank, said mass testing should be done in hundreds of scattered blocks of communities now locked down due to high infection rates.
He also asked the government to replace a quilt of lockdown time frames, between four to 14 days, with a uniform period. The priest recommended a ten-day lockdown, with mass testing on the eighth day onwards. He warned that without testing, officials face a ten percent risk of failure in detection.
A too-short lockdown, even with mass testing, could mean false negative findings in 4 of every 100 residents, he added in a published analysis.
The government set up last two pandemic bodies composed of Duterte's Cabinet and a gaggle of retired generals who share his follow-don't-question attitude.
Retired general Carlito Galvez, who is in charge of the national vaccination program, said 408,995 health workers, a quarter of the country's 1.7 million health workers, have received their shots. By the end of March, 2.3 million more vaccine doses, he said, allowing the start of vaccinations for the elderly and indigent Filipinos.
But politicians jumping vaccination lines for health workers have sparked anger, on top of protests against so many top national officials violating health guidelines and receiving no sanctions.
Closed circle of power
The biggest stumbling block to recovery, however, is the increasingly closed governance style of the Philippines' chronically ill, mercurial leader.
The country's yearlong pandemic management record shows a bias for using force to solve a health emergency. The Philippines lags in other compotents used by countries, like Vietnam, that have contained the virus.
Since the pandemic landed in the country via Chinese visitors in early 2020, government policies have spun 110 million Filipinos in a dizzying carousel of rationalizations.
Critics say many of Duterte's rules display an abdication of responsibility for vulnerable citizens.
The President rejected another tight lockdown, saying it would devastate an economy already burdened by the loss of ten percent of its gross domestic product. He also said that 4 million Filipinos who became unemployed due to the pandemic need to get their jobs back.
But his Cabinet rejected aid for workers and small businesses that could suffer from the new rules. Labor groups say without the aid, the new measures will sweep away close to 300,000 jobs recovered between October and January.
The chaos of the NCR+ rollout also displayed how dysfunctional management hampers the official goal of balancing health and economic needs.
Announcing the new rules, national and local officials reassured a jittery public that movement of adults within the bubble, even across towns and cities, would not be curtailed except during a 10 p.m. to 5 a.m. curfew. Minors and persons above 65 years old are covered by a travel ban.
Police imposed their own requirement. Checkpoint lines stretched back a kilometer in some borders of Metro Manila as authorities demanded proof of essential work from commuters. They turned away scores of workers who could not come up with a document that existed only in the minds of law enforcers.
In the hours it took to untangle the mess, businesses scampered to meet the sudden disruption in work hours and labor groups warned against pay deductions for tardiness or absence. The center of the bubble has a daytime population that balloons from 13 million to 15 million, with most workers coming from provincial suburban districts.
The government now limits restaurants and cafes to delivery and take-out services, and outdoor dining, at 50 percent capacity, with additional engineering and administrative controls.
With barely a night to adjust to new rules, many service firms temporarily shut down to re-calibrate operations or relocate their tables to open air corridors in malls.
Many newly reopened establishments floundered and sent home workers already suffering lost income due to staggered schedules. Now they are wondering how to survive the next two weeks under prevailing no-work-no-play policies that have hit even the regular labor force.
The new measures also come with very mixed messages. The government has allowed "staycations" within the bubble. But on March 23, Trade Undersecretary Ruth Castelo told a virtual forum they were discouraging the activity.
Prof Ronald Mendoza, the Dean of the Ateneo School of Governance, said a proper test-trace-treat system would allow the government to open up and protect its citizens.
What the country can't afford, he warned, is the government's incompetence and "neither here nor there" policy.
Inday Espina-Varona is an award-winning journalist in the Philippines. She is a recipient of the "Prize for Independence" of the Reporters Without Borders in 2018. The views expressed in this article are the opinions of the author and do not necessarily reflect the editorial stance of LiCAS.news.