These last few weeks of Advent in the Philippines, scenes of horror and injustice have hogged the screens and pages of both traditional and social media.
Asia's largest Catholic majority — famed for the world's longest Christmas season, with carols playing and lanterns flashing by the "ber" months — shuffles and shambles as a year filled with deaths by natural causes and extrajudicial killings, and conflict, ends with more bloodshed and pain.
December started with the town hall assassination of Mayor Caesar Perez in Los Baños, a resort town, 70 kilometers south of the Philippine capital.
---
---
---
Police commemorated Human Rights Day on December 10 by arresting nine activists, including an editor of an independent digital news outfit. Military officials later tagged them as rebel leaders, although all had been involved in legal campaigns and organizations.
Then a doctor who had almost single-handedly fought off the onslaught of COVID-19 in Guihulngan, a city in the central Philippines, was murdered, together with her husband.
A lawyer died in a hail of gunshots in Cebu, also in central Philippines. A mining site landslide, still in Cebu, killed four miners; six persons remain missing and rescuers say the odds of finding them alive are slim.
In the week before Christmas, the bloodbath erupted on social media with a viral video of a police master sergeant's cold execution of a mother and son in Paniqui, Tarlac, 151 kilometers north of Manila.
Another police officer was shot dead while jogging with a town mayor and a fire marshall. A businessman was gunned down in a Caloocan City public market.
All these tailed deaths, displacement, and hunger, caused by the COVID-19 pandemic and a series of typhoons that smashed through some of the richest farmlands in the country.
All these happened as President Rodrigo Duterte and his generals were busy threatening dissenters, calling them terrorists.
2020 is the rare year that ends without a ceasefire between the government and Asia's longest-running insurgency. There is every reason to brace for more violence as the year winds down.
Hordes are crowding into public markets to shop for the cheapest gifts and food — unemployment and underemployment are at record levels — even as health experts warn of a new COVID-19 surge. The OCTA research group forecast daily cases to race towards the 4,000 mark after the holidays.
Metro Manila, with 12 million residents and more than 207,000 cases recorded since the start of the pandemic, is expected to be worst hit. The Philippines has had 9,000 COVID-19 deaths and close to half a million infections.
As the other countries started vaccinating citizens against the virus, which has infected 79 million people and killed almost 1.8 million others, top Philippine officials squabbled over the government's still nebulous vaccine purchasing program.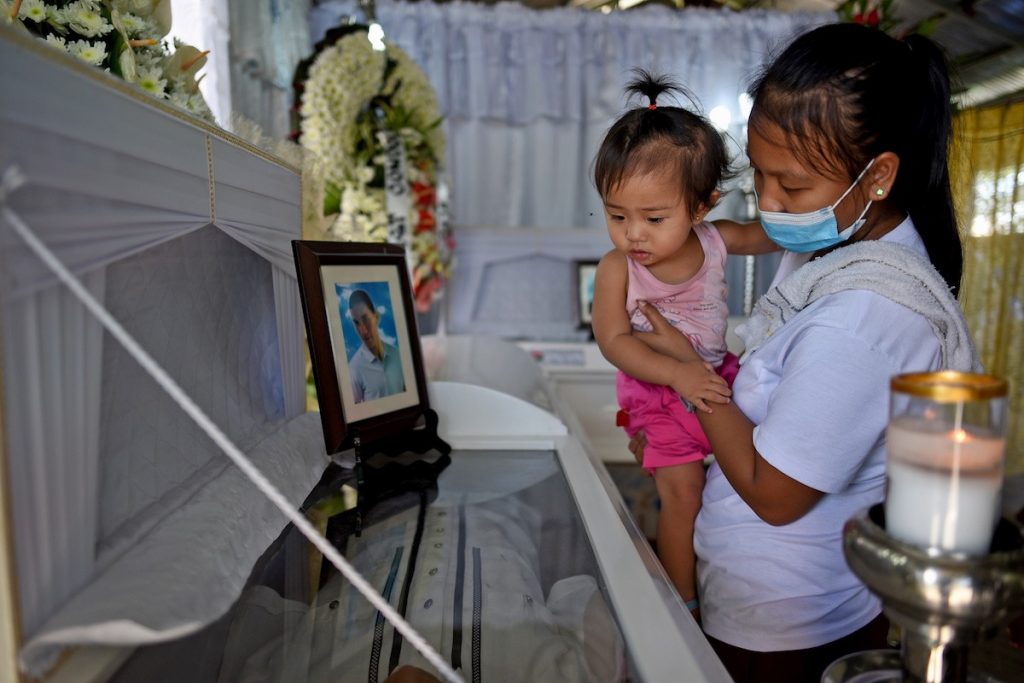 Music as our mirror
More than shopping metrics, it is music that is the real gauge of Filipinos' mood.
ABS-CBN, the giant television network whose free broadcast services fell to Duterte's vengeance, still managed to launch a Christmas video, with the wistful hope that "joy will return this Christmas" after months of families having to say goodbye to loved ones without even the memory of last hugs.
Elsewhere, young stars and digital artists were rolling out songs focused on wrestling back human rights from Duterte's mailed fist.
A California-based Filipino-American rolled out a new version of a novelty song.
"There's a cop under the bridge,
Trying to bury murdered Justice
While nobody's there to witness"
More than 60,000 people shared the latest video of the popular young duo, Ben&Ben. It wasn't their trademark love song.
"Do you think power
resides solely with you?
Who do you think you are?
We've tried hard to understand
We're spitting you out now
Because you've breached our limits."
Those limits include 8,000 poor Filipinos killed in police "drug war" operations and thrice that number by vigilantes who have also been traced to the police; more than 350 activists murdered, hundreds more thrown in jail and several hundreds facing a witch hunt.
Those limits include journalists killed, a network shuttered, denial of service attacks against news outfits and media organizations, a slew of cases against Rappler's chief executive officer Maria Ressa, the arrest of four community journalists, the attempted abduction of another journalist.
Those limits include almost US$300 million lost to corruption in just one agency and top state officials seeing an ouster conspiracy with every scandal that breaks out in the news.
In our family, young members eschewed "Sound of Music" songs for Les Miserables anthems of resistance for a digital sing-along to ease the pangs of social distancing.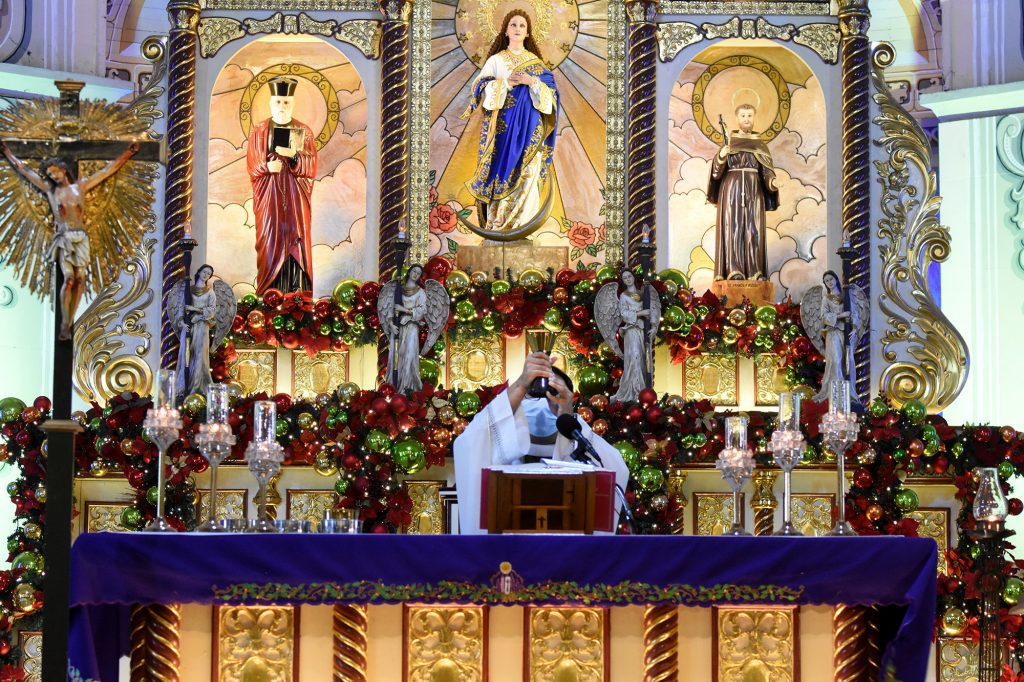 Light to the darkness
There may be little reason for joy. But there is always hope.
Bishop Gerardo Alminaza, whose San Carlos diocese in Negros Island has seen the worst of the anti-insurgency slaughter, has asked Filipinos to wear white on Christmas eve, whether they are in church or attending remotely via digital masses.
White stands for light, the sum of a rainbow of colors. Bishop Alminaza believes that despite Duterte's high survey ratings, beleaguered Filipinos can come together "to express our desire for a commitment to peace, sanctity of life, human dignity and human rights."
"It is in the darkest of times that the meaning of Christmas becomes even more pronounced," Bishop Alminaza stressed.
Indeed, the story of the Nativity is replete with fear and uncertainty. The Holy Family experienced displacement at the orders of a tyrannical King, rejection by those with more in life, and the massacre of innocents.
Many Filipinos seem to have forgotten that the babe whose coming we celebrate this Christmas came to succor the weak and admonish the self-righteous from heaping injustice on fellow humans.
As often happens, it takes a graphic display of violence to pull people out of complacence. The latest outrage in Tarlac rams home the costs to children of the violent rule of Duterte, whose desire for retribution without due process is matched by a willingness to pander to abusive, corrupt minions.
Jagged cracks run through the national psyche, threatening a fall into a dark abyss. It will take plenty of that white light of Grace to patch these deep wounds.
The air is filled with prayers for deliverance. The story of Christmas is that of the coming of a savior. Let us remember that savior's main message for a better world: "Love your neighbor as yourself."
Inday Espina-Varona is an award-winning journalist in the Philippines. She is a recipient of the "Prize for Independence" of the Reporters Without Borders in 2018. The views expressed in this article are the opinions of the author and do not necessarily reflect the editorial stance of LiCAS.news.